MACHINE HALLUCINATIONS: NATURE DREAMS! a unique AI data sculpture by @refikanadol  on @opensea  has achieved the price of 300.6942 ETH! $1,210,841.42
We are still astonished by Refik's outstanding auction result of 1.18 Mil. USD which proves the enormous potential of digital art in the market.

Johann König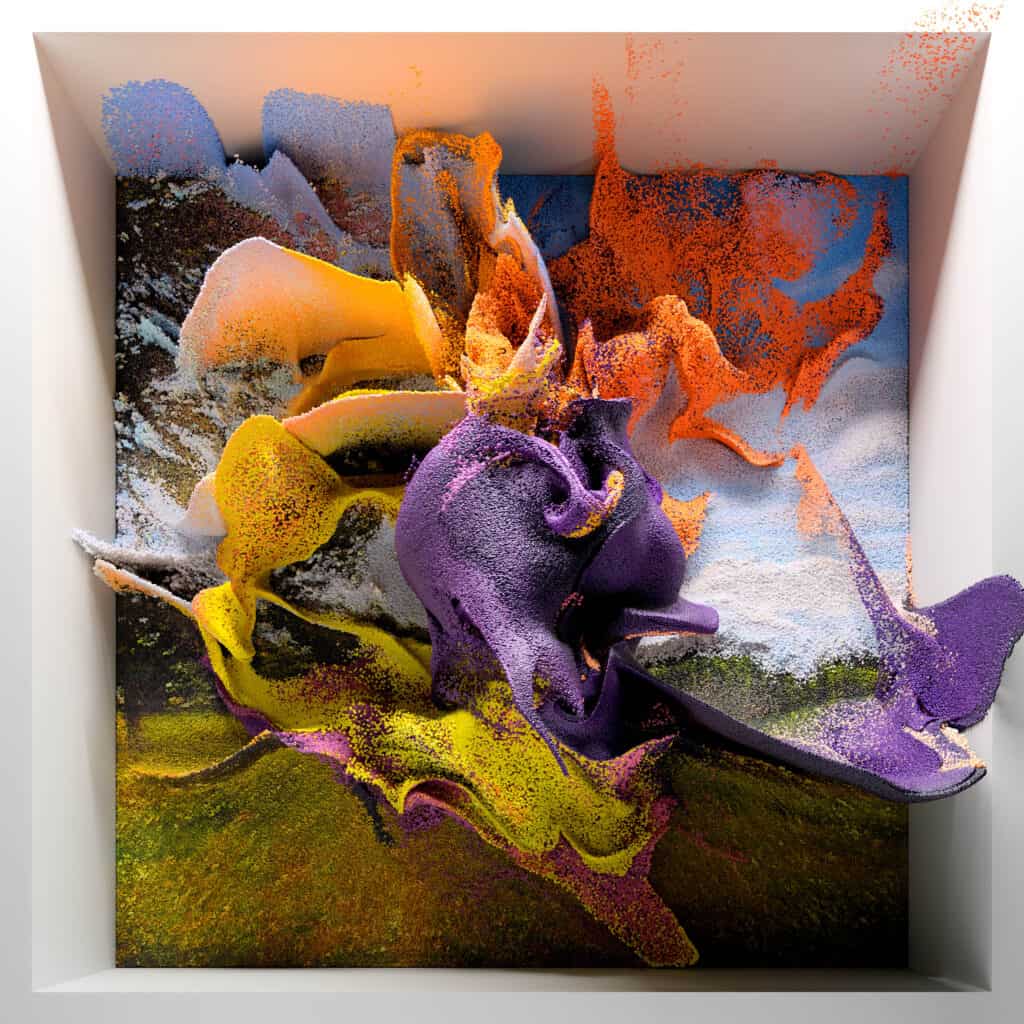 The collector, who bought MACHINE HALLUCINATIONS: NATURE DREAMS! also acquired a computer with a 3D physical certificate signed by artist Refik Anadol, source backup files of the installation and special software.
NATURE DREAMS! utilizes over 300 million publicly available photographs of nature collected between 2018- 2021 at Refik Anadol Studio. Combined, this represents the largest raw dataset of nature ever gathered for an artwork, which was then used to train a GAN AI algorithm. The resulting AI Data Painting incorporates pigments, shapes, and patterns that we associate with nature, but only exist in the mind of a machine as dreams. Each variation features a stunning visual interpretation, together forming a multi-faceted reflection of the nuanced relationship between technology, humanity, and culture. With the assistance of the Google AI Quantum team, Anadol was granted access to one of the world's foremost quantum computing research projects all- owing him to merge AI-induced latent space with a quantum hyperspace, and thus speculate an alternative reality through the lens of nature aesthetics
MACHINE HALLUCINATIONS is an ongoing exploration of data aesthetics based on collective visual memories of space, nature, and urban environments. Since the inception of the project during his 2016 during Google AMI Residency, Anadol has been utilizing machine intelligence as a collaborator to human consciousness, specifically DCGAN, PGAN and StyleGAN algorithms trained on these vast datasets to reveal unrecognized layers of our external realities. Anadol and his team collect data from digital archives and publicly available resources, then process the millions of photographic memories with machine learning classification models. The sorted image datasets are then clustered into thematic categories to better understand the semantic context of the data universe. This expanding data universe not only represents the interpolation of data as synthesis, but also becomes a latent cosmos in which hallucinative potential is the main channel of artistic creativity. As a thoroughly curated multi-channel experience, MACHINE HALLUCINATIONS offers a new form of sensational autonomy via cybernetic serendipity.
About the artist
Refik Anadol (b. 1985, Istanbul, Turkey) is a media artist, director, and pioneer in the aesthetics of machine intelligence. He currently resides in Los Angeles, California, where he owns and operates Refik Anadol Studio and RAS LAB, the Studio's research practice centered around discovering and developing trailblazing approaches to data narratives and artificial intelligence. Anadol is also a lecturer for UCLA's Department of Design Media Arts from which he obtained his second Master of Fine Arts.
Anadol's body of work addresses the challenges, and the possibilities, that ubiquitous computing has imposed on humanity, and what it means to be a human in the age of AI. He explores how the perception and experience of time and space are radically changing now that machines dominate our everyday lives. Anadol is intrigued by the ways in which the digital age and machine intelligence allow for a new aesthetic technique to create enriched immersive environments that offer a dynamic perception of space.
By proposing the possibility of "post-digital architecture," Anadol invites his audience to imagine alternative realities by re-defining the functionalities of both interior and exterior architectural elements. He tackles this by moving beyond the integration of media into built forms and translating the logic of a new media technology into art and design, particularly his works explore the space among digital and physical entities by creating a hybrid relationship between architecture and media arts with machine intelligence.
Residing at the crossroads of art, science, and technology, Anadol's site-specific three-dimensional data sculptures and paintings, live audio/visual performances, and immersive installations take varied virtual and physical forms. Entire buildings come to life, floors, walls, and ceilings disappear into infinity, breathtaking aesthetics take shape from large swaths of data, and what was once invisible to the human eye becomes visible, offering the audience a new perspective on, and narrative of their worlds.
The primary thread that runs throughout Anadol's groundbreaking visualizations of the unseen world is data: for Quantum Memories, 200 million photos of Earth and its landscapes, oceans and atmosphere were used to visualize an alternate reality of nature; for Sense of Space at the 17th International Architecture Exhibition – La Biennale di Venezia – approximately 70 terabytes of multimodal MRI data, including structural, diffusion (DTI) and functional (fMRI) scans of people ranging from birth to nonagenarians was used to design the human brain-inspired artwork; archival photographic data of our universe from NASA/JPL was the driving force behind Machine Memoirs: Space, Istanbul's most visited exhibition ever; for Machine Hallucination, 113 million publicly available images of New York City were used to envision the near future of a storied city; for WDCH Dreams, 100 years of the Los Angeles Philharmonic's digital archives were tapped to inspire the visuals projected onto Frank Gehry's iconic building; for Oakland's Sense of Place, real-time environmental data such as wind, temperature, and humidity as well as invisible communication signals from Bluetooth, Wifi and LTE inform the work; for Berlin's Latent Being, the visitors themselves provided real-time data for the artificial thinking process; and for Charlotte Airport's Interconnected, real-time airport statistics such as arrivals/departures, baggage handling systems and ground shuttle transportation transform into an ever-changing suite of abstract form, color, and simulated texture.
Refik Anadol 's global projects have received a number of awards and prizes including the Lorenzo il Magnifico Lifetime Achievement Award for New Media Art, Microsoft Research's Best Vision Award, Lumen Prize Award, iF Gold Award, D&AD Pencil Award, German Design Award, UCLA Art+Architecture Moss Award, Columbia University's Breakthrough in Storytelling Award, University of California Institute for Research in the Arts Award, SEGD Global Design Award, and Google's Artists and Machine Intelligence Artist Residency Award.
Anadol's site-specific audio/visual performances have been featured at iconic landmarks, museums and festivals worldwide, such as the 17th International Architecture Exhibition – La Biennale di Venezia, the National Gallery of Victoria, Walt Disney Concert Hall, Hammer Museum, Dongdaemun Design Plaza, Artechouse, The Centre Pompidou, The Portland Building, Daejeon Museum of Art, Florence Biennale, Art Basel, OFFF Festival, International Digital Arts Biennial Montreal, Ars Electronica Festival , l'Usine | Genève, Arc De Triomf, Zollverein | SANAA's School of Design Building, santralistanbul Contemporary Art Center, Outdoor Vision Festival, Istanbul Design Biennial, Sydney City Art, and Lichtrouten, among many others.
Refik Anadol Studio comprises designers, architects, data scientists, and researchers from diverse professional and personal backgrounds, embracing principles of inclusion and equity throughout every stage of production. Studio members originate from 10 different countries and are collectively fluent in 14 languages. The Studio's internship program also demonstrates a strong commitment to mentoring young people from a variety of personal experiences, values, and world views.
A pioneer in his field, and the first to use artificial intelligence in a public immersive artwork, Anadol has partnered with teams at Microsoft, Google, Nvidia, Intel, IBM, Panasonic, JPL/NASA, Siemens, Epson, MIT, Harvard, UCLA, Stanford University, and UCSF, to apply the latest, cutting-edge science, research and technologies to his body of work.
Categories
Tags