Tabish Khan the @LondonArtCritic picks his favourite nocturnal artworks, now that we have plenty of hours in each day when it's dark – plus they're all outdoors so safer to visit. Each one comes with a concise review to help you decide whether it's for you. 
Borealis @ Guildhall Yard
The Northern Lights are on a lot of people's bucket lists, and now you can experience a recreation of them in London – within Guildhall Yard. Using lights and mist Dan Acher has created a stunning multi-coloured display that is breath-taking and I could happily gawp up at it for hours. Until 22 December, 5.30-10.30pm.
Glow Wild @ Wakehurst, Sussex
The Christmas Lights at Kew Gardens are hugely popular but not as many know about the equally spectacular ones over at its sister site at Wakehurst, which includes lights, fire and the UK's tallest Christmas tree stretched across its immense grounds. Until 2 January, 4.30-8.10pm – ticketed.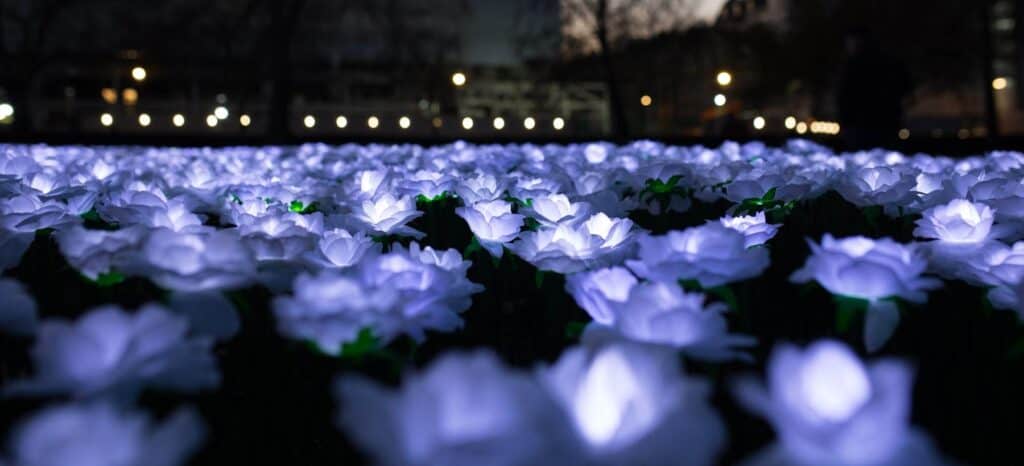 The Ever After Garden @ Grosvenor Square
This illuminated rose garden is stunning, and it's also raising awareness and money for the Royal Marsden Charity as visitors can purchase a rose and plant it, dedicating it to the remembrance of a loved one. It's a beautiful gesture and installation and it's great to see it return after it first appeared in 2019. Until 23 December, 12-8pm.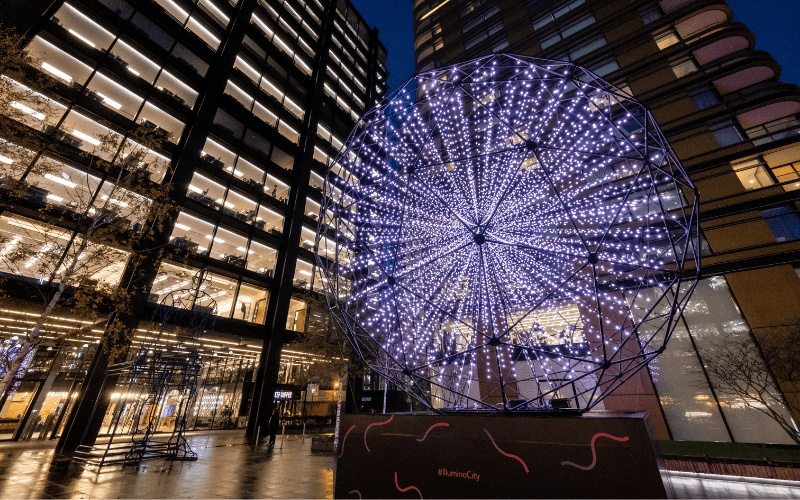 Illuminocity @ City of London
Lighting up the square mile in three locations Illuminocity brings light art works to the City of London and nearby Shoreditch, which has the pulsing sphere by Squidsoup – a mesmerising giant artwork that changes colour and is based on the mathematical concept of a singularity. Until 22 January.
Peace on Earth Advent Calendar @ Nine Elms
Back for its third year under a new theme of peace on Earth, local artists have created murals, and artworks within windows of local businesses to provide an artistic trail through which people can get to see a new area that's constantly changing and many Londoners may not be familiar with yet. Until 5 January.
Wakehurst image © OGE Group.
Categories
Tags