Ning Zhou's Questions I Ask Myself During Lockdown, Thomas Hjelm's Heavy Wave (@thomashjelmstudio) Po Lam Chan's I'm just not there (@polamchan), Victoria Rotaru's Perpetual Decomposer (vic.rotaru), and Victoria Canton's Like a candle needs a flame, (@victoriacantons) are just several highlights of Saatchi gallery's exhibition London Grads Now. 21 And by many, I mean many… "There are 7 colleges, in 9 rooms presenting approximately 200 artists" explained Juan Bolivar (curator of Camberwell and Chelsea). The exhibition is expansive and had the potential to be overwhelming. In fact, it was almost destined to be with such a large volume and range of work.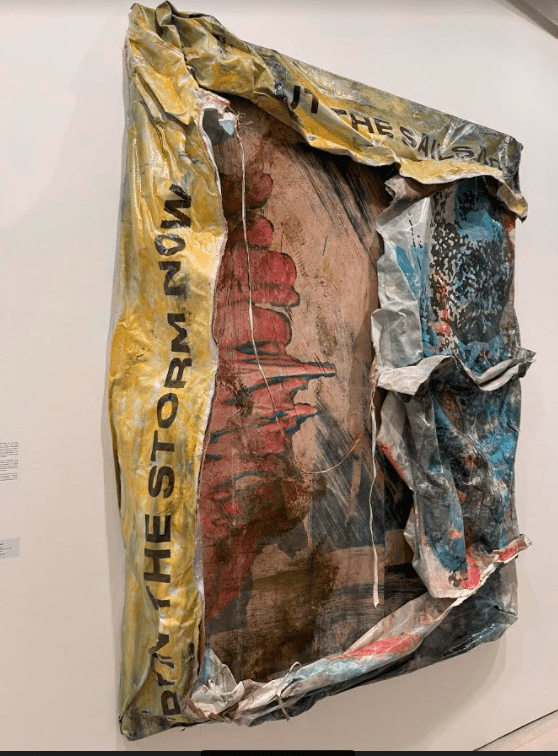 In reality, though, it was more than manageable—thanks to an incredibly talented team of curators (Jingwen Weng & Lingfei Rena Song, UAL: Central Saint Martins: (@jingwenweng_ & @Song_rena), Shahrzad Jahan, Kingston School of Art (@ShahrzadJahan) remotely curated from Tehran, Iran, assisted by Weishan Yang (@2097shan), Victoria Cantons, UCL: Slade School of Art: (@victoriacantons), Thomas Hjelm & Lauren Bevan, Royal College of Art (@thomashjelmstudio & @laurenbevanart), LaTosha Monique, Goldsmiths University (@LaLapuffs), Juan Bolivar, UAL: Camberwell College of Arts & UAL: Chelsea College of Arts (@juanbolivarstudio2112) Not pictured: Exhibition identity by Tom White (@tombowhite), UAL: Camberwell College of Arts.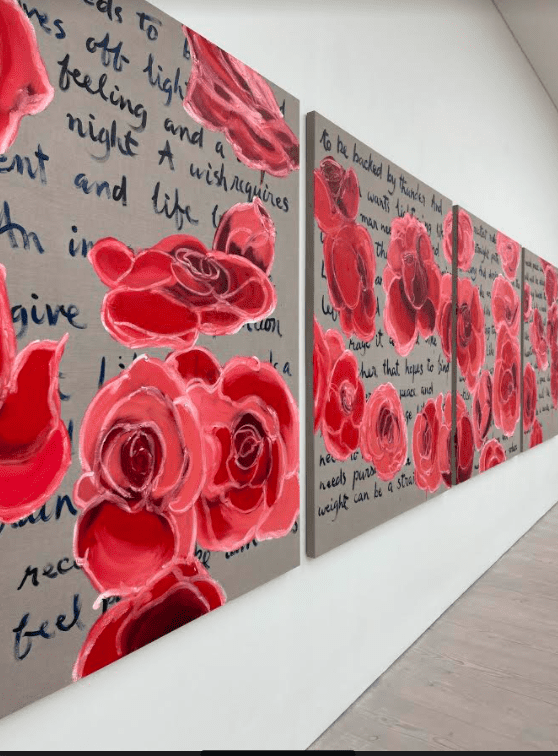 Their group of eight came together for "preparation meetings" both online and in person in order to "physically experience the space" and "create a flow where the audience wouldn't feel too overwhelmed or obstructed in the rhythm or pace of viewing." Though the dimensional show presents many mediums (painting, drawing, sculpture, film, installation etc.), it "leans towards painting and wall-based works to limit the number of complex instillations or precarious artworks." The curators also decided only to include "one work per artist to keep a clear dialogue between the exhibitors and their audience."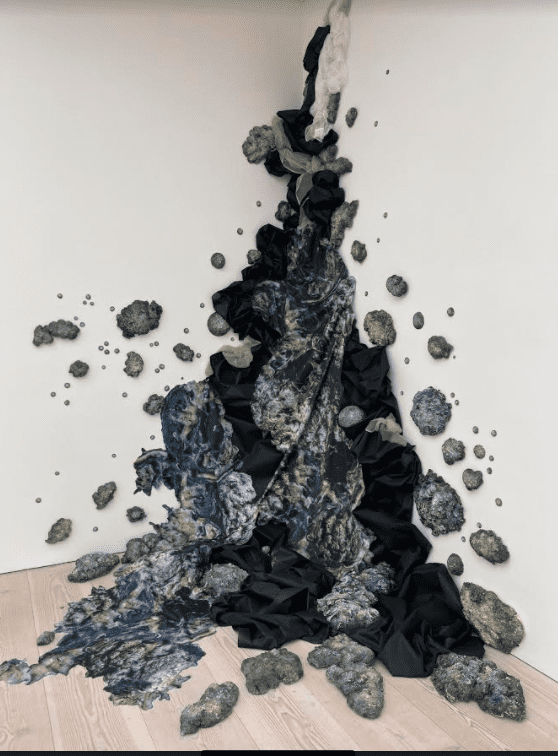 Victoria Cantons (curator for the Slade selection of works) was keen to ensure that there was a "balanced representation of artists from each pathway—media, painting and sculpture, to represent every work in the best possible way, and to give space to the works to breathe." And despite the number of works, their incredible presence, and staggering scales, this dialogue was crystal clear indeed. The quantity only added to this conversation. With bold juxtapositions of various mediums, forms, colours, sizes, sounds, etc. an invigorating energy festered in each room – at once individual and undeniably collaborative.
Cantons highlighted that the "diverse production approaches, materials and sizes of works all ensure that the audience is pulled into the various narratives and concepts of works." Multimedia sculptures (one made of steel bars on the wall opposite a line of wooden blocks on the floor) interrupt the room—drawing viewers closer to the corners of the room where smaller works wait patiently to be seen. At first, the differences in the works are blatant. But after sitting with the space (and even revisiting certain rooms) a connection becomes clear.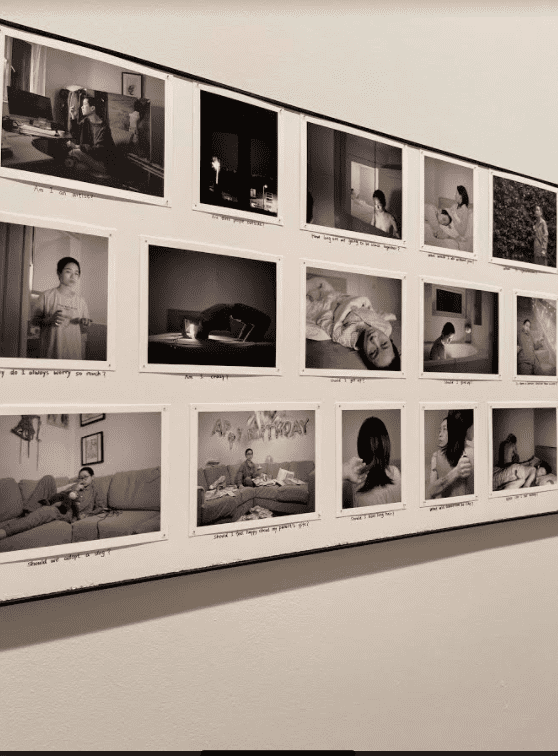 The artists have used their work (or perhaps their work uses them) to contemplate existence in our environment. What does our physical state look like? How do we interact with it? How do our bodies interact physically and emotionally with our surroundings? What do we turn to in order to exist? How do we process this interaction? It becomes clear that the pieces are products of a long battle between a human and their creation—honouring or even celebrating, the tension that is integral to their process.
When I asked Bolivar whether this clear overarching theme was purposeful, though, he said the overlaps in thematic strains were purely "coincidental" and were not discussed in advance. This body of work and this group of students is unique in a sense, though, because "in these past two years we have all been experiencing things together more than ever before." Between social distancing, various lockdowns, and a complete uprooting of any normal routine, collectively people witnessed unprecedented times. Together, we watched the "spectacle of Covid- 19, unfold," and this exhibition tells that story. Though these artists were working alone, their final products reflect a deeply communal experience. "Artists are receptacles of the zeitgeist of our times. They are like antennae."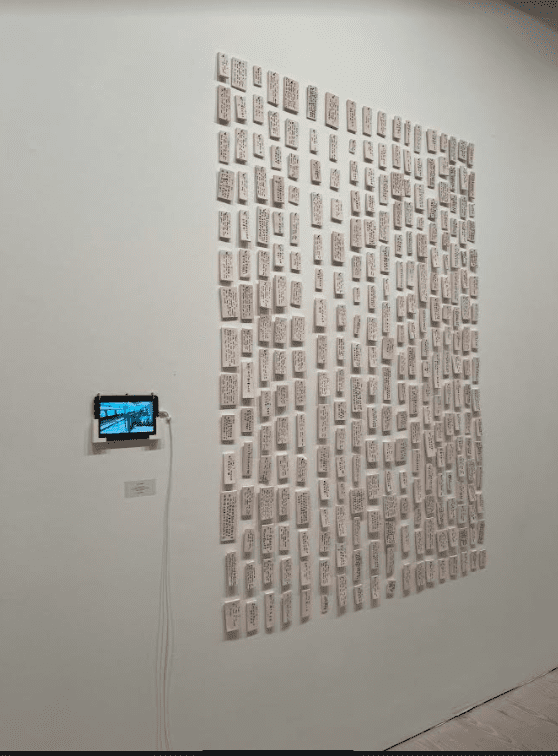 Bolivar, Cantons, and their fellow curators did not ask that the students' work reflect experiences of living through a global pandemic, but the theme could not be ignored. "The dissonance between lived, in real-life experience and the virtual nature of augmented worlds was heightened." In other words, Bolivar also reads the exhibition with Covid-19 life as a backdrop –how could you not? "Students yearned for simple things like sitting next to friends, hugging relatives, speaking through masks (or without) and the textural experience and bodily scale artworks offered when encountered again IRL." These are all topics the artists touch on "and curators, in turn, sought to recognise." London Grads Now. 21. features the recent work of more than 250 emerging artists, (and definitely deserves at least an afternoon,) but the common thread of what it means to create in a Covid- 19 world makes the exhibition accessible. 
LONDON GRADS NOW.21 OVER 250 ARTISTS FROM 7 SCHOOLS – 16TH JANUARY 2022 Saatchi Gallery
Categories
Tags