'Wild Horses' is an exhibition of painting and photography by a group of artists, focusing on their gaze, specifically looking at the couple just opened at Sim Smith.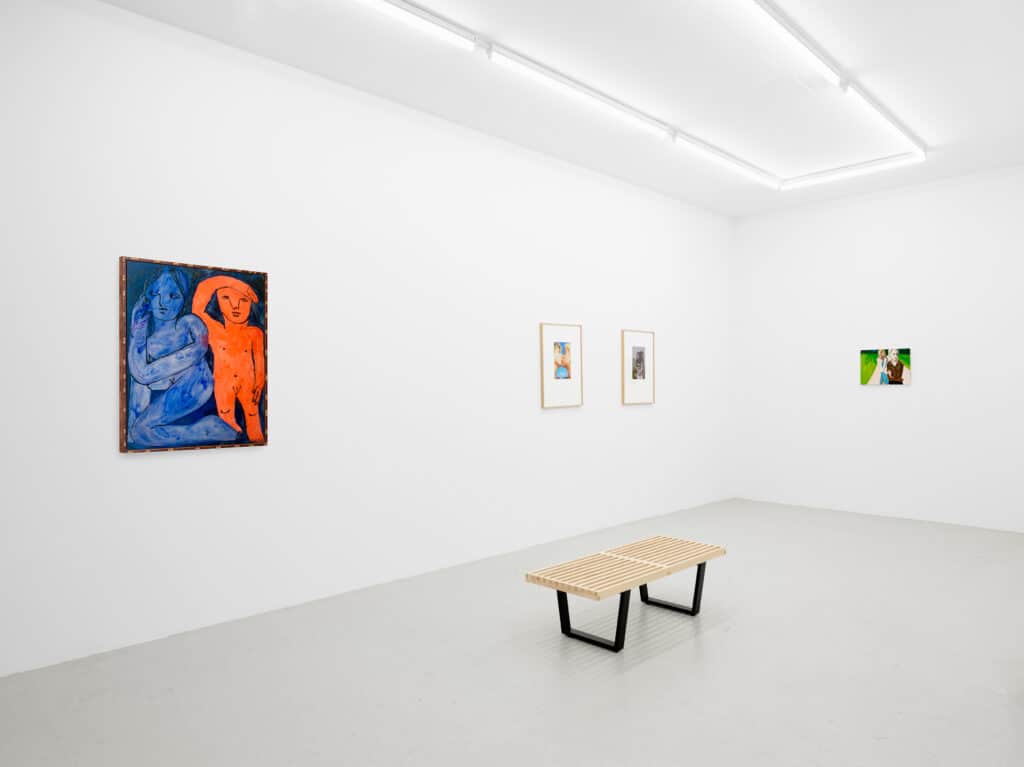 The exhibition includes works by Bar Alon, Beatriz GlezSa, Kate Groobey, Yanmei Jiang, Chantal Joffe, Aneta Kajzer, Emma Kohlmann, Florence Peake, Jurga Ramonaite, Mayan Toledano, Aviya Wyse.
The couple need not solely refer to a romantic pairing in this exhibition, instead the artists in the show explore pairs and duos including friends, siblings and genderless and ageless bodies where relationships are questioned.
"Figures that are made of two but at times appear as one and at times also separate. The distance between them is small but apparent and for just a few moments when captured by paint or photography, they are secluded from the entire world. Is there any resemblance between the two? Sometimes it's there and sometimes it's missing. An invisible bond connects them, their own universe which only exists when no one else"

Bar Alon, 2021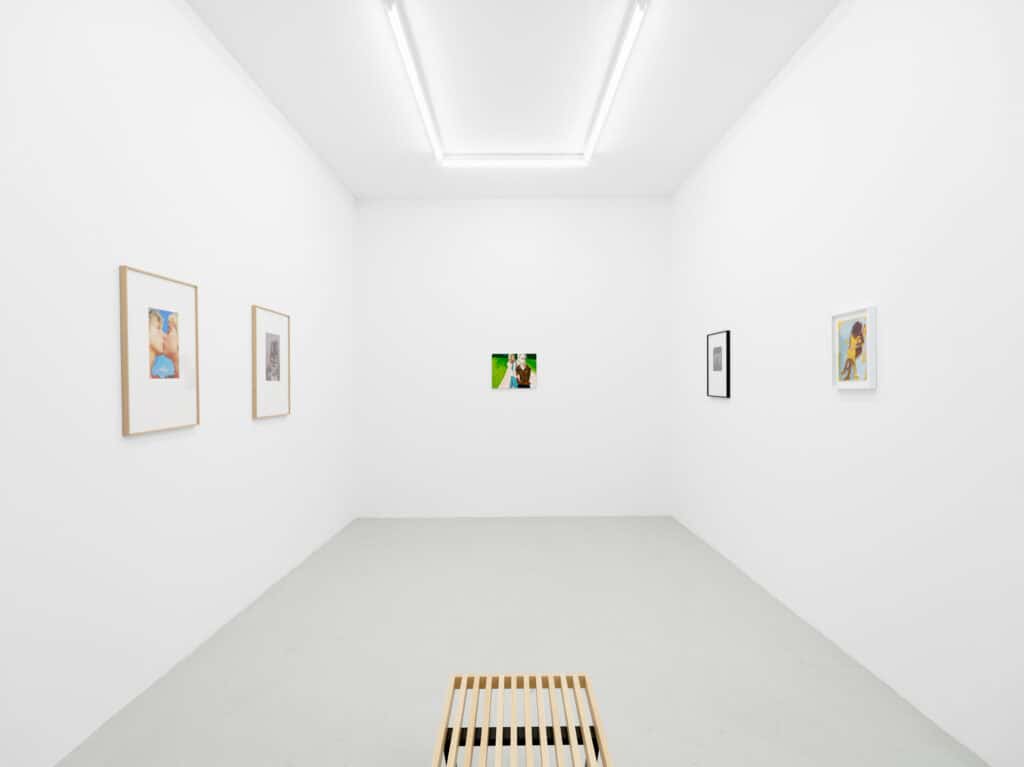 The exhibition explores themes of self-disclosure, intimacy and connection of the couple through an assortment of lenses. Many pull on the autobiographical in the show including Kate Groobey, who explore the androcentric cannon of painting from a feminist, queer perspective through watercolour on paper of herself and her girlfriend Jina Khayer. Tangible, everyday relationships are further discovered through the insight and emotional force of Chantal Joffe in her painting 'Lola and Scarlett', a portrayal of two sisters in a landscape.
The Red Sea is where Bar Alon chose to photograph her family members in black and white; captivating, poignant and still. Intimacy and the quotidian is examined further in the work of Yanmei Jiang who records the daily life of her and her partner in a series of self-portraits.
Challenging traditional beauty standards, Mayan Toledano explores themes of youth identity and gay culture, the feminine body and intimacy in her large blue skied portrait of kissing girls.
Expanding on the role of the body as a site of transformation, Beatriz GlezSa photographed naked bodies of a couple entwined on a bed in blue/green light capturing intimate scenes of healing and resilience.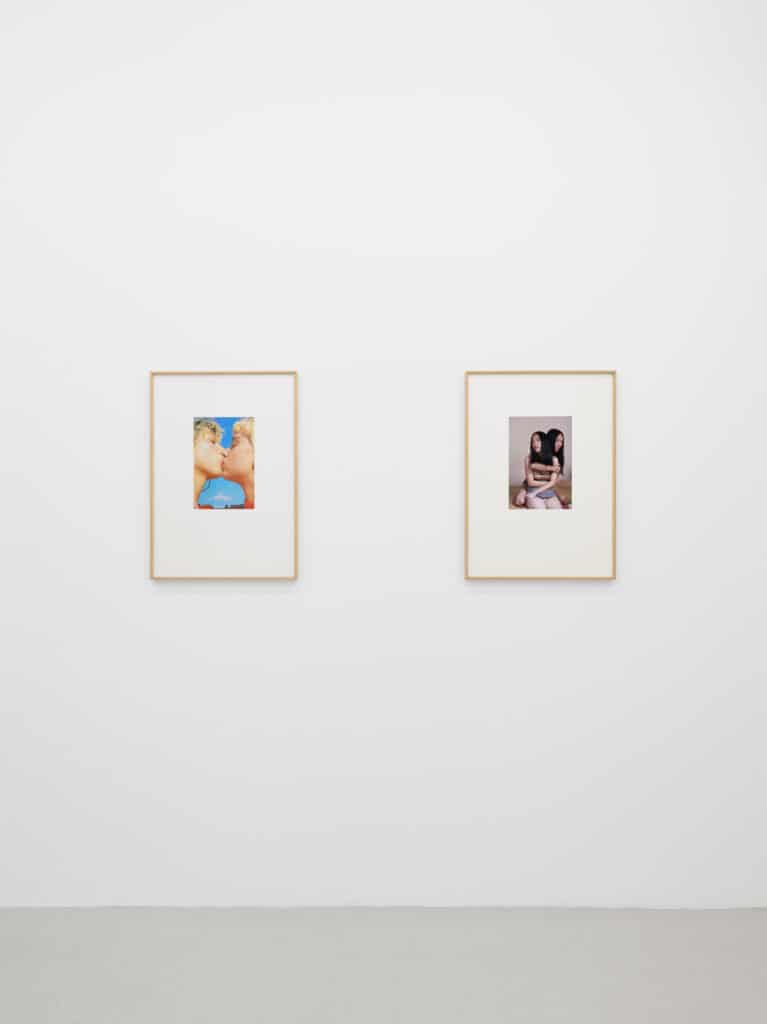 Moving away from earthly preoccupations, Emma Kohlmann offers up otherworldly, genderless bodies brightly painted onto canvas in an egalitarian and inclusive ethereal space, with others like Aneta Kajzer teetering between abstraction and figuration. Kajzer works somewhere between humour and melancholy in jewel-toned oil paint, with figures that reveal themselves to her through the act of making – out of the complexities of abstraction, simple forms of the body emerge. The sensual and witty work of Florence Peake sees her use of the erotic as a sensual tool in hollogrammed works in oil depicting the couple as if from a dream and in a twist of magic, Aviya Wyse's portraits have extended to become a human existential record, a proof of existence. Often shot in black and white, the works are raw, atmospheric and full of emotion. While, Jurga Ramonaite, a photographer and filmmaker captures the moments we participate in through an editorial lens, exploring themes of love, romantically, motherly and environmentally.
What is clear across the exhibition is the consideration of human traits, emotions, habits and ritual. The works are mirror-like, counterparts that explore a familiar spirit. Whether through appropriated imagery or imagined figures, these works are a chance, to tell the truth, to be unashamed. They follow deep, close, active relationships – that is the source of the work – the relationship between the couple, of the artist and their subjects and ultimately the viewer who becomes part of the work too. It is the anthropomorphism within the works that binds us, that is what speaks to the innate tendencies of our human psychology and in the end, what makes us look and linger a little longer.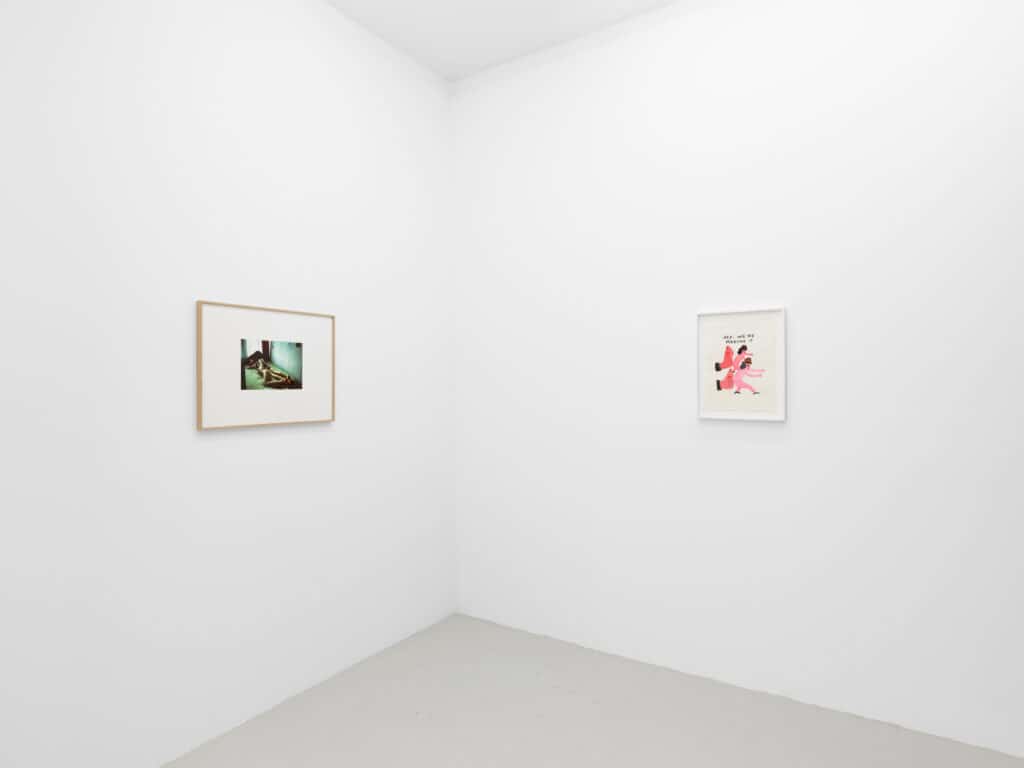 Wild Horses at Sim Smith – December 17th 2021 sim-smith.com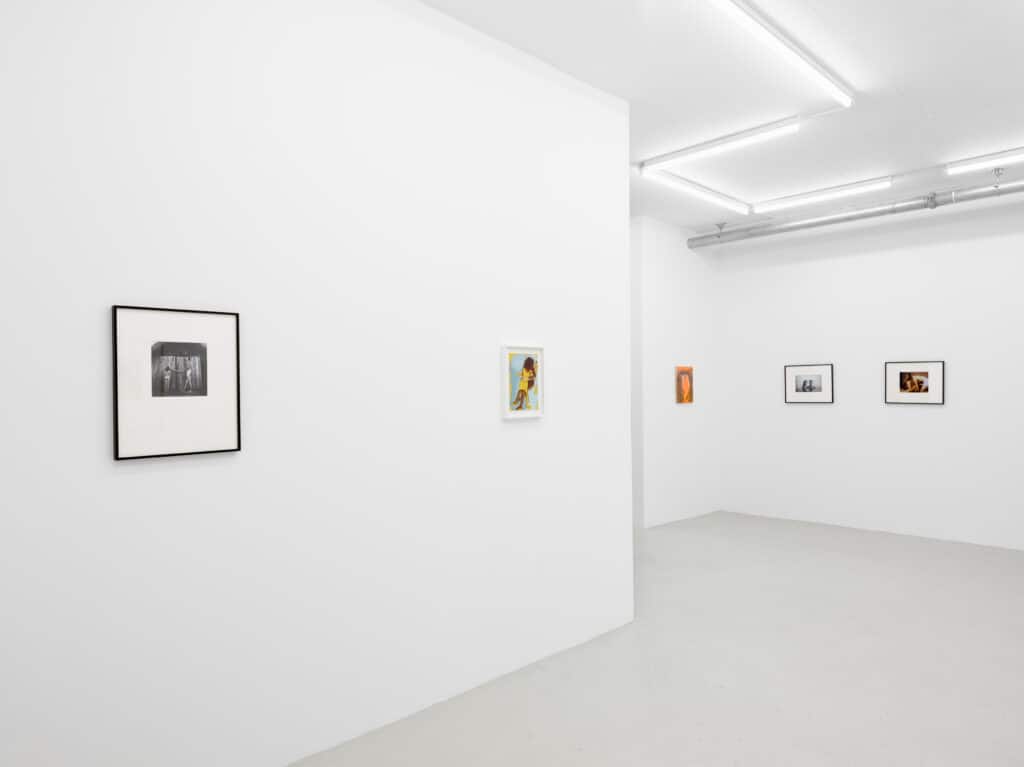 About the artists

Bar Alon (b. 1988) based in London, Alon is a Film Director and Photographer.

Beatriz GlezSa is a European interdisciplinary eco-artist based in Barcelona. A researcher, writer, visual artist; creative, and art director. As well as an art teacher and coach. She was awarded a scholarship to study Photography at Nottingham Trent University (UK). She obtained the European "Leonardo Da Vinci" grant for professional training in the UK. Guest Artist in Fotográfica Bogotá 2019 – FotoMuseo. Her Artworks series is part of the permanent collection of National Museum of Photography of Colombia.

Kate Groobey (b. 1979) is a British artist based between South Yorkshire and the South of France. The first woman to receive the DAIWA Foundation Prize for Art in 2018. Her work exhibits internationally, with her most recent shows including: 2021 Collection in Action, NOMUS – a new department of the National Museum in Gdansk, Poland, 2020 Start Again, Sim Smith, London, 2019 Assholes of Ambition, RIBOT, Milan, 2018 and Pure Pleasure, Mizuma Gallery, Tokyo, 2018.

Yanmei Jiang (b. 1986) Yanmei often explores daily life of the couple through her photography and regularly works with her partner. They are based in China, the two artists created Me and Me to document the story of growth through life and creation between Yanmei Jiang and Wenjun Chen. Meeting each other in 2007, they started to record each one's daily life unconsciously, treating the other one as a model in a photographic experiment. In 2014, they tended to shoot self-portraits and group photos consciously, exploring and understanding themselves in this relationship. The project compiled the stories between them from 2007 to 2016, it has also been made into a handmade book (2007-2015), which consists of four parts.

Chantal Joffe (b. 1969) lives and works in London. She holds an MA from the Royal College of Art and was awarded the Royal Academy Wollaston Prize in 2006. Her recent show at Victoria Miro Story features a number of paintings of the artist's mother and considers issues of aging, motherhood and visibility, focusing particularly on the complex relationship between mother and child over time. The show is the third in a trilogy that began with a year of self-portraits, shown at Victoria Miro in 2019, followed by For Esme – with Love and Squalor, shown at Arnolfini, Bristol, UK (2020) which captured the changing faces across the years of Joffe and her daughter, Esme. Joffe has exhibited nationally and internationally with venues including The Foundling Museum, London, UK (2020); Arnolfini, Bristol, UK (2020); Scottish National Gallery of Modern Art, Edinburgh, Scotland (2019); Whitechapel Gallery, London (2018); The Lowry, Salford (2018); Royal Academy of Arts, London (2018, 2017); National Museum of Iceland, Reykjavík (2016) and National Portrait Gallery, London (2015), to name a few. She has created a major new public work for the Elizabeth line station at Whitechapel. Titled A Sunday Afternoon in Whitechapel, the work will be on view when the Crossrail station opens in 2022.

Aneta Kajzer (b. 1989) lives and works in Berlin, she works with wide brush strokes creating beautiful colours on the canvas that blur the lines between abstract and figuration. She exhibits internationally and is part of major public collections including Collection of the Federal Republic of Germany, X Museum in Beijing and New Carlsburg Foundation in Denmark.

Emma Kohlmann (b. 1989) is based in Western Massachusetts, Emma's work focuses on drawings and ink pieces, exploring themes of feminine mythology. Kohlmann has exhibited her work in New York, LA, Portland, Athens, Tokyo and Copenhagen. Portland Museum of Art and MOCA Tuson have also exhibited her work. She has frequently worked with Vogue for their illustrations.

Florence Peake (b.1973) is a London-based artist and choreographer trained in performance and dance. Her interdisciplinary work, made both independently and collaboratively, has been exhibited and performed nationally and internationally since 1995 in New York, San Francisco, Seattle, Prague, Sweden and Latvia. Peake's work has been commissioned by and shown at prestigious institutions such as British Art Show 9 (2021-22), 58th Venice Biennale (2019), Palais de Tokyo (2018), De la Warr Pavilion (2018), Crac Occitanie (2018), Baltic Centre for Contemporary Art (2013), Yorkshire Sculpture Park (2012), National Review of Live Art (2009), and The National Portrait Gallery (2008).

Jurga Ramonaite (b.1995) a photographer and filmmaker based between London and Paris.

Mayan Toledano (b. 1987) is a Director and Photographer based in New York. Toledano's work has been featured for clients including Nike, Chanel and Gucci as well as publications such as W Magazine and the New York Times.

Aviya Wyse (b. 1988) born in Haifa, Israel, her work focuses on the synergy between life and death, since graduating she has exhibited, among others, in the Mediation Biennale, Poznan, Poland, the Pink cube gallery, Oslo, Norway, at TJ BOULTING Gallery, London, UK and at Compagnietheater Amsterdam Designing A Set For A Contemporary Opera piece. In 2018 Vogue named her among 100 most inspiring artists of the year. Her work has featured in many publications.
Categories
Tags