Award-winning artist collective Still/Moving and Clyde Docks Preservation Initiative (CDPI) will transform Govan's A-listed Graving Docks for the duration of the 2021 UN Climate Change Conference (COP26) with a large-scale sculpture, NO NEW WORLDS.
Still/Moving believe that patterns that mark colonisation: expansion, exploitation and extraction have brought us to this pivotal ecological moment. We believe it is critical to constantly question the myth of infinite growth on a finite planet. We can change the pattern and repair the damage done, on multiple levels, so that we can live in a world where many worlds, human and non-human, can belong and flourish. NO NEW WORLDS is a modular system that can spell anything. Its re-writable quality embodies the idea that if we want to change the future, we need to address the stories we tell ourselves about our past, present and future."

Still/Moving artist Léonie Hampton
NO NEW WORLDS will be erected at Govan Graving Docks 30th Oct – 13th Nov, placing an unmissable statement in front of COP 26 delegates directly opposite the main COP delegate zone.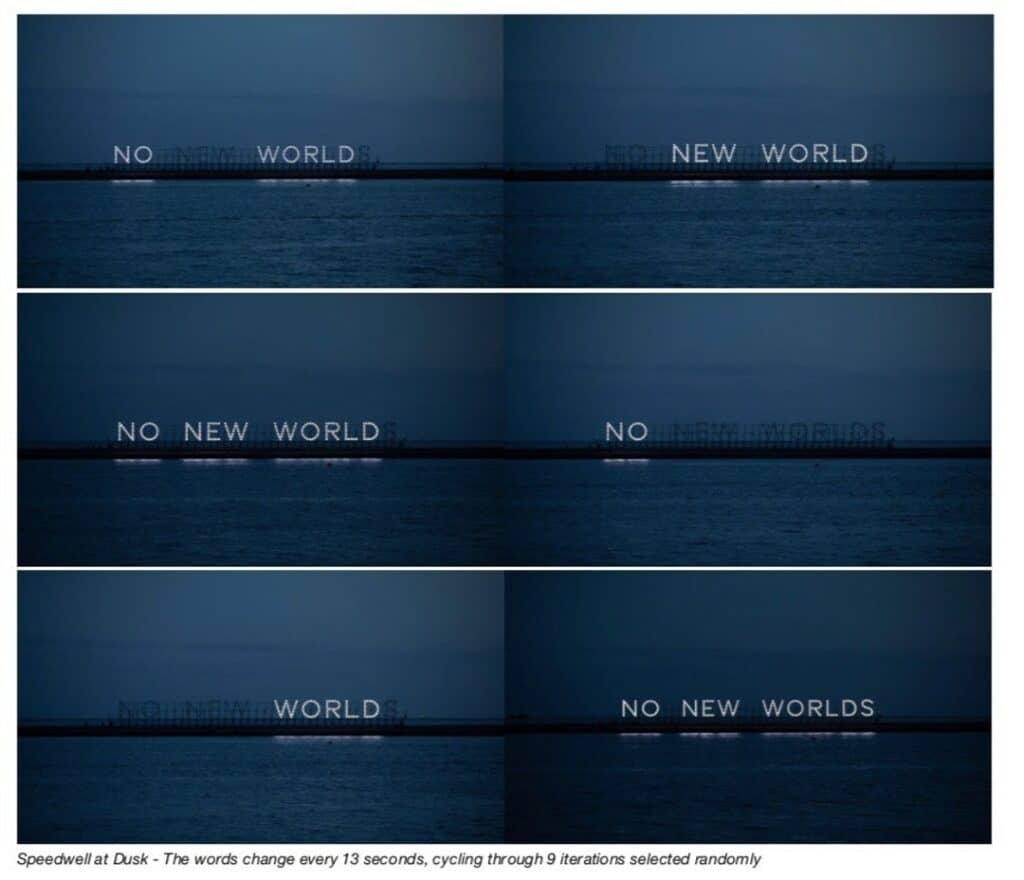 The artwork illuminates the links between climate change and historical and ongoing colonisation, inviting viewers to ask difficult questions about themselves, the legacy of colonialism and its relation to our damaged planet, as well as providing a bright beacon for the future. The high-profile sculpture – measuring 70m long, 7m high and using 3,723 low power LED lights that use less energy than two toasters; was previously exhibited under the title Speedwell, at the Mount Batten Breakwater in Plymouth as part of the Mayflower 400 Commemoration Programme, and will now travel to Glasgow for the duration of COP26. The project has been realised with the support of a community Crowdfunder campaign. Its placement at Govan Dock and in full view of the COP26 summit site will shine a light on the River Clyde, and serve as a stark reminder to COP delegates that there is no plan(et) B. The work offers multiple readings, constantly shifting through nine iterations of three words – NEW WORLDS; NO; NEW WORLD; NO WORLD; NEW; NO NEW WORLD; WORLDS; WORLD; NO NEW WORLDS. The resulting effect questions the historic conceit that there ever was a 'New World'.
During the period of the exhibition, the giant puppet figures of Little Amal and STORM will pass NO NEW WORLDS at the Govan Graving Dock – commenting on the joint messages of colonial and climate justice as encapsulated in the light sculpture. Govan Dock was where hundreds of ships that served the British Empire were once built and repaired – and for the local community, is an important historical symbol of industry. Set within the conflicting legacy of this site, the sculpture's reflection will shimmer in the water, facing the delegates and the city beyond.
"Climate change is the sum of past injustices that have caused destruction and harm. The COP process can help achieve healing and justice by acknowledging a colonial past, a past that is still very present today and continues to cause deep pain. Initiatives like 'NO NEW WORLDS' contribute to the acknowledgement and healing of the reconciliation needed by all societies.

Calfin Lafkenche, Indigenous Mapuche leader from Patagonia, Chile, and lead coordinator Minga Indígena COP26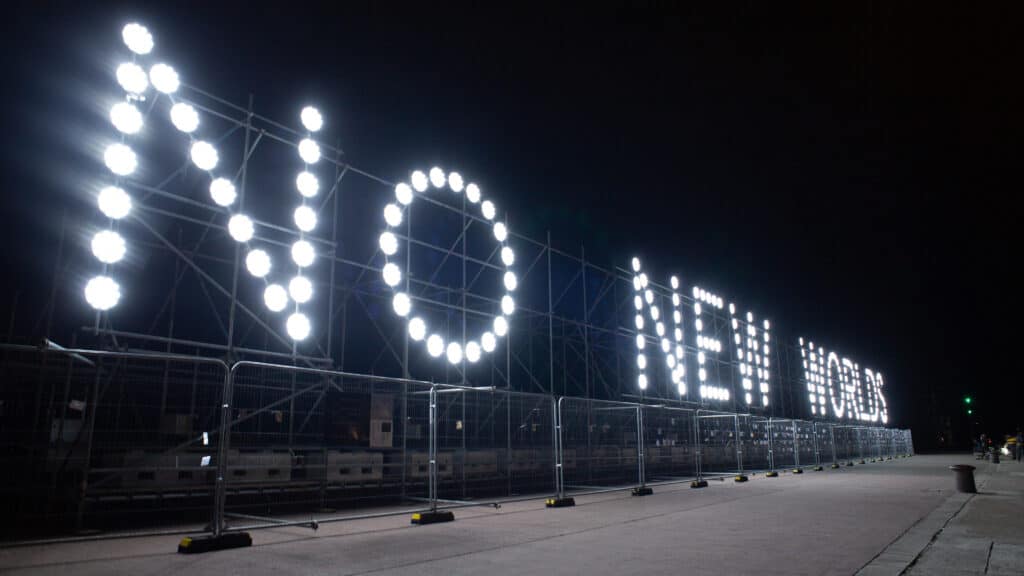 Still/Moving is composed of three artists based in Devon, Laura Hopes, Martin Hampton and Léonie Hampton. Their collective practice with each other and partner communities, developed through a collaborative process, aims to create social and ecological change through questioning established modes of thinking and behaviour.
CDPI, the Clyde Docks Preservation Initiative is a social enterprise promoting maritime heritage, sustainable development and sustainable recreation & tourism on the River and Firth of Clyde. The NO NEW WORLDS sculpture is the start of a year-long engagement programme to take the message of climate action to the communities of the Clyde – to develop an understanding of its relevance to maritime heritage and the Turning the Tide On the Clyde celebration and mapping programme.

NO NEW WORLDS will be switched-on at dusk on Saturday 30th October and remain illuminated for two weeks, through to Saturday 13th November.
About the artist/s
Still/Moving is composed of three artists based in Devon, Laura Hopes, Martin Hampton and Léonie Hampton. Their collective practice with each other and partner communities, developed through a collaborative process, aims to create social and ecological change through questioning established modes of thinking and behaviour. Their work includes sculpture, film, photography, performance, installation, the spoken and printed word. Léonie has an internationally acclaimed art practice. She studied Art history, specialising in contemporary European and American art, and is a part time MA Photography tutor at LCC London. Martin is an award-winning filmmaker who co-founded Squint/Opera with architect Will Alsop. He studied Architecture at The Bartlett, UCL, specialising in speculative designs for extreme locations such as the moon and intertidal zones. Laura is an artist and post-doctoral researcher, whose practice focuses upon the relationship between climate change and colonisation. stillmoving.org
Categories
Tags