The new MUNCH officially opened to the public last Friday in Oslo. At five times the size of the original building, the new MUNCH allows visitors to experience the full range of Edvard Munch's work across 11 floors. The museum boasts the world's largest collection of Edvard Munch's oeuvre, and the new structure increases the exhibition areas fourfold with 26,313 square metres of new spaces to showcase highlights from the artist's prolific career. Standing at over
57.4 metres, this new landmark places Edvard Munch, Norway's most important artist, firmly at the centre of the city of Oslo.

Located on the edge of the Fjord, estudio Herreros created the new museum with the city of Oslo in mind. This new museum on the waterfront transforms the city's skyline. The top floor opens up into an observation area, offering some of Oslo's most spectacular views. The perforated, translucent aluminium façade reflects the changing colours and conditions of the Oslo skies. The new building has been created as a nod to Edvard Munch's connection to the Norwegian landscape and his penchant for painting outside in all seasons.
The new museum is a fully accessible, vibrant venue, offering a wide ranging programme of events and experiences for visitors of all ages with enhanced studio spaces. Research and conservation facilities are accessible to the public, allowing visitors insight into the ongoing work taking place to preserve and celebrate Edvard Munch's legacy.
The programme of events includes concerts, literature readings, performance and art workshops, integrating the museum within the new cultural district of Bjørvika. Visitors can also enjoy a meal in the 13th floor restaurant with views overlooking the city and Fjord.
MUNCH's collection, the core of which Edvard Munch donated to the city of Oslo upon his death, includes over half of Munch's known works, including over 26,700 paintings, prints, photographs, drawings and watercolours by the artist, ranging from 1873 to 1944. While Munch is best-known for The Scream, he also experimented with various media and techniques at the edge of modernism. In addition to the paintings, watercolours and woodblock prints for which
he is best known, Munch bought a Kodak camera in 1902 and is recognised today as one of the first artists to experiment with self-portrait photography. The museum's collection also includes thousands of other items
included in Edvard Munch's original bequest to the city such as his printing plates and lithographic stones as well as thousands of letters and approximately 10,000 objects from his own personal belongings. As well as allowing for greater opportunities to showcase Edvard Munch's artworks, the new museum also hosts major temporary
exhibitions by both Norwegian and international artists, exploring Munch's enduring influence on generations of artists that have followed.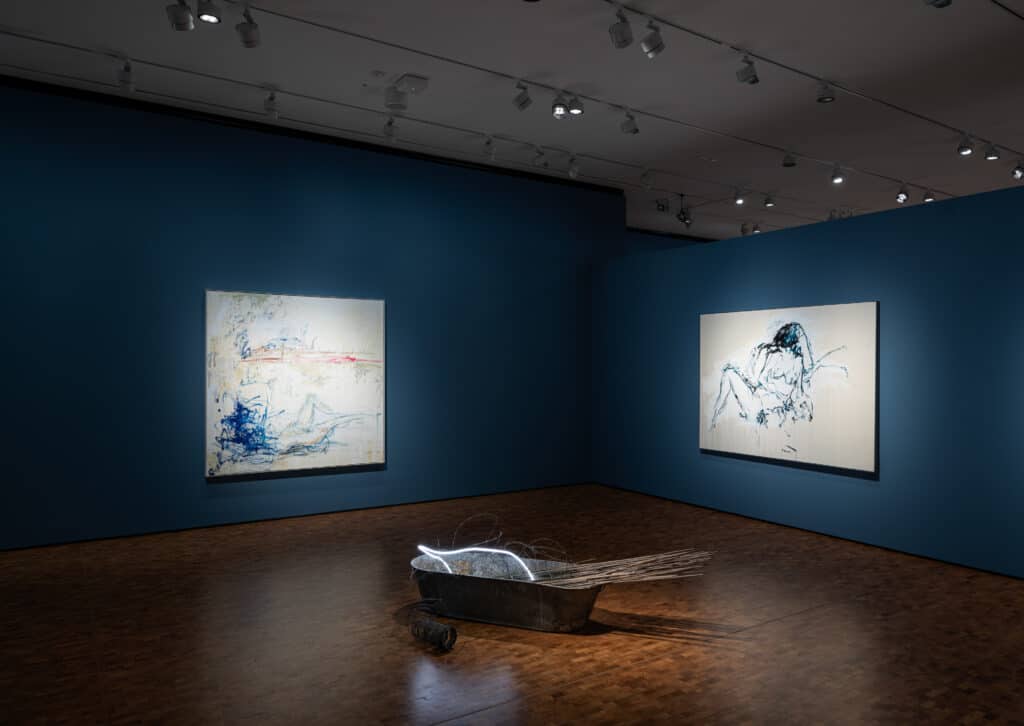 The opening exhibition is Tracey Emin / Edvard Munch: The Loneliness of the Soul
22nd October 2021 – 2nd January 2022 In her first major Scandinavian exhibition and the first exhibition to inaugurate the new museum, The Loneliness of the Soul explores Edvard Munch's influence on Tracey Emin and how his oeuvre has shaped her work over several decades. Showcasing Emin's enduring fascination with Munch, this exhibition, curated by Kari Brandtzæg, allows for a dialogue between the two artists, with new works by Emin shown alongside pieces by Munch from the museum collection which Emin has personally selected. The exhibition focuses on her work in painting, sculpture and neon text over the last decade, and also includes a selection of her early artworks, including My Bed (1998). Illustrating the profound impact that Munch's artwork has had on Emin's career, the exhibition brings to light Munch's relevance for leading artists working today.
For more information on the opening programme, please see here: munchmuseet.no/en/program2021/
Categories
Tags