Vanguard will host an auction of works by some of the biggest names in contemporary art in aid of charities Temwa and Aid Box Community (ABC). The charity auction will take place on Friday 29th October at Lost Horizon, Bristol managed by East Bristol Auctions with online bidding available on The Saleroom. Highlights include works by leading African, Pan-African, British and Irish artists including Inkie, Mr Jago, Dicy, Benjamin Ibebe, Dale DvNM Collins, Bruce Onobrakpeya, Rowdy and limited-edition prints by Banksy.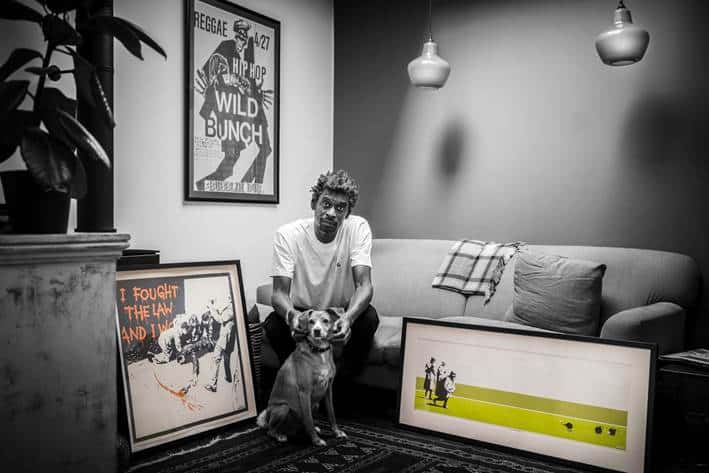 The funds raised from the auction will support Temwa's life saving work on food security and forestry, water and sanitation, and education in Northern Malawi, East Africa, and ABC's mission to provide support, supplies, and sanctuary to refugees and people seeking asylum in Bristol.
The contributions of artwork are truly life-saving and allow the Temwa team of solely Malawian nationals, in-country, to continue to implement programs in health, education, agriculture, and forestry. It also allows ABC to continue to provide the basic essentials of life; connectivity, community, love, and hope through their Bristol Welcome Hub and Free Shop.
A unique combination of African, Pan-African, British and Irish artists has been collated for the auction to support the evolution of the international art market and reflect the importance of cultural and economic collaboration globally. Historically works by European contemporary artists have raised far more at auction than their African counterparts, this charity auction in aid of Temwa and ABC hopes to redress the balance and showcase some of the most exciting African artists working today. 
This year Temwa lost a £250,000 grant due to UK government aid cuts which left the organisation in desperate need of funds to continue its life-saving work on food security, forestry, health & education in rural Northern Malawi, one of the world's poorest regions. 
Daddy G of Massive Attack AKA Grant Marshall has donated two limited-edition Banksy prints I Fought The Law (valued at £30,000-£40,000) and Bomb Middle England (valued at £15,000-£25,000), one of which was given to his family by the artist early on in his career. Marshall has decided to donate the artworks to this auction to raise money for the charities that support some of the most vulnerable people in Bristol and Malawi. 
Marshall said:
"When we heard about the government funding Temwa lost earlier this year with the UK aid cuts, and the importance of the work Temwa does in Malawi, we felt compelled to help. Selling the Banksy prints via the Vanguard charity auction seemed an easy way to help raise some urgent funds needed."
Other highlights of the auction include:
An original painting by Bristol artist Dale DvNM Collins As The Rain Sings On The River (valued at £3,000-£5,000). Having first seen graffiti in 1980s Bristol at the age of 10, Collins has become a respected artist in the scene, gaining recognition for his abstract pieces exploring the artist's struggle with mental health. 
Values, an original painting by internationally known African artist Benjamin Ibebe (valued at £6,000-£8,000). Living in one of the most beautiful but troubled parts of Nigeria, Ibebe's impressionist style is a reflection of the country's socio-cultural and economic life.  His unique approach, a complex layering of the canvas until it takes an almost three-dimensional aspect is executed with a mixture of oil and mixed media through neo-geometric strokes using his palette knife.
A selection of original works by Bristol street art legend Mr Jago, whose expressive, abstract compositions have taken spray painting to a level of sophistication rarely seen in the medium. His deft use of colour and abstract forms evoke dream-like visions of the natural world and the cosmos – two of Mr Jago's biggest inspirations. 
An original painting by Bristol legend Inkie, Glitch Nouveau (valued at £1,500-£2,000), a beautiful work from his 'ink nouveau' series that he is famed for. His unique style mixes Art Nouveau influences with an unmistakeable urban twist to create timeless pieces that can be seen on walls across the world.  
A limited edition plastograph, valued at £1,500-£2,000, by Nigerian printmaker, painter and sculptor Bruce Onobrakpeya. His colourful semi-abstract canvases have been exhibited at the Tate Modern, London and the National Museum of African Art of the Smithsonian Institution in Washington, D.C. 
Speaking on the importance of these funds, director of Temwa Jo Hook said:
"The funds generated from the commission of the Banksy print sales owned by Grant (Daddy G) & Sylvia Marshall will go directly towards purchasing large numbers of fruit trees and agro-forestry trees under Temwa's Agriculture and Forestry (AFP) Programme. In time for this year's rainy season, these trees will be distributed and planted by community members that we work within Northern Malawi. 
The AFP programme develops sustainable livelihoods and local stewardship of natural resources, with the aim of improving household food and income security – ultimately helping to reduce poverty in a forest-friendly way
Not only will Temwa be getting the commission from the sale of the Banksy prints, a portion of the sale of these prints will go to Temwa & ABC. We are incredibly grateful to the Marshall family for their support, and to all of the artists who are donating their works for this auction. The kindness & generosity of everyone involved is humbling, together we are all trying to correct some of the injustice in the world and level up the playing field."
The auction takes place as part of the exhibition Vanguard: Bristol Street Art on show at M Shed, Bristol which uncovers the incredible story of Bristol's influence on the global street art movement.
Register for the sale HERE.
Contemporary Charity art auction: hosted by Vanguard in aid of Temwa and Aid Box Community Friday 29 October. Doors open at 6:30pm, auction starts at 7:30pm. Lost Horizon, 1-3 Elton St, St Jude's, Bristol BS2 9EH
Categories
Tags