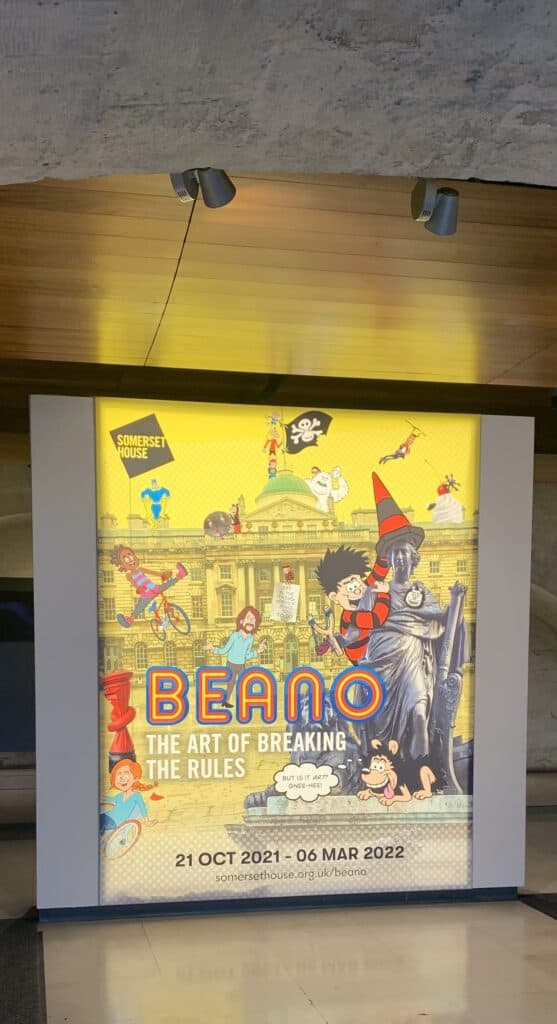 Beano: The Art of Breaking the Rules opens at Somerset House today 21st October, a major exhibition celebrating the world's longest-running weekly comic's mix of mischief, mayhem and fun – where, within its pages, restrictions are always eased.
Contributors include young fiction writer and recent subject of Small Axe film Alex Wheatle, sculptor Phyllida Barlow, Turner Prize-winning artist Martin Creed, comedian and pop star Chris Sievey (otherwise known by his alter-ego Frank Sidebottom), Bob Stanley of indie dance band Saint Etienne, Horace Panter of ska band The Specials, Swiss artist duo Fischli/Weiss, painter Beryl Cook, one of the few female artists involved in the original Pop Art movement Jann Haworth, rising star Rene Mati?, typography artist Babak Ganjei and artist Ryan Gander.  They join artists already announced, such as Sarah Lucas, Bedwyr Williams, Hardeep Pandhal and Heather Phillipson.  Inspired by the antics of Beano's mischievous heroes, they have all been brought together by their own spirit of rebellion and sense of playfulness, and their audacious artworks will be shown alongside original artwork from Beano's archive, in an exhibition that is just as unconventional as its content.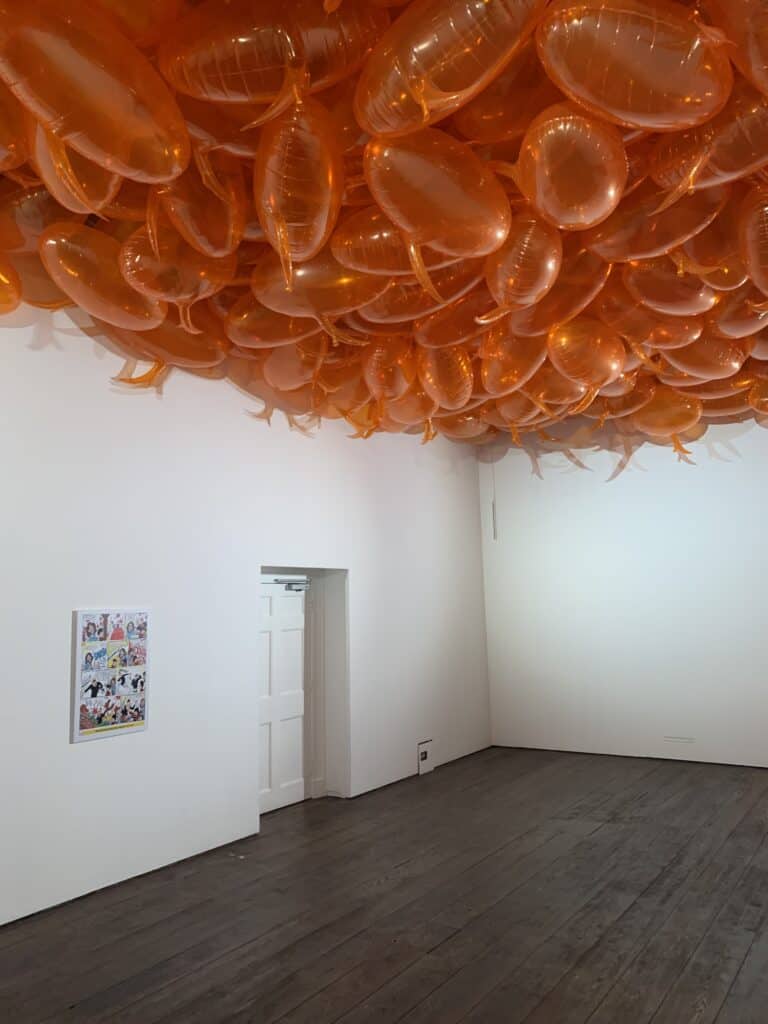 Curated by artist and lifelong Beano fan Andy Holden, Beano: The Art of Breaking the Rules opens with a large selection of original comic drawings, never previously seen in public, chosen across its 4,000-plus editions (to date) and rare archive artefacts relating to Beano's 83 years of irreverence. As well as Beano's beloved band of characters – Dennis and Gnasher, Bananaman and Bash Street Kids to name just a few – it also introduces their maverick artists from Leo Baxendale, who brought Minnie the Minx to life, to Laura Howell, who draws the all-round rebel today.
Visitors will then take a trip through Beanotown itself with larger-than-life recreations of Beano's most iconic backdrops, as if stepping inside the pages of the comic.  Hanging on the walls of Bash Street School, the homes of Gasworks Road and Bunkerton Castle, and situated outside on the streets of Beanotown, visitors will discover an eclectic collection of contemporary artworks from today's greatest creative rule-breakers, who push the boundaries in their own original and wonderful ways.  A number of works have been commissioned especially for the show and some – such as popular painter Beryl Cook's illustrations for children's book about Rufus the Rat – have never previously been released to the public.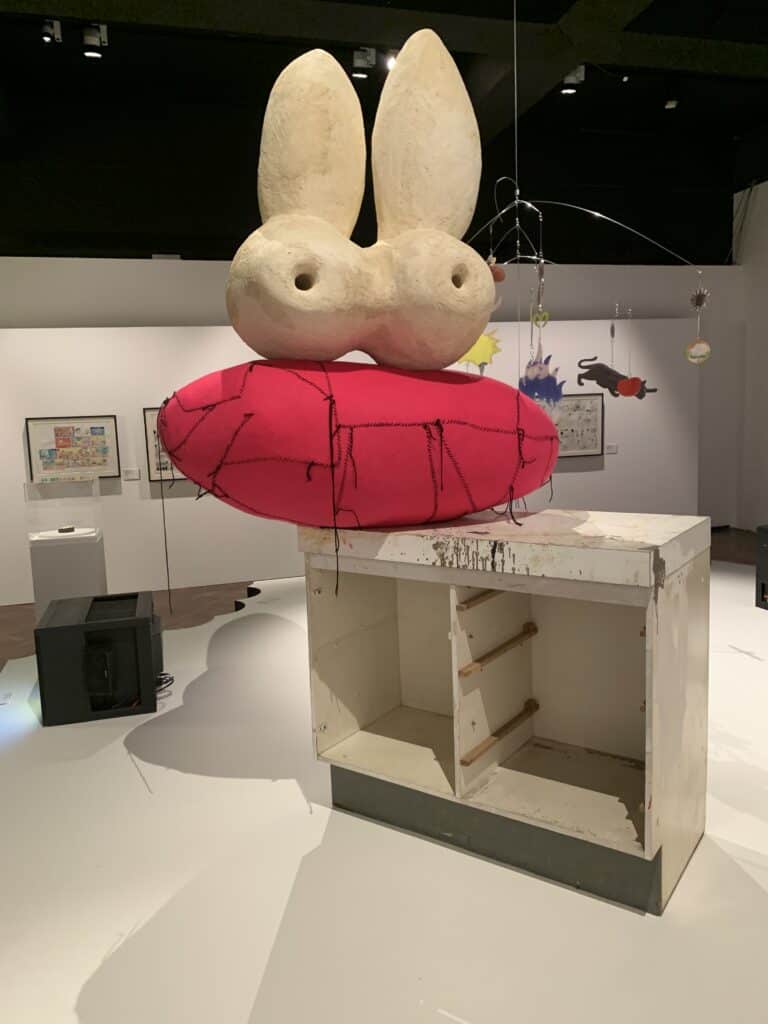 Leeds-based artist Simeon Barclay presents a new neon, two-way mirror inspired by Bash Street Kids character Plug, who believes he is so good-looking he can smash a mirror by winking at it.  The two-way mirror first shows a neon silhouette of Plug, before flipping to another neon sign saying 'ugly' below which the visitor can see their own reflection.  Barclay challenges traditional conventions of beauty by taking the charge out of the word 'ugly' and instead owning it, just like Plug.
Whilst not all of the contemporary artworks feature overt references to Beano, they all share a rebellious sensibility, often mixing comedy with subtly coded with social commentary, touching upon Beano's recurring themes of Class, Education, Art and Feminism.
An original model of Heather Phillipson's Fourth Plinth piece, THE END, will sit inside Beano's editor's office.  At first glance, an appetising blob of whipped cream topped with a juicy cherry has, in actual fact, a fly squatting on one side and a drone perched on the other, and the cream is melting around the base of the sculpture, almost on the verge of complete collapse.  The seemingly mundane subject of food is also used to cultivate such tensions in a new painting from recent RCA graduate Olivia Sterling, featuring a slapstick scene from a children's tea party to address identity in modern-day Britain.
An archive of street artist Mark McGowan's (aka Artist Taxi Driver) stunts is displayed for the first time, from pushing a peanut along the floor with his nose across London in protest at student debt, to attempting to cartwheel from Brighton beach to London to highlight the damage caused to British shores by people taking stones home.  Bedwyr Williams' new series of drawings take a satirical, sideways look at the players of the 'art world' and their affectations, whilst Cory Arcangel's re-creation of Arnold Schoenberg's Three Piano Pieces, op. 11, edited from YouTube's sub-culture of piano-playing cats, pokes fun at this cultural fetish.
At the end of the exhibition, artist Peter Liversidge – who created a colourful patchwork of signs in east London paying tribute to NHS and key workers, which went viral last year – hosts an interactive workspace.  A new rulebook for life will be created by children in advance of the exhibition, where it will go on view.  After seeing this new world order, visitors can choose the rule that they'd also like to live by and get it painted onto a protest sign live in the exhibition, to go straight up on display. 
Visitors can further unleash their rebellious streak by slinging rotten tomatoes at the great (virtual) works of art using that iconic Beano weapon, the catapult, and enjoy the splats and splots of their destruction.
BEANO: The Art of Breaking The Rules 21st October 2021 – 6th March 2022?
A major exhibition at Somerset House
Categories
Tags