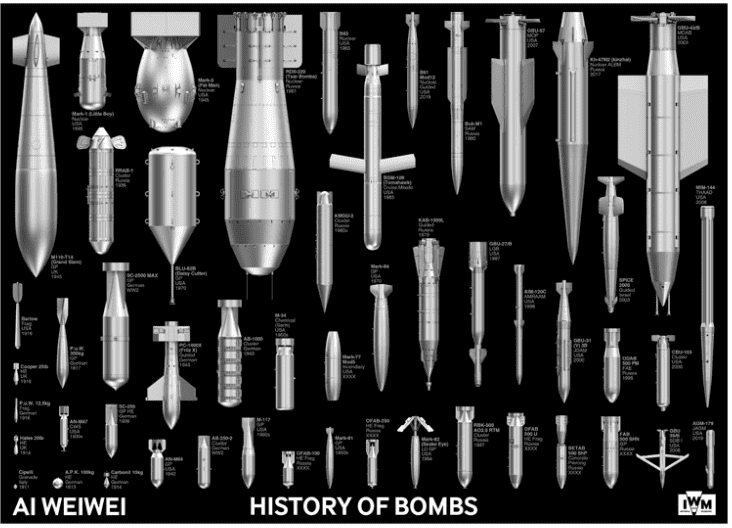 Ai Weiwei's site-specific artwork, titled History of Bombs, closes on 5th September 2021, following a  13-month display at IWM London. Coinciding with the installation's final week, IWM has announced the release of a limited run of Ai Weiwei designed & hand-signed posters.
The Ai Weiwei posters will cost £500, with all profits supporting the museum. They will be available from 2nd September 2021 at the central London museum, as well as online. 
History of Bombs is a site-specific artwork that forms part of IWM's Refugees season. It draws on the artist's ongoing investigation into politics and power, exploring international migration, conflict as a  root cause of human flow, and the relationship between the individual, society and the state.  Covering over 1,000 square feet, Ai's takeover of the museum's Atrium was the first time that the space had been given over in its entirety to an artist.  
Visitors are encouraged to book their free timed-tickets to History of Bombs online. IWM's Refugees season will continue at IWM North, with Aid Workers: Ethics Under Fire on display until 26th September 2021.  
Signed posters can be purchased from IWM's online shop via shop.iwm.org.uk from 2nd September
Refugees 
Refugees is a free season of major exhibitions, new artistic commissions and immersive events taking place across both IWM London and IWM North in 2020 and 2021. Unlocking the personal stories of people who have been forced to flee their homes and those who work to support them,  Refugees will give visitors the space to consider their own responses to similar experiences and dilemmas.
IWM London 
IWM London tells the stories of those whose lives have been shaped by war through the depth,  breadth and impact of our Galleries, displays and events. Explore the First World War Galleries and iconic Atrium; visit our Holocaust Exhibition; discover stories of bravery in The Lord Ashcroft  Gallery: Extraordinary Heroes or take in our latest major temporary exhibitions. Open Daily: 10am – 6pm. Last entry 30 minutes before closing. (Closed 24 – 26 December). Free  Admission 
About the Artist
A global citizen, artist and thinker, Ai Weiwei moves between modes of production and investigation,  subject to the direction and outcome of his research, whether into the Chinese earthquake of 2008  (for works such as Straight, 2008-12 and Remembering, 2009) or the worldwide plight of refugees  and forced migrants (for Law of the Journey and his feature-length documentary, Human Flow, both  2017). From early iconoclastic positions in regards to authority and history, which included Dropping  a Han Dynasty Urn and a series of middle-finger salutes to sites of power, Study of Perspective (both  1995), Ai's production expanded to encompass architecture, public art and performance. Beyond  concerns of form or protest, Ai now measures our existence in relation to economic, political, natural  and social forces, uniting craftsmanship with conceptual creativity. Universal symbols of humanity  and community, such as bicycles, flowers and trees, as well as the perennial problems of borders  and conflicts are given renewed potency though installations, sculptures, films and photographs,  while Ai continues to speak out publicly on issues he believes important. He is one of the leading  cultural figures of his generation and serves as an example for free expression both in China and  internationally.
Categories
Tags