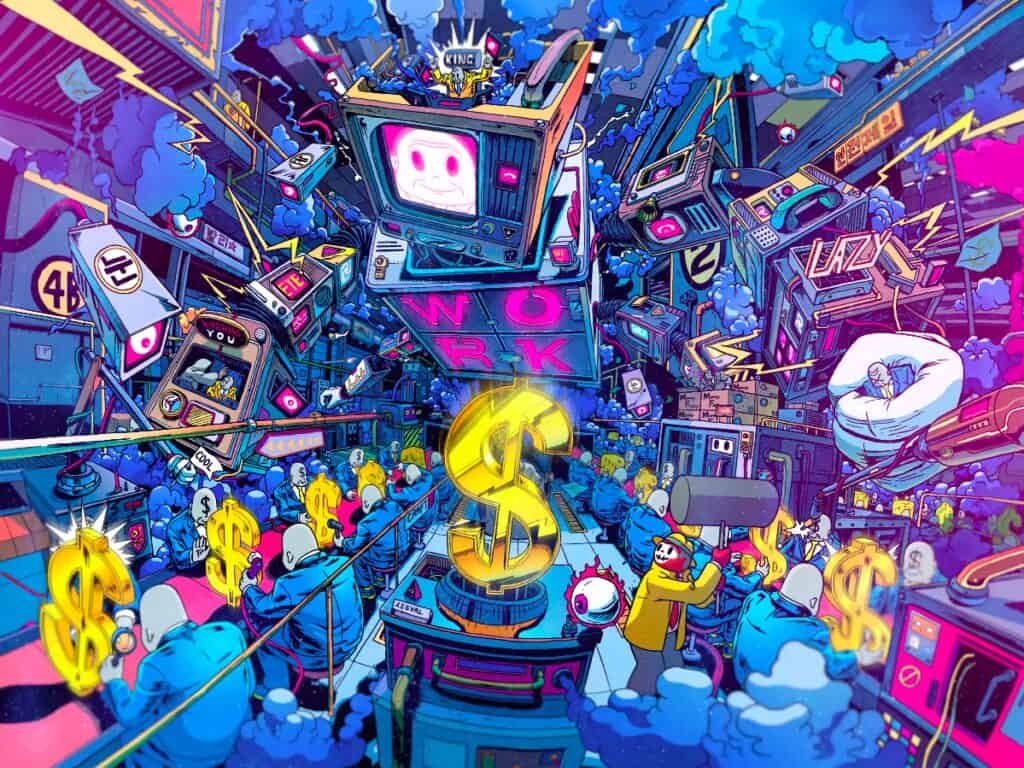 SuperRare has announced SuperRare 2.0. what they are calling a seismic shift driven by three major product advancements:
SuperRare Spaces: Independently curated storefronts on SuperRare. For the first time, curation (and commissions) will be opened to new voices chosen by the SuperRare community, and beyond the SuperRare Labs core team.
SuperRare DAO: A decentralized organization governed by $RARE holders and the SuperRare Governance Council tasked with overseeing SuperRare Spaces, the community treasury, and the platform's future. The SuperRare Governance Council is a group of nominated community members that implement decisions based on the votes of $RARE token holders.
Sovereign Smart Contracts: Independent artists on SuperRare can now deploy custom smart contracts and import artworks minted elsewhere.
And finally the release of the instrument through which Spaces and the DAO will be governed: the $RARE curation token. $RARE marks the first step in our ongoing commitment to progressive decentralization and continued disruption of the art market.
Introducing $RARE
Until now, every artist on SuperRare has been selected by the SuperRare Labs team, creating an artistic community with a reputation for quality and innovation.
The $RARE curation token is a means to identify and empower new curatorial talent in the SuperRare community. $RARE curation token will be used as the primary vehicle to onboard a growing network of curators, galleries, and collectives – all functioning as SuperRare Spaces: independently curated storefronts on SuperRare. These curation decisions will be enacted using token-based voting with the community's participation and implementation by the SuperRare Council. Finally, SuperRare is expanding to become a multi-contract platform – enabling artists to create custom, bespoke NFT minting contracts through a feature we're calling Sovereign Smart Contracts.
SuperRare Spaces
Spaces are community-vetted galleries for curators, collectors and community members to highlight and release work through SuperRare. Each Space will be overseen by a designated operator (or operators), chosen by a community vote of $RARE holders. Elected operators will choose and onboard their own artists, market as they see fit, and earn commissions on all sales through their Space.
The SuperRare DAO also earns an on-chain commission on sales from Spaces, giving token holders a direct incentive to pursue high quality curation of all Spaces added to the network. $RARE holders will be invited to vote on which spaces should go live next in a recurring vote. This will be known as the Space Race (h/t to the Mirror $WRITE RACE who inspired this game mechanic).
SuperRare Spaces mark the first way in which $RARE will fuel the continued growth of SuperRare.
SuperRare DAO
SuperRare has begun routing all platform commissions and fees to a newly formed SuperRare DAO. Moving forward, the treasury will always be viewable at superraredao.eth.
This community treasury containing $ETH and $RARE will be overseen by $RARE token holders, and governed by the community.
SuperRare has appointed a genesis Governance Council to oversee the funds stored in the SuperRare DAO upon launch. The Genesis Governance Council will enact the decisions of token holders, and provide a layer of security over a potentially massive amount of commissions that will be routed to the DAO from now through the end of history.
Decentralization has been at the center of the SuperRare ideology since day one. During the early stages of platform development, it was practical to keep governance decisions internal, driven by the vision of an agile founding team. However our baby is now all grown up, and ready to face the world on its own. As the expression goes: if you love something, set it free.
Sovereign Smart Contracts
We believe that artists are sovereign actors and should control their own destiny. Thus SuperRare is expanding to become a multi-contract platform, enabling artists to create custom, bespoke NFT minting contracts we're calling Sovereign Smart Contracts.
This means that in addition to minting SUPR tokens, independent artists on SuperRare will be able to mint their own artist or project-branded tokens.
Categories
Tags