Freshwater pearls are produced through the use of freshwater mussels in lakes, rivers, and ponds. A majority of cultured freshwater pearls in the market across the world are derived from the rivers and lakes of China, with some also coming from Japan and the US. A trained technician introduces an irritant in the mussel to encourage the formation of a pearl. They also place the tissue of a donor mussel in the host mussel to stimulate more nacre secretion. Thicker nacre generally yields a lasting and beautiful pearl.

Freshwater pearls are unique because they complement every hair color, skin tone, and eye color while being affordable. The surface quality, shape, and luster are important things to consider in freshwater pearls grading before one decides to invest in a piece of jewelry. The grading makes sure that the pearls you buy are a perfectly spherical shape, with minimal blemishes, lustrous, and a very sharp and high rate of reflection.

Throughout history, these luminescent gems have long signified wealth and power and have often been associated with royalty. At present, the cultivation of freshwater pearls has made it more accessible to women of all social classes, offering an endless variety of fashionable necklaces, bracelets. To help we have put together an essential list to compliment your personal style.
Go minimalist
Freshwater pearls are a flawless gem for the minimalist among us. Seek sleek chic designs of pearls set as a pendant, a simple necklace strand, or even dainty stud earrings. A singular piece of jewelry can uplift your wardrobe, providing a polished office look, a sexier date night dress, or liven up a basic T-shirt.
Pair your pearls with solid colors to allow a natural sheen so the pearls can reflect the colors of your clothes. A neutral wardrobe will allow your freshwater pearls to serve as a muted but effective statement piece to frame your face.
Be a practical woman on the go
The essence of pearl jewelry allows a working woman the choice to look put together even when having a very busy day. Some jobs demand women to stay active, but this does not mean you can't look chic while you're at it. Freshwater pearls with leggings and a basic sweater or blouse can elevate your casual wear instantly.
Keep the pearl necklace length short and not more than 18 inches for it to remain appropriate for work. If you don't have time to don a full face of makeup – try dangling, or teardrop-shaped freshwater pearl earrings to brighten up your face.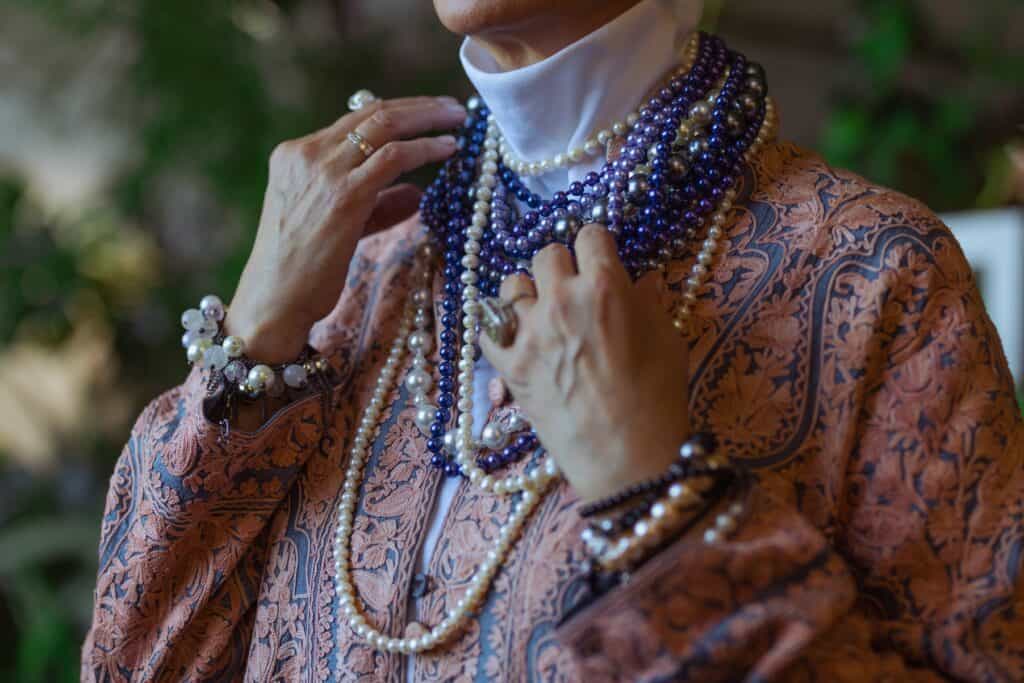 Rock that edgy look
The best thing about freshwater pearls is that they can come in a multitude of shapes and colors. Pink, white, black, and gold are just a few of the many color options. If you are the type to be bold and edgy try pairing a black set of pearls with your favorite jacket, little black dress, and boots.
Layer your pearls with chains or necklaces of different lengths for a bohemian feel. Experiment with your makeup and wear an alluring smokey eye and offset the look with a pair of white pearl earrings for some added drama and contrast.
Glam it up
If you love dressing up, pearls are a great way to add glam to any outfit. A sexy dress, red lipstick, and a triple strand choker of pearls will definitely make heads turn. Pearls add timeless class to any outfit.
Categories
Tags