Modern Art Oxford today announced an important exhibition of paintings by the internationally celebrated artist Anish Kapoor. Anish Kapoor: Painting will explore the rarely exhibited paintings that have been an integral part of Kapoor's practice over the last forty years. 
From the outset of his unparalleled career, Anish Kapoor declared "I'm a painter working as a sculptor". Far from being a separate activity that has run alongside his sculptural work, painting is in fact at the core of his vision and approach to sculpture. Crucial to Kapoor's three-dimensional language has always been the question of space: the space of the object, the space it inhabits and the space held within it. From his early pigment works to the vast public sculptures he has become renowned for, this exploration of an interior that goes beyond the boundaries of the object, is intimately connected to the spatial properties of the picture plane that confront the painter dealing with the surface of the canvas. This phenomenon of illusory space is played out time and again in Kapoor's sculptures which propose a new space, one that is uncanny in its interior familiarity and potential boundlessness.
The works in this exhibition mark a period of Kapoor's intensified engagement with painting. Not only do they demonstrate the vitality of his daily painting ritual, but also the importance of experimentation within the studio as they explore the medium of paint as well as the imaginative and real experiences of the living body. Where an important condition of his sculptural work lies in the objects seemingly self-manifested state, in his paintings the hand of the artist, indeed the gesture, is overwhelmingly present. There appears an urgency in both the mark-making and themes in these works that Kapoor invites us to bear witness to.
Recent paintings in the traditional language of oil on canvas are displayed alongside a contiguous body of floor-based works, realised in the viscous silicone that Kapoor has become increasingly recognised for working with. Whilst the floor works ritualistically evoke our bodily interiors, rich with life-giving blood, they are overlooked by paintings that reveal dark earthly landscapes. In these paintings, Kapoor's distinctive palette of deep reds and blacks is present but is now met with sulphurous yellows and acrid smokey greys as the earth bleeds and disgorges its subterranean innards. Together these potent works push the boundaries between sculpture and painting into visceral new ground, continuing in more vivid form than ever Kapoor's ongoing attention to the abjected body and self – a theme surely intensified in the pandemic era in which most of these works were created, when the sense of the vulnerability of the body has become a communal experience.
"We are delighted to welcome Anish Kapoor back to the gallery after almost forty years, to exhibit a series of works which celebrate his longstanding painting practice. Kapoor rarely offers insight into this important area of studio production which is integral to the sculptural works for which he is internationally celebrated, making this show uniquely significant."

Paul Hobson, Director of Modern Art Oxford
Alongside this exhibition, a solo show dedicated to Kapoor's paintings will run at Lisson Gallery from 14 September–30 October, and both shows precede Kapoor's major retrospective at Gallerie dell'Accademia di Venezia, opening April 2022 to coincide with the Venice Biennale.
Anish Kapoor: Painting 2 October 2021–13 February 2022 Modern Art Oxford www.modernartoxford.org.uk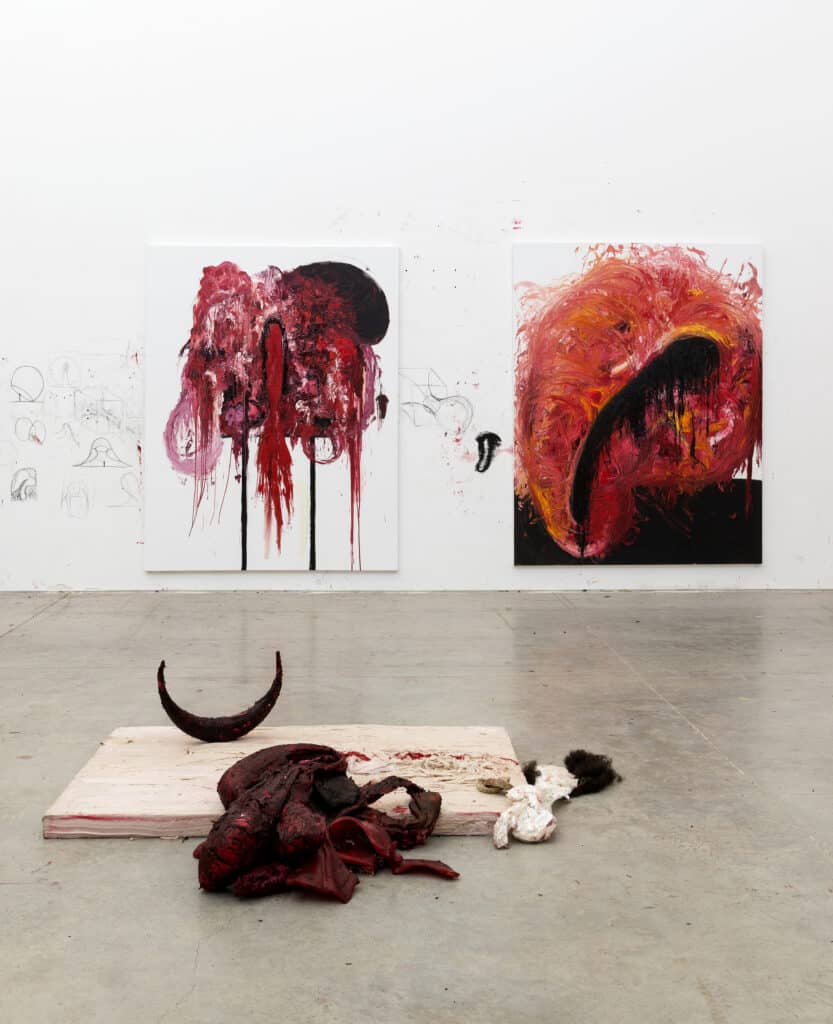 About the Artist
Anish Kapoor was born in Mumbai, India, in 1954 and lives and works in London. He studied at Hornsey College of Art, London, UK (1973–77) followed by postgraduate studies at Chelsea School of Art, London, UK (1977–78). He represented Britain at the 44th Venice Biennale for which he was awarded the Premio Duemila and won the Turner Prize in 1991. In 2013 he received a knighthood for his services to the arts. He last exhibited at Modern Art Oxford nearly 40 years ago when he was chosen as one of a younger generation of pioneering progressive artists who had work exhibited in the 1982 exhibition 'India: Myth and Reality'. He created the colour saturated pigment work White Sand, Red Millet, Many Flowers for the exhibition.
Recent solo exhibitions include: Anish Kapoor at Houghton Hall, Norfolk, UK (2020); HOWL, Pinakothek der Moderne, Munich, Germany (2020); CAFA Art Museum / Imperial Ancestral Temple, Beijing (2019); Surge, CorpArtes, Santiago (2019); Pitzhanger Manor and Gallery, London (2019); Works, Thoughts, Experiments, Serralves Museum, Porto, Portugal (2018); Descension, Public Art Fund, Brooklyn Bridge Park, New York, USA (2017); Parque de la Memoria, Buenos Aires (2017); Places of Origin–Monuments for the 21st Century, MAST Foundation, Bologna, Italy (2017); Archaeology, Biology, Museo Universitario Arte Contemporáneo (MUAC), Mexico City (2016); Anish Kapoor Chez Le Corbusier, Couvent de la Tourette, Eveux, France (2015); Anish Kapoor Versailles, Château de Versailles, France (2015) and My Red Homeland, The Jewish Museum and Tolerance Center, Moscow (2015). Large-scale public projects include Cloud Gate (2004) in Millennium Park, Chicago, USA, Orbit (2012) in the Queen Elizabeth Olympic Park, London, and Ark Nova in Japan (2013). He represented Britain at the 44th Venice Biennale in 1990 with Void Field (1989), for which he was awarded the Premio Duemila for Best Young Artist and won the Turner Prize in 1991. Anish Kapoor was awarded a CBE in 2003 and a Knighthood in 2013 for services to the visual arts.
Categories
Tags