Tabish Khan the @LondonArtCritic picks his top exhibitions to see in early July. Each one comes with a concise review to help you decide whether it's for you. Those looking for painting specifically should check out his last week's top picks, where all but one is still open to visit.
Igshaan Adams: Kicking Dust @ Hayward Gallery
Ethereal meshes hang from the ceiling while the works on the floor and walls draw inspiration from the artist's South African background that includes both elements of Islam and Christianity in his upbringing. He has navigated his own path and visitors are encouraged to do the same through the mesmerising space. This may be the smaller of the two shows on at Hayward Gallery but it's the one that shines brightest. Until 25 July.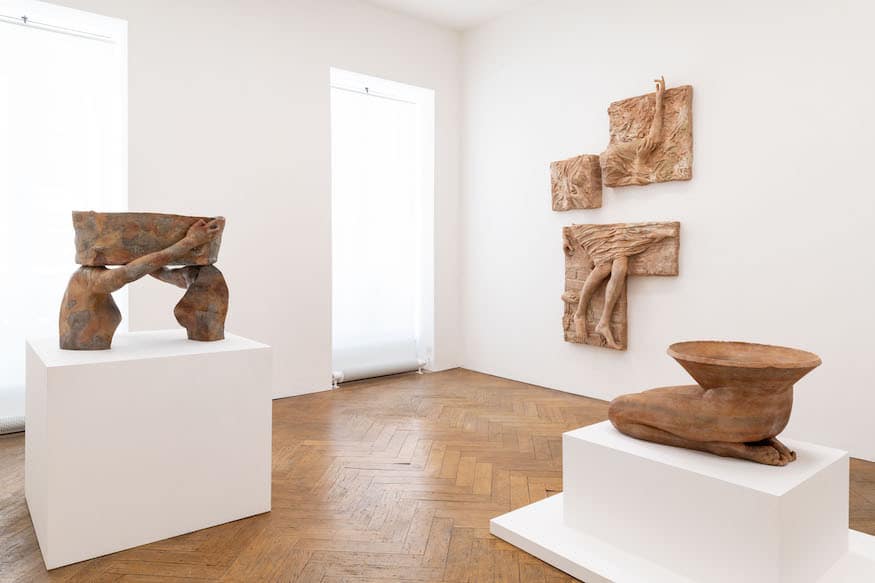 Clementine Keith-Roach: Mythemes @ Ben Hunter
These beautiful assemblages look ancient until you get closer and spot everyday items such as screws embedded in them. The artist uses found objects and historical artefacts to fuse modern and ancient sculpting, so we're left to ponder which are the original and additional parts of her work. Until 15 July.
Jasper Goodall: Twilight's Path @ MMX Gallery
This is a stunning presentation of nocturnal photography of woods and moors across the British Isles. There's something both beautiful and terrifying about these pitch dark places away from other people, both magical and lonely in works that suck you in with their atmosphere. Until 17 July.
Bedwyr Williams: Milquetoast @ Southwark Park Galleries
Clever drawings poke fun at artists and curators trying to be taken seriously, to bring a smile to faces of visitors. Lots of stereotypes of the art world are shown up here and for those in the know it's work that will provoke plenty of laughs and smirks. Until 11 July.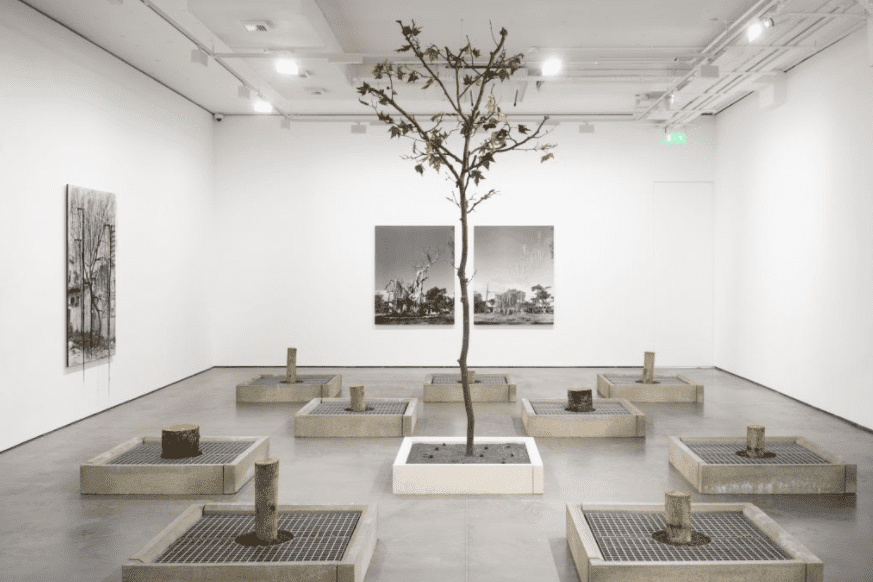 Carlos Garacoia: Scratched Surfaces @ Goodman Gallery
The installation at the centre of this exhibition features a lone tree surrounded by others cut to the stumps. It's this desire to be close to nature that places trees along our streets and yet we continue to contain them within man-made materials and we're constantly trimming them back – never letting them be freely wild. It's a strong centrepiece in this two floor exhibition of the artist's work. Until 31 July.
All images copyright artist and gallery. Igshaan Adams photo Mark Blower.
Categories
Tags