Lucinda Bellm and Sophie de Mello Franco have announced the opening of LAMB Arts, a contemporary art gallery housed in a newly refurbished townhouse on 32 St George St, in the heart of London's Mayfair.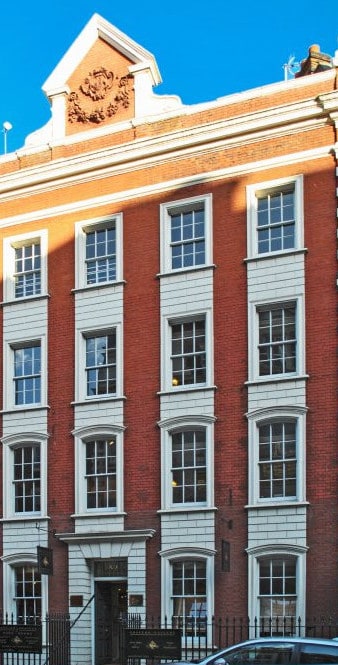 The inaugural group exhibition titled To Situations New features works by Wassily Kandinsky, Etel Ednan, Frank Bowling, Judith Lauand, Mary Webb, John Hoyland, Nathalie Du Pasquier, Ben Nicholson, Alek O and Mattea Perrotta, and is curated by Jenn Ellis
This June, spearheaded by British born Collector, Curator and Gallerist, Lucinda Bellm, 32 St. George St, a terraced house built during the early eighteenth-century c.1717-20 opens after having undergone a completely custom refurbishment. For the last twenty years, the building was entirely occupied by Shapero Books, an internationally renowned dealer in antiquarian & rare books. LAMB Arts gallery launches with an all-female led team, ex König Galerie Director, Sophie de Mello Franco joins as Director of the gallery, combining forces with Founder, Bellm to take the new gallery programme in an exciting new direction.
The building will also host a furniture dealership and objets d'art store called Benteler and Bellm, presenting an eclectic and curated mix of mid-century furniture and contemporary design objects including ceramics and editions run by Roberta Benteler and Lucinda Bellm.
LAMB was founded in 2015 to promote emerging and established Latin American artists as well as providing a platform for young regional artists. Since the opening of the first space in Shepherd's
Market in Mayfair, the gallery has been carrying out a cultural program advocating for young talent through a constant exchange between artistic and curatorial practices, markets, and institutional projects between the UK and Latin America. In 2019, LAMB opened a gallery space in São Paulo pursuing to strengthen this cultural exchange.
LAMB Arts new London post will continue to develop the gallery's program of emerging artists whilst fostering a dialogue with those who are more established and with a presence in the secondary market, widening its' scope from Latin American art to a more global survey of artists. Bellm and de Mello Franco intend to make LAMB gallery a dynamic space for continued exchange, discovery and re-discoveries. In addition to its' exhibition program in the ground floor of the building, there will be a parallel program of videos displayed in the building's vaults. On the occasion of the first exhibition, LAMB Arts will present a video works Dawn Ng.
The inaugural show To Situations New is a nod to the building's historic literary origins, taking as a point of departure the abstract envelope jottings of Emily Dickinson that comprise The Gorgeous Nothings to delve into the innate poetry of abstraction, an artistic language that has been adopted by artists across geographies and spanning a hundred years. Featuring works by Wassily Kandinsky, Etel Ednan, Frank Bowling, Judith Lauand, Mary Webb, John Hoyland, Nathalie Du Pasquier, Ben Nicholson, Alek O and Mattea Perrotta, and is curated by Jenn Ellis. To Situations New centers around the pluralism of an artistic form of expression, that like Dickinson, has sparked considerations of our subconscious, landscapes, bodies, environment, and musicality. Ultimately prompting thoughts on a universality of expression distinct to each artist, time and place, that invites individual comprehension and empathy.
To Situations New opening 24th June LAMB Arts 32 George St lamb-arts.com
This September, the gallery will open a show curated by Roya Sachs titled Sorry It's A Mess.
About
Lucinda Bellm was born and raised in England. After having studied at Parsons School of Design in New York. Bellm started working for the renowned institution Palais de Tokyo in Paris. Having ventured to Brazil shortly after, she invested her time in travelling through Latin America researching the neo-concrete movement and its influence on the new body and generation of young emerging artists. Shortly after Lucinda opened her first permanent space in the heart of Mayfair, London in 2015. Having kept a focus on Latin American art and the exchange of such between both continents, the gallery keeps a consistent programme promoting emerging and established South American as well as international artists. The second space of LAMB was opened in 2018 in the heart of Sao Paulo, Brazil.
Sophie de Mello Franco is French and Brazilian, educated in Rio de Janeiro, Switzerland and London where she studied Politics Philosophy and Law at King's College. She has worked in arts communications and contemporary art galleries. More recently she held the position of director at König Galerie in London. In her time at König Galerie in London, Sophie introduced new artists to the gallery's roaster, curated exhibitions and performance projects. Sophie joins LAMB as Director on the occasion of the gallery's reopening in its new space on Saint George Street where she will continue to develop the gallery's program alongside Lucinda Bellm.
Categories
Tags