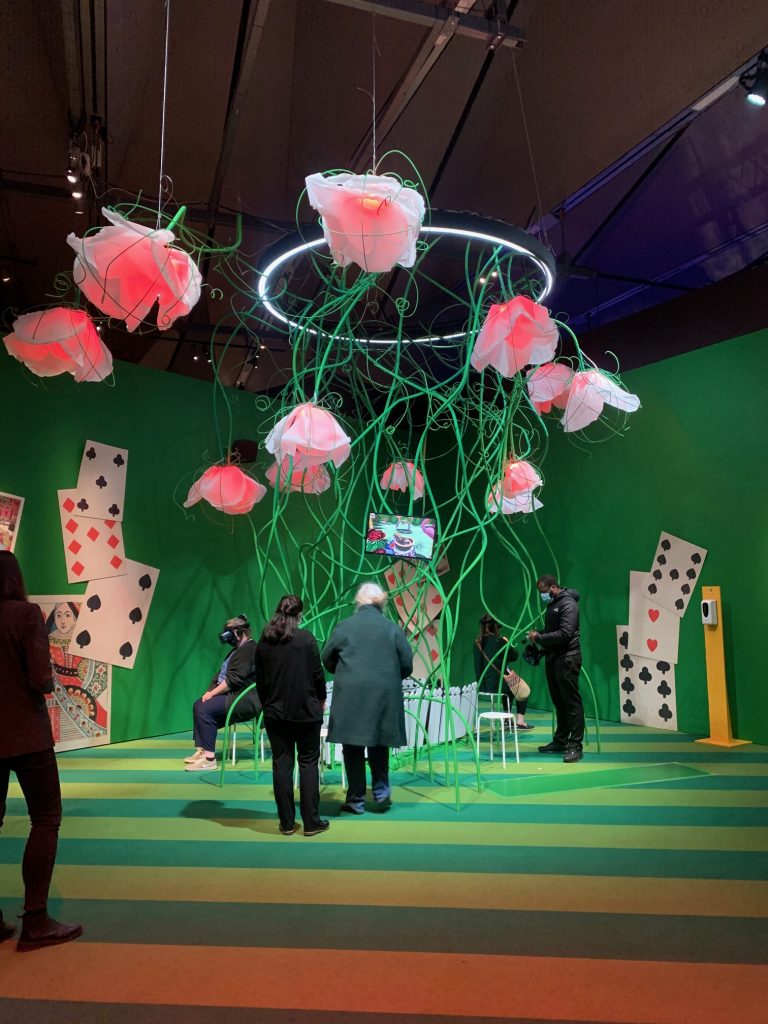 All photos by Lee Sharrock 
Alice: Curiouser & Curiouser, a new exhibition at the V&A dedicated to Alice in Wonderland, is a perfect way for this iconic London museum to reopen after lockdown 3.0, with a multi-media exhibition taking visitors down a rabbit hole and offering an escape from reality. After months without being able to visit museums, it's inspiring to see such an immersive, eye-opening exhibition, and the V&A does them so well.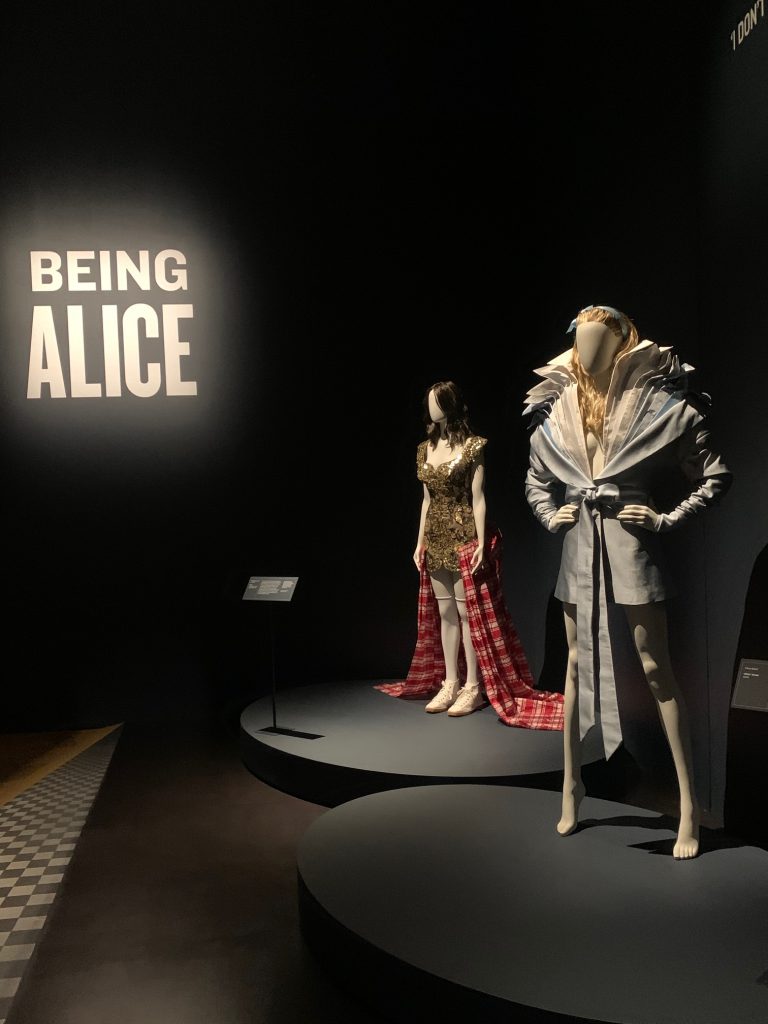 As we emerge sleepily from a year of on-off lockdowns, and museums open their doors after months of their hallowed halls sitting empty, including the V&A with its wealth of cultural treasures from around the world, it feels a bit like we may have awoken from a dream…or a nightmare where the world was bought to a virtual standstill by Covid-19.  So it feels quite appropriate that the exhibition which seems poised to entice people out of their pandemic cocoons is celebrating Alice, a fictional 19th Century girl who fell down a rabbit hole into a surreal world populated by a Mad Hatter, a sleepy dormouse, and a resurrected Dodo, a smiling Cheshire cat and a crazy Queen, to wonder if it had all been a dream. Cut to 2021, and we could view the past lost year as a metaphor for Alice's adventures in Wonderland. Maybe Boris Johnson and Donald Trump could play the role of bumbling buffoons Tweedle Dum and Tweedle Dee, Dominic Cummings the despotic Queen of Hearts, and Professor Chris Witty the eccentric Mad Hatter.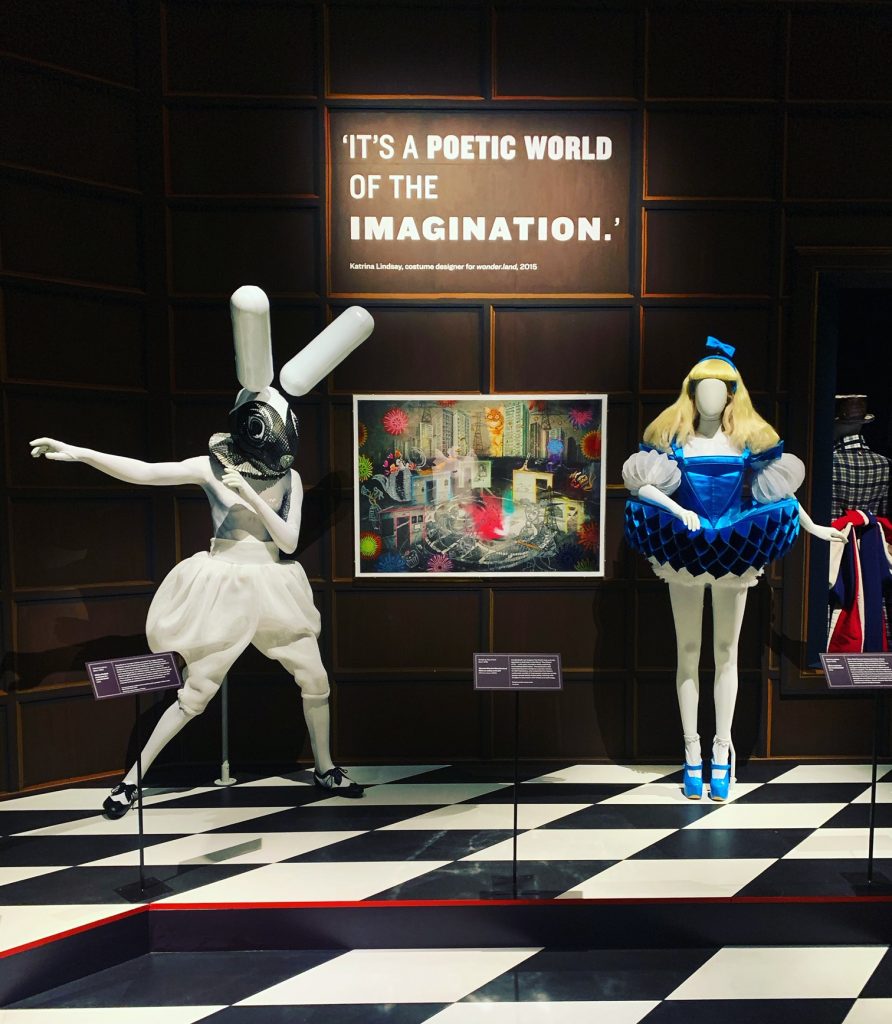 Astonishingly, 157 years have passed since the iconic book Alice in Wonderland was written by Oxford mathematician Charles Lutwidge Dodgson, whose pen name was Lewis Carroll. This epic new exhibition at the V&A in London explores the enduring influence of the classic children's tale, which started out as a nursery favourite and soon attained worldwide literary fame as a surreal fable appealing to adults and children alike, now available in more than 170 different languages. Written in 1865, only 8 years after the V&A opened (then known as the South Kensington Museum), Alice in Wonderland's literary and artistic legacy resonates within the museum's own collections.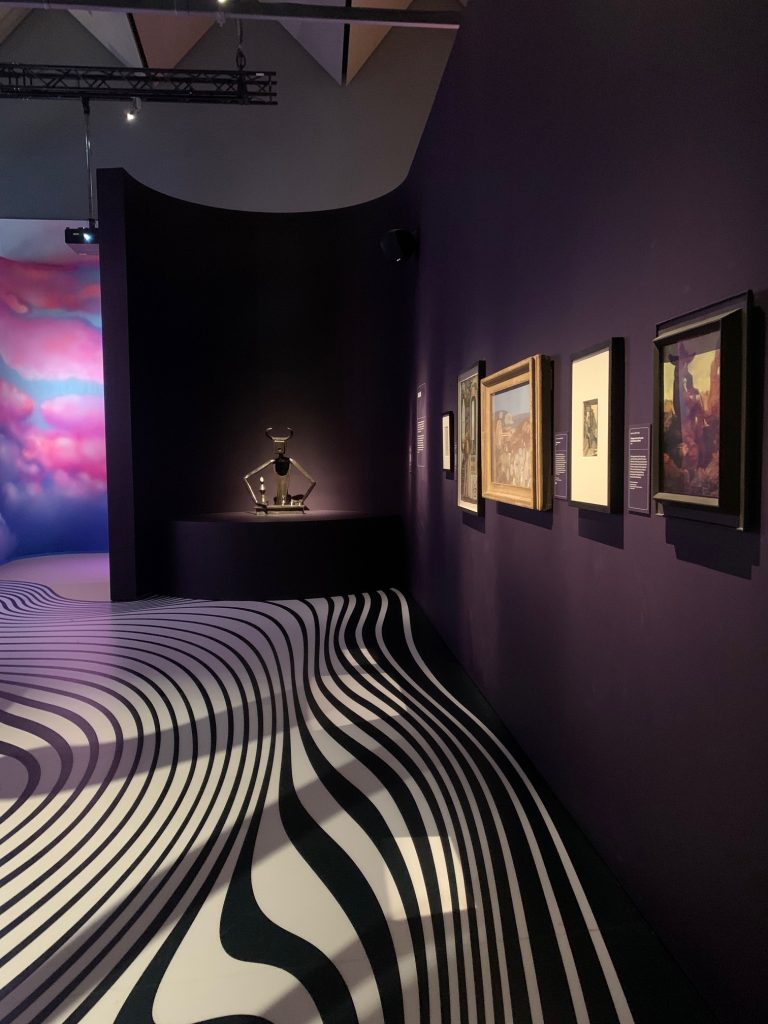 Curator Kate Bailey has conceived a magical, immersive exhibition that takes visitors on a journey of discovery commencing with the origin story of Alice in the 19th Century, through a Wonderland created by award-winning set designer Tom Piper. The exhibition is curated in 3 themed chapters; Creating Alice, Performing Alice and Reimagining Alice. Not to be missed is a mind-blowing Virtual Reality experience created from new Alice in Wonderland illustrations by artist Kristjana S Williams who was commissioned by the V&A to reinterpret the iconic Victorian illustrations by Sir John Tenniel.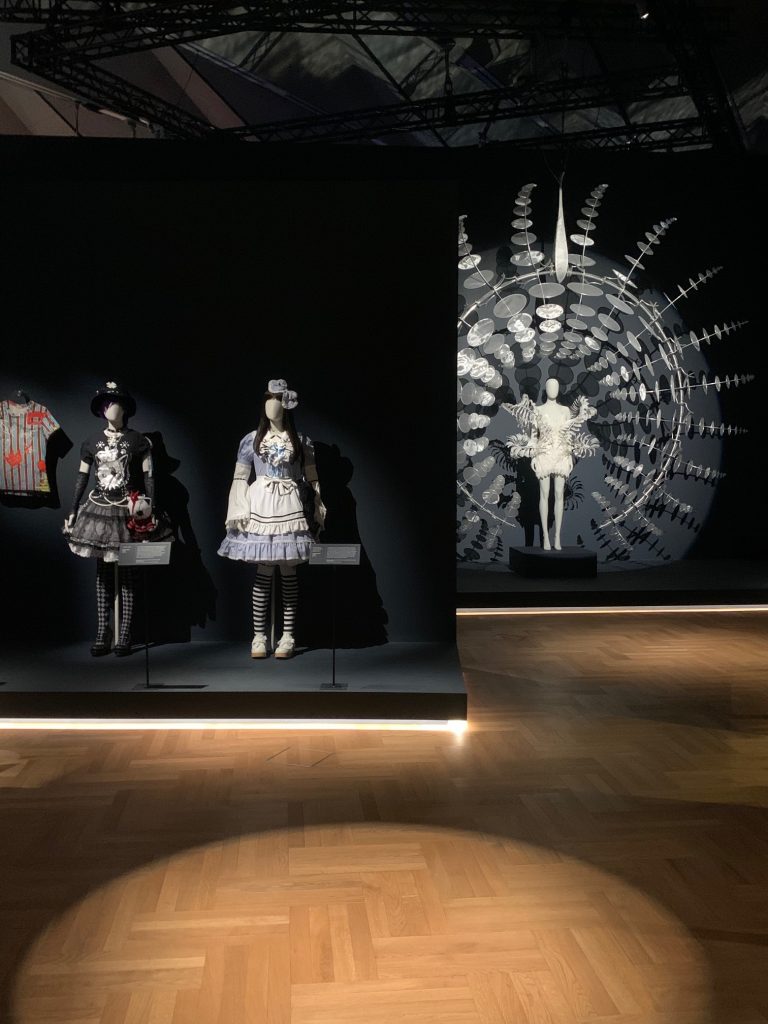 Towards the final room of the exhibition containing an immersive, mirrored installation, we arrive in "Quantumland", which features the work of CERN scientists working on the ALICE project, and an exquisite kinetic couture sculpture 'Infinity dress' by Iris van Herpen. At CERN, the Centre for European Nuclear Research, quantum physicists are working underground – in 'Quantumland' on the ALICE project – a large ion collider experiment investigating the origins of the universe.  When Carroll's enquiring mind conjured up the parallel Wonderland inhabited by Alice and the surreal cast of characters, he would never have imagined that over a century and a half later, his book would have inspired quantum physicists to question the actual origins of our world.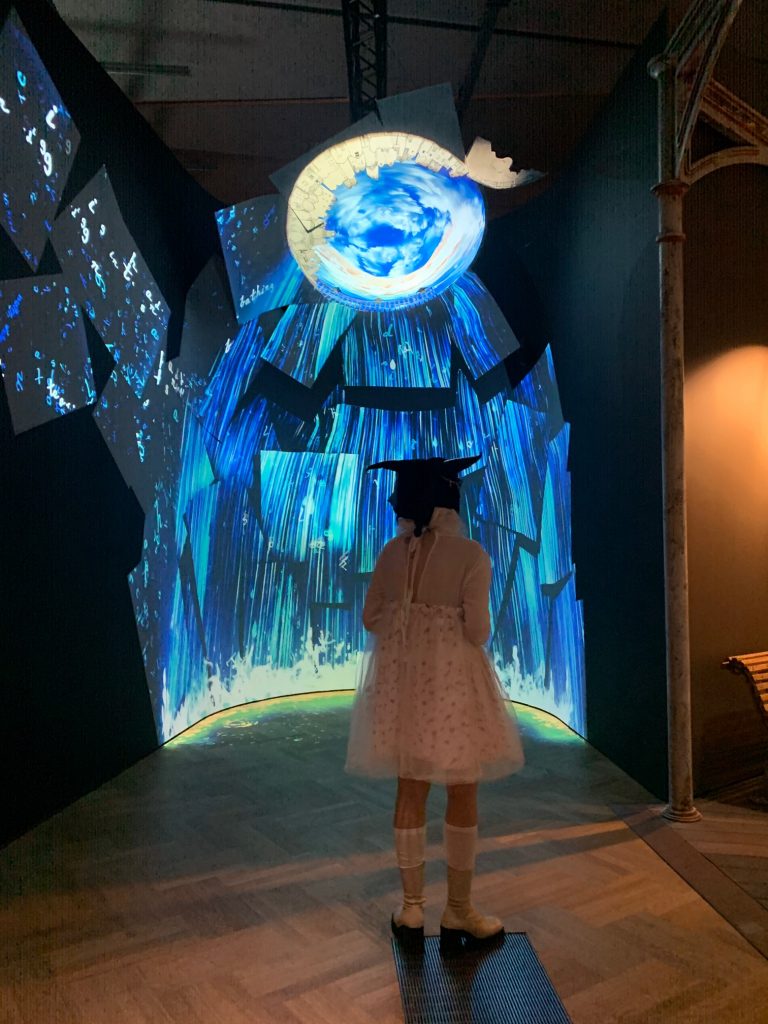 The exhibition begins with a room exploring the influence on Lewis Carroll's manuscript and Sir John Tenniel's illustrations of the Victorian era's artists (Pre-Raphaelites such as John Everett Millais whose painting 'My first Sermon' inspired one of the Tenniel Alice illustrations), society (Queen Victoria and her influence on the Queen of Hearts) and natural sciences (a Dodo skeleton is displayed in the first room of the exhibition in a 'cabinet of Curiosities'). Alice: Curiouser & Curiouser charts the countless adaptations and reinventions of Carroll's Wonderland by ensuing generations of writers, filmmakers, artists and creatives.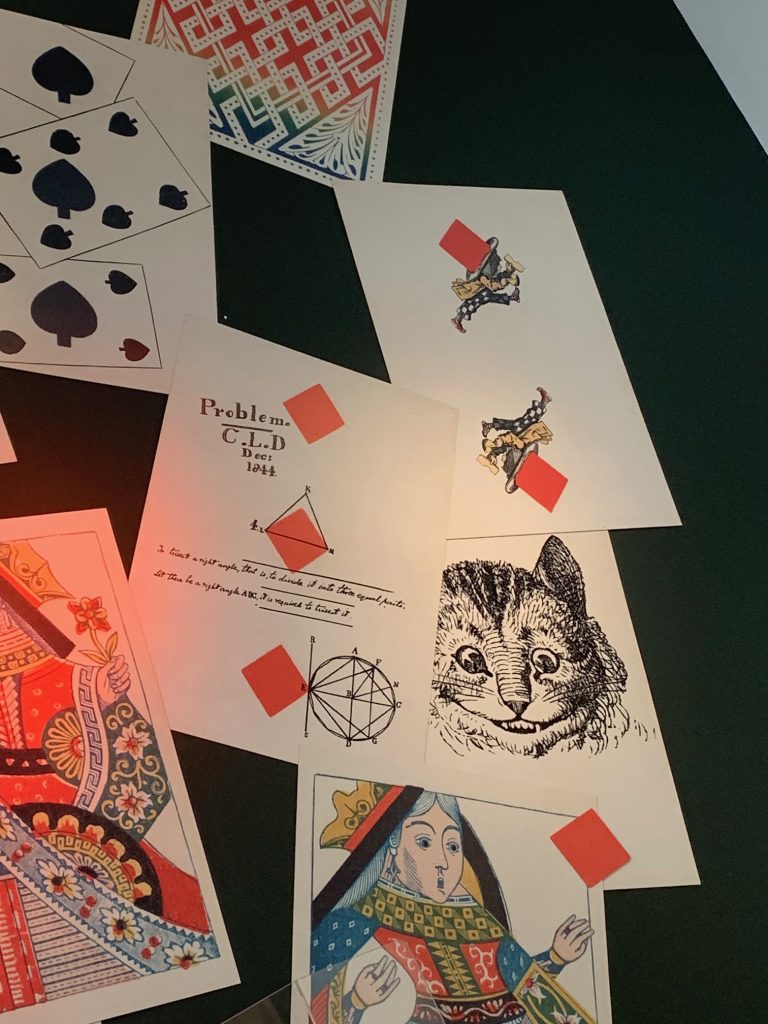 Alice was modelled on Alice Liddell, and there are albumen prints of her displayed here by Victorian photographer Julia Margaret Cameron – one alone and one posing with her sisters Lorina and Edith. We discover that Alice in Wonderland was originally to be titled Alice's Adventures under Ground. Charles Lutwidge Dodgson was a lecturer at Christ College, Oxford, and he invented the story of Alice while on a boating trip with Alice Liddell, one of the daughters of the Dean of Christ Church.  
Alice Liddell's great-granddaughter – Vanessa Tait – describes Alice as: "no ordinary muse: she nagged, bossed and bullied Dodgson into writing down her story. She stares out from photographs in a peculiarly modern manner, both attracting and repelling our gaze. Alice Liddell in Wonderland, still as relevant as ever."
V&A director Tristram Hunt explains: "From Dorothea Tanning to Walt Disney and John Tenniel to Little Simz, leading figures in the Creative Arts embraced Alice.  With its powerful themes – from childhood identity and the psychology of growing up to the nature of justice and the meaning of time – Wonderland can be wherever your imagination takes you." 
Artists who have reinterpreted the original illustrations by Tenniel (which were influenced by the Pre-Raphaelites and Balzac) include; Peter Blake, Salvador Dali, Ralph Steadman and Chris Liddell. Icelandic artist Kristjana S Williams, who has collaborated with the V&A before on the Frida Kahlo exhibition, is the latest in the illustrious line of artists to create illustrations of iconic scenes from Wonderland, and notably the first woman artist to do so.  
Williams puts her own inimitable spin on the original artworks, which were influenced by Victorian dioramas she was shown from the V&A's collection, and feature a dark-haired Alice, in keeping with the real hair colour of the actual Alice – Alice Liddell. As well as featuring in the catalogue, her illustrations have been transformed into a VR experience within the exhibition, which enables visitors to drink a magic potion and fall down a virtual rabbit hole surrounded by falling playing cards, landing in the garden of the Queen of Hearts and playing a surreal game of hedgehog croquet.  Totally bonkers and totally in keeping with the bonkers imagined world of Lewis Carroll.  
In 1969, Random House commissioned Salvador Dali to illustrate Alice in Wonderland, not a surprising choice when considering the surrealism of Dali's art, and the surreal nature of Wonderland, a literary masterpiece incorporating paradox, dreams and distorted time, space and reality. Andre Breton, the founder of the Surrealist movement, described Lewis Carroll in his 1934 essay "Qu'est-ce que le Surrealisme?" (What is Surrealism): "Carroll est surrealiste en non-sens' (Caroll is Surrealist in non-sense), and Marcel Duchamp referred to Carroll's Wonderland saying: "I am convinced that, like Alice in Wonderland (the young artist of tomorrow will be led to pass through the looking-glass of the retina, to reach a more profound expression."  
Ernst's statement was rather prophetic, for you only need to visit the V&A Alice exhibition to witness what an enduring effect Carroll's invention of Wonderland has had on so many creative minds since its publication in 1865. In Mark Burnstein's introduction to a 2015 reprint of Dali's Alice in Wonderland, he draws a line between Carroll's Portmanteau (combining of words) which involved inventing words such as 'Jabberwocky', and the Surrealist love of collage and the game 'Exquisite corpse', which involved a collective assembly of words or images.   
A section of the V&A exhibition is dedicated to Carroll's influence on the Surrealists, including an imposing sculpture by Max Ernst of a game of chess, Marion Adams' painting 'The Living Tree', John Armstrong's 'Dreaming Head', and Dali's illustrations of Alice in Wonderland featuring Alice as a girl skipping rope. Dalí created twelve heliogravures for his reinterpretation – one illustration for each chapter – as well as a four-colour etching as the frontispiece. Before visiting the V&A exhibition I wasn't aware of the influence of Carroll's writing on the Surrealists, or Dali's relationship with Disney, but now it all makes perfect sense. 
A room is dedicated to costumes from theatrical adaptations of Alice in Wonderland, dominated by a glossy red cocoon-like dress with heart-shaped headpiece, worn by the Red Queen in The Royal Ballet's production, along with Alice and the White Rabbit's costumes from a 2015 National Theatre production. 
In the next room Vivienne Westwood and Victor & Rolf's Alice-inspired dresses are on display, juxtaposed with fashion photography influenced by the surreal tale of Alice in Wonderland and its eccentric characters, including Tim Walker's photo of Duckie Thot as Alice shot for a 2018 Pirelli calendar, and album cover artwork such as Little Simz 'Stillness in Wonderland' (2017) by Mckay Felt.  
As well as examining the influence of Alice in Wonderland on film, fashion, theatre and art, there is even reference to its influence on food, in a room featuring a display of Heston Blumenthal's culinary version of the Mad Hatter's Tea Party, in a room dominated by a vast table with projected animation and disembodied voices recreating the infamous Tea.  A towering sculpture of chairs teeters behind the table, and on the wall is a projected loop of Arthur Miller's surreal 1966 BBC TV play based on Alice in Wonderland and Through the Looking-Glass, starring the brilliant surrealist comedians Peter Cooke and Peter Sellers, with a spirited young Alice played by Anne-Marie Mallik. The spirit of Alice lives on through this exhibition – a veritable treasure trove of art, installation, film archives, theatrical costumes and literary, cinematic and digital interpretations of the iconic novel.
Alice: Curiouser and Curiouser is at the V&A until 31 December 2021:
vam.ac.uk/alice-curiouser-and-curiouser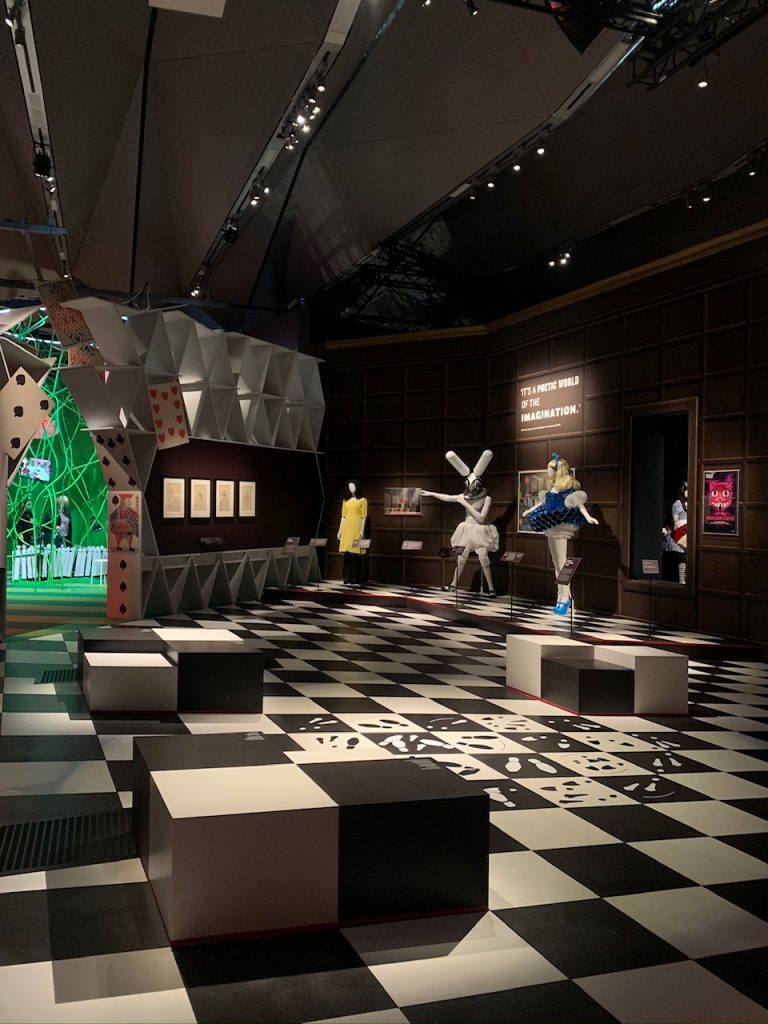 Categories
Tags