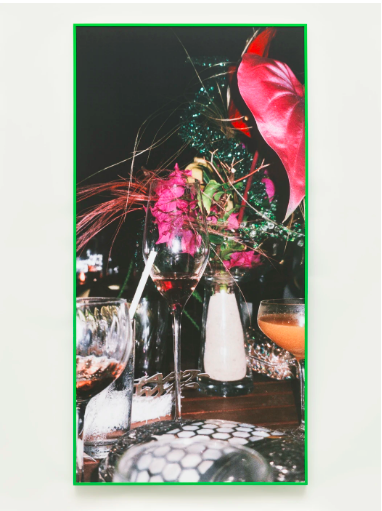 Martine Syms' SOFT, at Sadie Coles's new gallery on Bury Street, St James's, comprises a recent series of archival photographic prints and a new body of drawings on paper.
On view are a new group of drawings, made variously in watercolour, oil pastel and marker pen on paper, that mark the first time Syms has exhibited work in this media. Best known for her research-based practice in new media technologies and performance, Syms has continuously engaged drawing as a preliminary practice to aid her creative process – in a similar vein to her journal writings (recently published in her artist book Shame Space).
Acting as an analogue counterweight to the archival photographs, the drawings have a corresponding sense of immediacy and intimacy; each depicts either a subject drawn from the artist's life or a self-portrait. Set against abstract grounds or ambiguous interiors, the figures are captured in informal repose. Throughout, the understated representation of these studies evoke the boundaries between the private and public self, gesture and interpersonal communication, themes that resonate with the foundations of Syms' practice.
Intermixed with the works on paper are a recent series of photographic prints that she has taken over the past year. The photographs also represent a stream of fragmentary views accumulated from disparate moments in time and the overall installation conveys a vignette of everyday life. The photographic imagery ranges from close-up views (the branches of a cactus, a rock pool, and a table bearing half-drunk glasses, flowers and tinsel), to figures lounging on the beach and a distant view of police vans. 
Recorded primarily in a lengthened portrait format, the works have the diaristic ambience of snapshots amassed on handheld devices (a recurring motif throughout her practice). This is reflected in the titles that resemble the intimations of an adapted shorthand or a shared commentary, for example: Suz and I hit a bus, Sea Flowers and Ode to Dean.
In these works, Syms extends her exploration of photographic imagery, as an entity through which to examine the contemporary vernacular, digital modes of communication or surveillance and the social commentaries they might embody. At once distinctly personal and universally familiar, Syms' magnification amplifies the recognisable, as well as the undeniable sense of a context that is ultimately unknowable.
Martine Syms' SOFT at Sadie Coles 8 Bury Street, SW1Y – 3rd July classroom.sadiecoles.com
Categories
Tags