As the art world digests Frieze's first in person event for almost a year, Curator Bakul Patki shares her favourite artists from Frame – the fair's platform for galleries that have been active for 10 years or less.
In 'normal' times, Frieze weeks and the frenzy that surrounds them can feel like an exercise in timetable Tetris – trying to squeeze in the plethora of collateral events and exhibitions, not to mention making your way through the hundreds of gallery stands at the fairs themselves. Over the years, you implement strategies to cope with what can feel like an overwhelming undertaking, and one of mine is to make a b-line for Frieze's Frame section – a space dedicated to showcasing galleries that are less than a decade old.
Despite the big names and blockbuster pieces presented by the blue chips in the main fair, for me, Frame always provides the most inspiration. By their nature, the participating galleries tend to feature the work of lesser-known artists – frequently but not necessarily young and upcoming (they are often older and overlooked), sometimes marginalised by society, sometimes choosing to retreat from it, but always possessing an energy and spirit that hasn't yet been dulled by establishment. The fact that Frame galleries also only show one artist at their stands means you are able to gain a deeper insight into the work and, in my opinion, come away having enjoyed a more fulfilling experience.
Returning to the real world after a number of online only 'lockdown' fairs, it was refreshing to attend last week's IRL Frieze New York, which this year moved from its Randall Island home to the city's recently opened multi-disciplinary cultural space, The Shed. The event was paired down in size, both for practical and safety reasons and, other than a few exceptions – including a delightfully dark installation of Annette Messager's work at Marian Goodman Gallery, and a brilliantly bold (and bare) installation of Daniel Buren's work at Lisson Gallery – safety also seemed to guide many exhibitors' selections, with the majority choosing to curate stands that were less challenging than they might have been in, well, less challenging times.  
In this context, Frame felt even more important and impactful, and the following five artists in particular left a mark – each one of them bringing something fresh to the fair, and each worth exploring…
Ina Archer presented by Microscope, New York
Through her work, Ina Archer explores the erasure of black cultural contributions from the record books, and draws attention to stereotypical and degrading representations of African Americans and the 'other' in cinema, literature, art, and branding, throughout the 20th Century to the present. Archer's excellent installation at Frieze centred around her video work, 'Lincoln Film Conspiracy', inspired the Lincoln Motion Picture Company – the first all-black production house – whose prolific output, bar one film, was destroyed – some say as an act of whitewashing movie history. Accompanied by imagined movie posters, humorous collages and watercolours of controversial and racist iconography, the film makes a powerful point about the devaluation of black creativity in the past and its legacy now. www.microscopegallery.com
Otis Houston Jnr presented by Gordon Robichaux, New York
67-year-old Otis Houston Jr., aka 'Black Cherokee', began making art after taking a class during a 1997 prison stretch. With its beginnings in incarceration and its exposition predominantly taking place roadside – on a strip of New York's FDR Drive in the artist's East Harlem neighbourhood – it's no great insight or surprise to say that Houston's work is all about his having a voice. What does feel surprising, however, when one meets his direct and perceptive work – presented as activist declarations on placards, sculptures made from found objects, interactive pavement performances, even fruit from his kitchen shared with passers-by – is that it's taken nearly a quarter of a decade for us to be really ready to hear his messages, and to give him the attention he deserves. www.gordonrobichaux.com
Dana Lok presented by Clima, Milan
Dana Lok's paintings seem, at first glance, to be simple, straightforward, but her deceptively sophisticated technique, which could be described as a most minimal tromp l'oeil, turns what appear to be flat images into atmospheric, multidimensional worlds, drawing you in to what might have been easily missed moments in hidden spaces. Placing the viewer off centre, directing them through 'spotlighting', she makes you feel like an accidental audience – as if walking unexpectedly into a theatre production that keeps you gripped for longer than you could initially have imaged – watching, waiting, wondering, anticipating. climagallery.com
Douglas Rieger presented by Capsule, Shangai and Helena Anrather, New York
Brooklyn-based artist Douglas Rieger's work feels like the direct descendant of classical Greek sculpture, but rather than recreating the human anatomy hyper-realistically, the artist abstracts the figure, breaking it down to its fundamental parts, which he indicates at just strongly enough to allow the viewer to identify, or assign, characters and situations for themselves. Totemic sculptures see bodies bound tightly together. Cheeky, wall-hung (sometimes well hung) pieces feel like modern day shrines to sexuality, fertility, virility. Intimate, intensely tactile, somehow ancient, but profoundly cotemporary, Rieger's pieces remind you why people worshipped such creations in the past and compel you to do the same today. capsuleshanghai.com & helenaanrather.com
Zeinab Saleh presented by Chateau Shatto, Los Angeles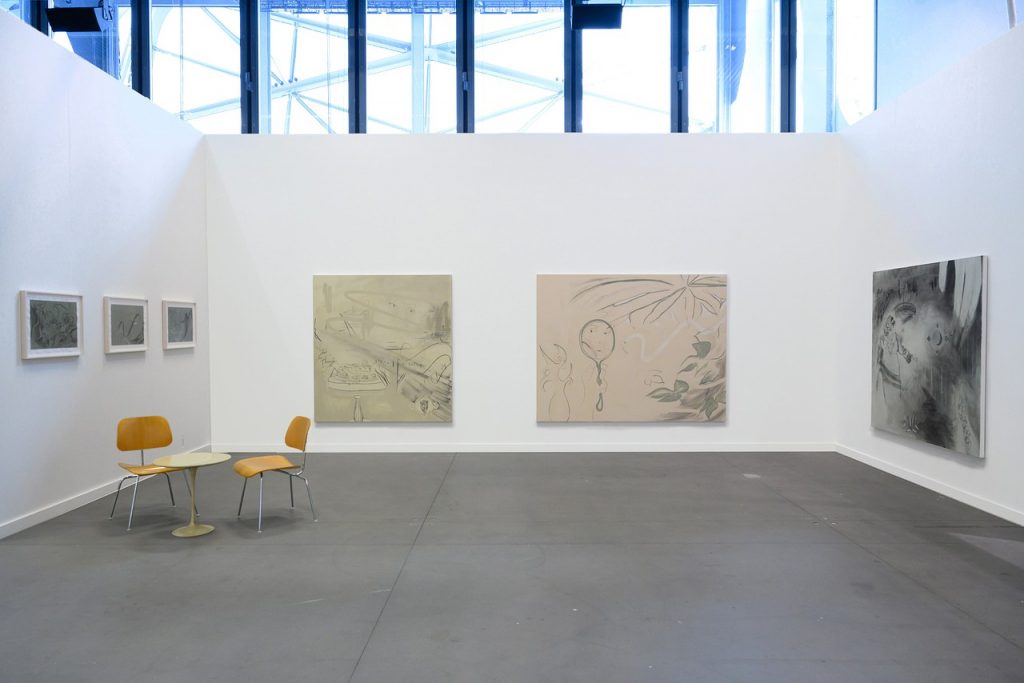 Kenyan born, London-based Zeinab Saleh's paintings on canvas and paper are extrapolated from encounters with film, whether public material, family archives or her own videos. Pulling out elements from the moving images to create still ones, she manages to, at once, concentrate focus on specific moments and enhance their enigmatic nature – creating emotionally powerful pieces with gentle gestures, illustrative lines, and a minimal colour palette. Eyes appear in several of her paintings – working so affectively to make you stop in your tracks, pull into her frequency, shift perspective, and want to know more. zeinabsaleh.com & chateaushatto.com
Categories
Tags