Ebony G. Patterson's new large scales tapestries create immersive environments that physically echo the exhibition's title "She is Land..She is Mourning". This new exhibition is the fifth exhibition that Patterson is having with Monique Meloche Gallery in Chicago, IL. Her signature vivid embellishments are communicating a subject that is often pushed to the side.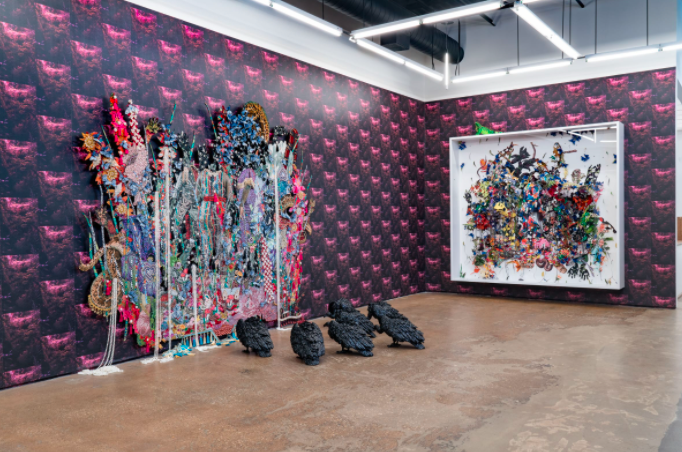 Patterson's work echoes the evolution of life via gardening. Throughout her tapestries, she has placed details on rebirth, existence, and death. Her unique interpretation of the garden forces the viewer to understand the cycle of life. In addition, Patterson brings a more fluid understanding of gardening as she expands the possible interpretations.
Entangled into her foundational layout of the cycle of a garden she places the topics of race and gender and how they relate to violence. She plants the sends of concepts in our world that don't seem similar. By focusing on race and death interact, or how life and gender directly impact either other and allows these concepts to grow through the viewer's interpretation.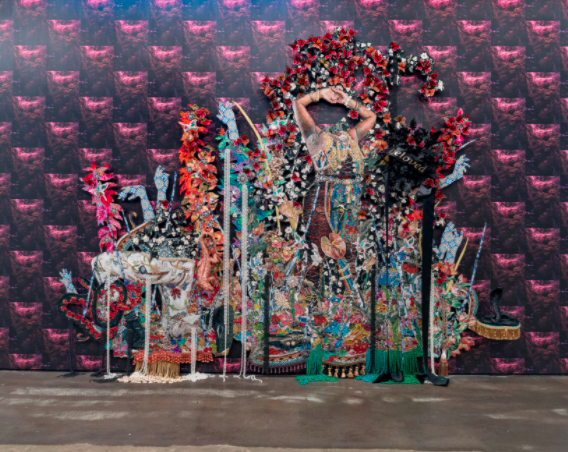 The juxtaposition of the bright and vivacious decor on the tapestries and the grim deeper context echos the political correctness of our current society. Often times child gloves are used to explain horrific moments; Yet Patterson uses this to her advantage by drawing the viewer into this world of spectacle and subtly reveals the harshness that rests in the beauty of these extravagant tapestries. 
As the viewer unpacks the immersive botanical tapestries they are able to be truly encased in the evolution of transformation. We are shown that transformation is a compartmentalized process. Patterson's tapestries create a layer of change. This change is since in the color scheme to emotional reactions.
In " …THE HAWK LOOKS OUT…AS SHE EMBRACES THE HAUNT…AND FLIES COME FOR THE NOURISHING…, 2021" there are various butterflies on floral patterned fabrics interweaved with images of Black faces. The harsh reality of death and violence is superimposed in between the fluorescent colors of lush botanicals. Patterson specifically places human limbs through the tapestries bringing a new look at the circle of life and the current climate of our country. Patterson honors the land the air and in between by showing the joys and tragedies of our society. 
EBONY G. PATTERSON: SHE IS LAND…SHE IS THE MOURNING… – 12th JUNE 2021 moniquemeloche.com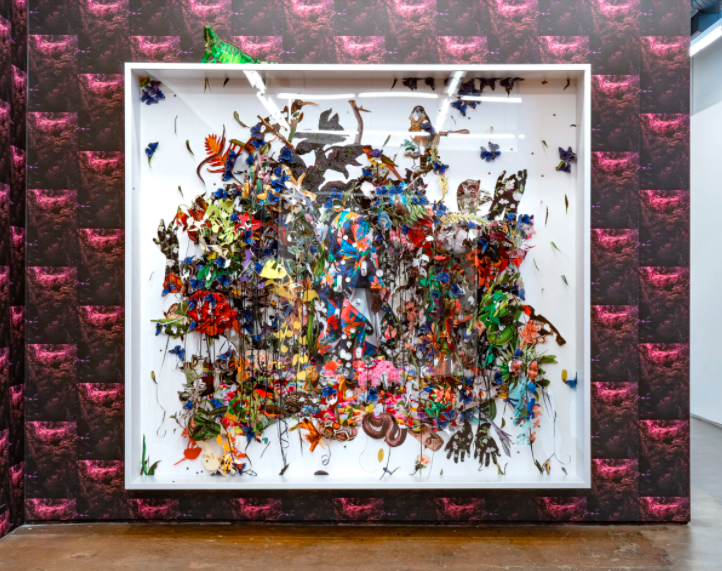 Categories
Tags