For the inaugural edition of Frieze New York at The Shed, the first in-person art fair in over a year, galleries and institutions convened to showcase their artists from May 5th through May 9th. Art fairs––whether it be Frieze, Basel––have 200+ galleries exhibiting work. This year was not like most; with only 64 galleries and institutions participating and an abundance of health and safety protocols, including COVID vaccination or negative tests proof and a strict timed entry.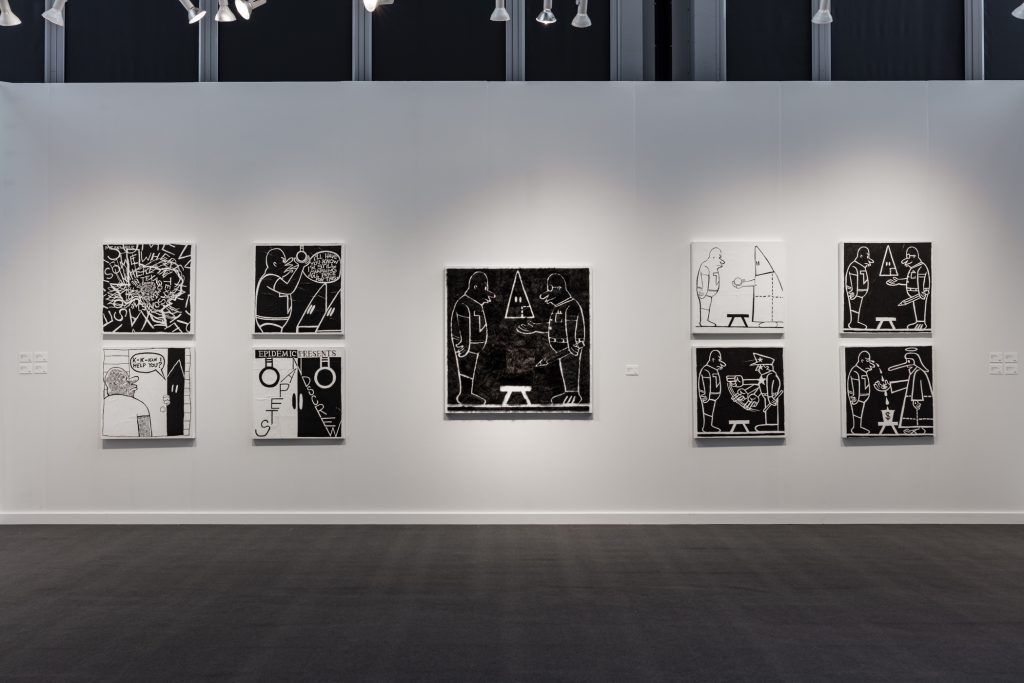 At the core of Frieze New York's 2021 programming was the Tribute to the Vision & Justice Project. Founded by Sarah Elizabeth Lewis, an associate professor at Harvard University, the project aims to consider the role of the arts in unraveling the relationship between race and citizenship in the U.S. Presented within the framework of the Vision & Justice Project, galleries and institutions put forth their response to: 'How are the arts responsible for disrupting, complicating, or shifting narratives of visual representation in the public realm?"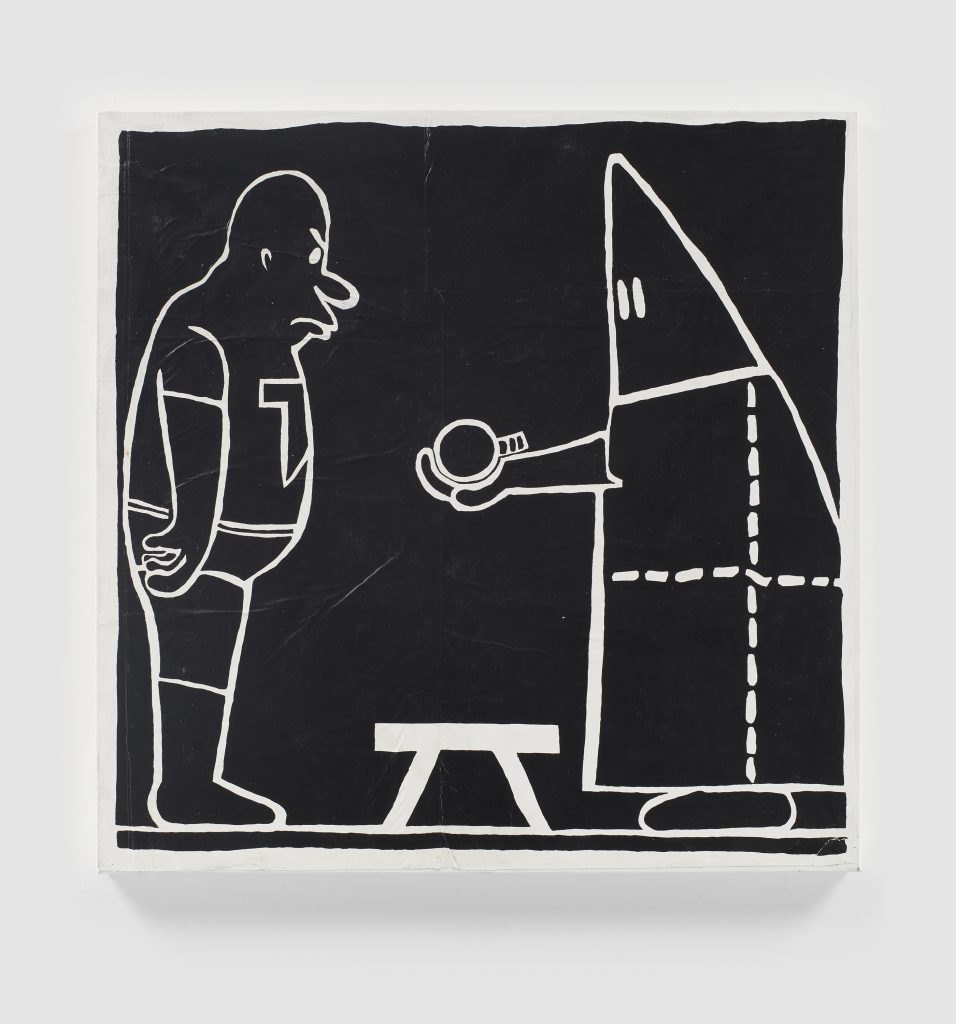 Artist Trenton Doyle Hancock will be in conversation with renowned art historian and curator Valerie Cassel Oliver in response to this question (date to be announced soon). Hancock's masterful presentation at James Cohan visually responded to this question. Cohan eloquently brought these very necessary themes to the fore: the gallery's three-walled booth was lined with Hancock's graphic-novel-like canvases of the artist's Black superhero, "Torpedoboy", interacting with one of Philip Guston's hooded figures. Hancock's comic style and monochromatic mixed media works are anchored by a large a black fur-covered canvas in which the hood floats between two men conversing. Hancock's series undoubtedly calls upon Philip Guston's hooded Klu Klux Klan figures, as the artist has been working within the framework of Guston's figures for some time now. "It started as a one-liner," Hancock explained in a video for his exhibition with Cohan this past fall. "Just like, what if? Like, what if my character met with this character? It became this idea of the confrontation of my Black superhero with the Ku Klux Klan." Given the recent debate surrounding the postponement of Guston's retrospective over his controversial depiction of these hooded figures, Cohan does a stellar job of beginning to consider that question at the core of Frieze's programming Tribute to the Vision & Justice Project.
Guston's work was in fact on display this year at Hauser & Wirth's booth, though not one of the artist's hooded, triangular-head shaped figures, yet still a classic Guston work: a mid-size gouache, Untitled (Book), from 1968. Hauser & Wirth put forth a spectacular arrangement, as the artworks within the sectioned booth were positioned in dialogue with one another. Rashid Johnson's acutely poignant Bruise Painting (Blue Bird), 2021 was reflected in Larry Bell's small laminated glass, cube-like structure. These works were undoubtedly in conversation with those on the other sides of the booth's walls: Günther Förg's colorful painting echoed Johnson's mark-making technique, while the blue colors and spiral details in Simone Leigh's sculpture evoke back again to the winding, circular elements within Johnson's painting.
Human Bhaba and Daniel Hesidence were terrifically paired in Salon 94's booth: both artists considered the notion of time and its effect on the present reality. Pakistani-American artist Bhaba draws upon archaeological interpretation in her hollowed, bronze sculptures, couched in archetypes of ancient mythology. Hesidence looks to the future––that is, a malformed, contorted future shaped by manufactured human experience. The artist's bright paintings depict iconography within stretches of time from past to present. Hesidence's Untitled (Ledger), 2020-2021, portrays two human-like creatures with distorted faces in the middle of what appears to be terrestrial landscape. And yet, one figure seems to adorn a sports jersey, while a brown pyramidal structure is flanked in the background. Here, Bhaba and Hesidence both breach the echelons of time by presenting the dysmorphic form, thus asking us to question our reality. Based in San Francisco, Jenkins Johnson presented a similarly stellar arrangement of works. Philomena Williams particularly stood out: her figurative paintings of adolescents suspended in moments of child-like wonder, coupled with a sense of fear, teeter on surrealism. Red Boat Float, 2020 depicts three teenage girls in this dream-like state, captured in lush reds, pinks, and turquoise blues. Adolescent exploration and teenage vulnerability, of age, of race, and of sexual identity, are so carefully and so aptly engaged within Williams' paintings.
French Conceptual artist Daniel Buren's installation of alternating 8.7cm-wide vertical stripe patterns at Lisson Gallery's booth was an exciting moment at the fair. This marks the first time the three examples from the artist's Peintures découpées series were exhibited in the U.S. The series fits squarely into Buren's concept of the "degree zero of painting." "My painting, at the limit, can only signify itself," the artist once declared. "It is. So much so, and so well, that anyone can make it and claim it." The installation is conceptually radical: Buren provokes questions about the relationship between art and the very structures shaping it.
In Ina Archer's captivating video installation at Microscope Gallery, The Lincoln Film Conspiracy, 2005-2021, three television sets are placed atop one another as trailers created by Archer – in addition to the only remaining film from the Lincoln Motion Picture Company – loop on screen. The Lincoln Motion Picture Company (1916-1923) was the first all-black film production company. The trailers in the video-loop filmed by Archer serve as emblems of what no longer survives; these are fictitious trailers for the nonexistent, ideated film. Archer does not simply create the imaginary trailers; the artist intelligently pairs these clips alongside fictional movie posters and promotional materials, often with a playful flair. One poster titled Poster for Black Ants in Your Pants, 2021, shows the heads of Lena and Archie, two fictional characters, transfixed onto the bodies of cartoon-style ant bugs. With The Lincoln Film Conspiracy, 2005-2021, Archer masterfully builds her own production––one that is wholly attuned to tackling themes of race and cultural appropriation. 
Categories
Tags