"This summer we all want to get away": the blunt opening line of Andrew Durbin's editor's letter in Frieze magazine this month. However, Durbin does not speak of the most obvious form of escapism: jet setting on a plane, bikinis and brimmed hats in tow (a chimeric dream for the time being). Durbin is referencing escapism as asserting imaginative independence, or as critique, a way out from antiquated social models. Personally, I find escape in art, getting lost in an exhibition for an afternoon. Below are a few highlights of upcoming exhibitions across London set to open later this spring and into summer. 
Alicia Reyes McNamara at Niru Ratnam, June 2021
Having grown up in Chicago with Mexican and Irish parents Alicia Reyes McNamara's work confronts the notion of incomplete identities constructed by two-dimensional ideas of Latino culture. This personal exploration of selfhood and identity also seeks to negotiate ideas of authenticity within a diaspora. Rather than attempting to construct a fixed notion of identity Reyes McNamara's work proposes a bicultural existence where identity is fluid and culture untethered. 
Reyes McNamara's piece 'Es y No Es' (2018) aptly embodies such sentiments. Created during her residency at Kiosko Galeria in Bolivia, the word 'inasa' is rendered material with sequins, plastic, beads and pins. 'Inasa' is an Aymara word meaning 'that which is and is not'. Hence, 'Es y No Es' explores language that reflects the unfixed nature of things, namely gender, identity and culture.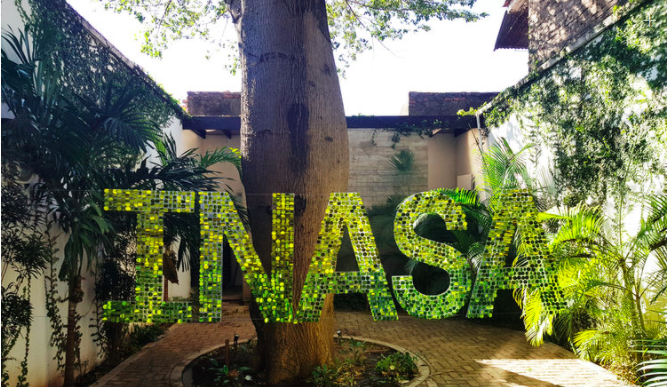 Reyes McNamara's works on paper are playful and subversive. Populated by strange beings, human in form, yet not (inasa). They are often engaged in absurd, at times vulgar, activities and relations. Using predominantly pastels and colour pencils in her drawings there is a resulting airbrush effect, appearing surreal.  
Niru Ratnam's gallery space consists of one room, with one wall of sash windows, flooding the space with light. Consequently, a select body of work is typically shown in this airy space, overlooking London's West End and I eagerly wait to see how they present Reyes McNamara's intriguing works.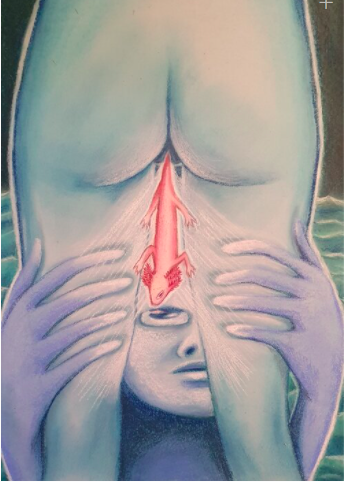 'Bloomberg New Contemporaries' at South London Gallery, until 6th June 2021
South London Gallery's annual open submission exhibition never fails to impress, showcasing the most dynamic and exciting talents of the younger generation. Bloomberg New Contemporaries (BNC) is very conscious of the issues of accessibility, global reach and engagement. In response to this, they have launched an extensive online platform, including in-depth interviews, video features, reading lists, to coincide with the physical exhibition ensure it is as equally as engaging and informative online as it is IRL. As Ben Eastman wrote in ArtReview around this time last year, such online iterations of exhibitions "relieve art of at least some of the barriers of class and inherited taste that protect it". *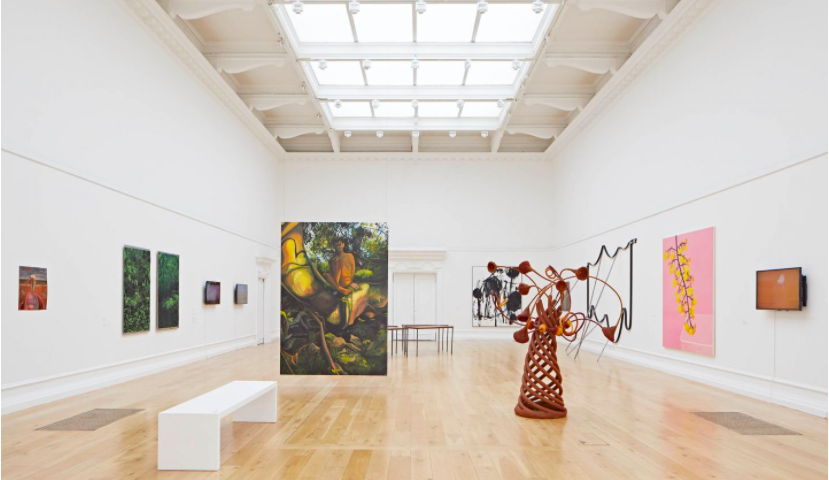 BNC takes issues of access beyond the limited binaries of the online/offline debate, with extensive information on their website regarding step-free access routes to and around the gallery, further information for visitors with limited hearing or visibility and lists their additional facilities available – vital information that is unfortunately available far too infrequently.
Mercedes Azpilicueta, 'Bondage of Passions', at Gasworks, until 4th July 2021
Mercedes Azpilicueta is an Argentinian visual artist, poet and performer living and working in Amsterdam and Buenos Airies. Azipilicueta's works are a mêlé of images, fictional and historical, emerging from and motivated by South America's colonial past. Her first UK solo exhibition 'Bondage of Passions', offers a speculative vision of Catalina de Erauso, a 17th century nun from the Basque country who travelled to the New World, where s/he lived under a male identity, eventually becoming a notoriously ruthless lieutenant in the Spanish colonial army. Azpilicueta's work negotiates this gendered tale and invites us to question its implications and meaning.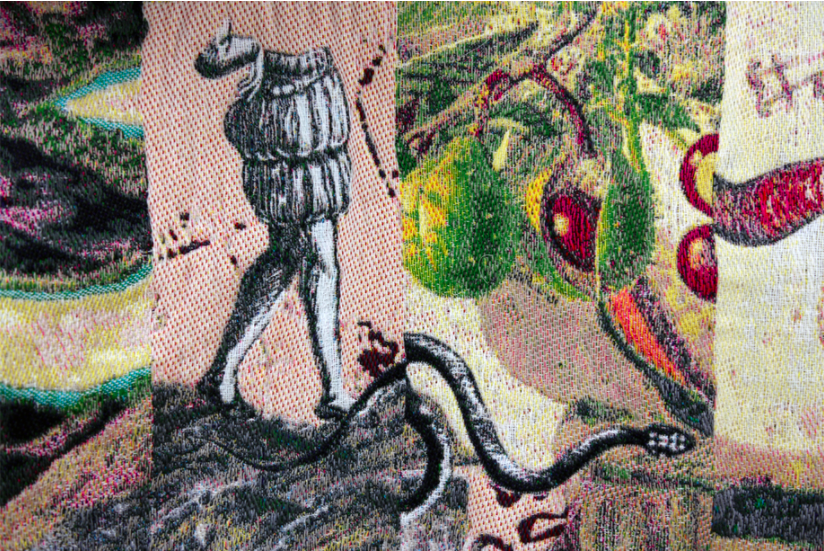 Azpilicueta's installation and sculptural works recurrently make use of 'poor' materials and craft-based techniques – often associated with the domestic work and women their artistic skill and use is subsequently undervalued (if valued at all). The boundaries long separating "craft" from "art" are purely semantic, policed by a certain type of person: white males.  Azpilicueta's rich use of materials adds another layer of meaning to the stories of her objects and seeks to broaden the definition of what qualifies as 'art'. 
Chantal Joffe, 'Story', at Victoria Miro, from 4th June until 31st July 2021
Chantal Joffe paints with easy control. Yet, beyond this visage of simplicity, her large-scale figurative paintings, emerging from photographic source material, have a lingering unsettling quality as Joffe introduces distortions into her depictions. So large she often requires scaffolding to paint them, her canvases hold immense emotional force. 
'Story' features intimate paintings of the artist's mother, negotiating concepts of aging, motherhood and the complex, evolving relationship between mother and child. This exhibition follows on from Joffe's previous 'For Esme – With Love and Squalor' at Victoria Miro in 2019, which charted her relationship with her daughter, reflecting a mother's desire to cling onto every moment as their child grows. As Olivia Laing wrote after having sat for Chantal Joffe: "[Joffe] allows her sitters to possess themselves, to be lovely, idiosyncratic, intelligent, mortal, their eyes wide, wrapped in a daydream or looking boldly back."**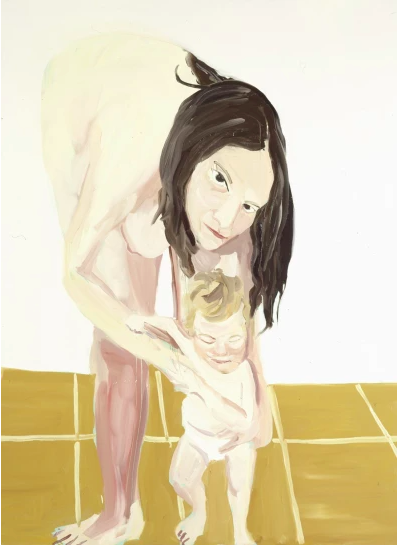 Joffe has also created a new public artwork for the Elizabeth line at Whitechapel station, which will be on view once the Crossrail station opens later in 2021. 
Access
All the exhibitions mentioned above are free to access, but may require pre-booking a time slot to help with social distancing. Gasworks and South London Gallery are both fully wheelchair accessible. Only the ground floor of Victoria Miro is fully wheelchair accessible.
 1 Eastman, Ben, 'The Pleasures of Home Viewing', ArtReview, May 2020.
** Laing, Olivia, ' Painting is a high-wire act', The Observer, May 2018.
Categories
Tags