Jean Dubuffet: Brutal Beauty is the first major UK exhibition of the work of French artist Jean Dubuffet (1901–1985) in over 50 years. One of the most provocative voices in postwar modern art, Dubuffet rebelled against conventional ideas of beauty, hoping to capture the poetry of everyday life in a gritty, more authentic way. Drawn from international public and private collections, Brutal Beauty brings together more than 150 works: from early portraits, lithographs and fantastical statues to enamel paintings, butterfly assemblages and giant colourful canvases. It opens at Barbican Art Gallery on 11 February 2021.
Spanning four decades in the studio, Brutal Beauty highlights Dubuffet's endless experimentation with tools and materials, as he blended paint with shards of glass, coal dust, pebbles, slithers of string and gravel. Shown alongside his work are two dedicated rooms from Dubuffet's collection of Art Brut, acquired throughout his life – shedding light on artists such as Aloïse Corbaz, Fleury-Joseph Crépin, Gaston Duf., and Laure Pigeon, who profoundly inspired his approach to the making and understanding of art.
'I could not be more thrilled that we're staging Jean Dubuffet: Brutal Beauty at the Barbican where his sculpture, painting, collage and drawing will feel perfectly at home. Dubuffet marvelled at the fabric of everyday life – an alchemist experimenting with dust and dirt, conjuring visual gold. So many artists, from David Hockney to Eva Hesse, Robert Smithson and Jean-Michel Basquiat have been influenced by his playful spirit and experimental drive. I have no doubt that this exhibition, the first show of his work in the UK for over 50 years, will be an utter joy and a revelation'.

Jane Alison, Head of Visual Arts, Barbican
Born in Le Havre, Dubuffet moved to Paris when he was 17 to study at the prestigious Académie Julian. He left after six months, realising that he could create his own syllabus of favourite subjects, which included philosophy, literature and ethnography. He worked for his father's own wine business and then established his own. It was only at the age of 41, in the midst of the German Occupation of Paris, that he decided to devote himself whole-heartedly to being an artist.

Living and working in the heart of liberated Paris, surrounded by the devastation of the Second World War, Dubuffet had taken to mixing his paint with found materials – layering his canvases into powerfully visceral objects, turning the ordinary into the extraordinary. From the outset, Dubuffet was drawn to other untrained artists, graffitists, tattooists, spiritualists, people who were incarcerated and individuals in psychiatric care, whose creativity felt so much more inspiring to him than anything on display in the city's museums. He invented the concept of 'Art Brut' (literally meaning 'raw' art) and from 1945 was passionate about its research and recognition. This exhibition presents work by 18 artists from Dubuffet's collection, many rarely seen, including one of Madge Gill's monumental calico drawings, a wooden sculpture carved by Auguste Forestier and the colourful drawings of Scottie Wilson.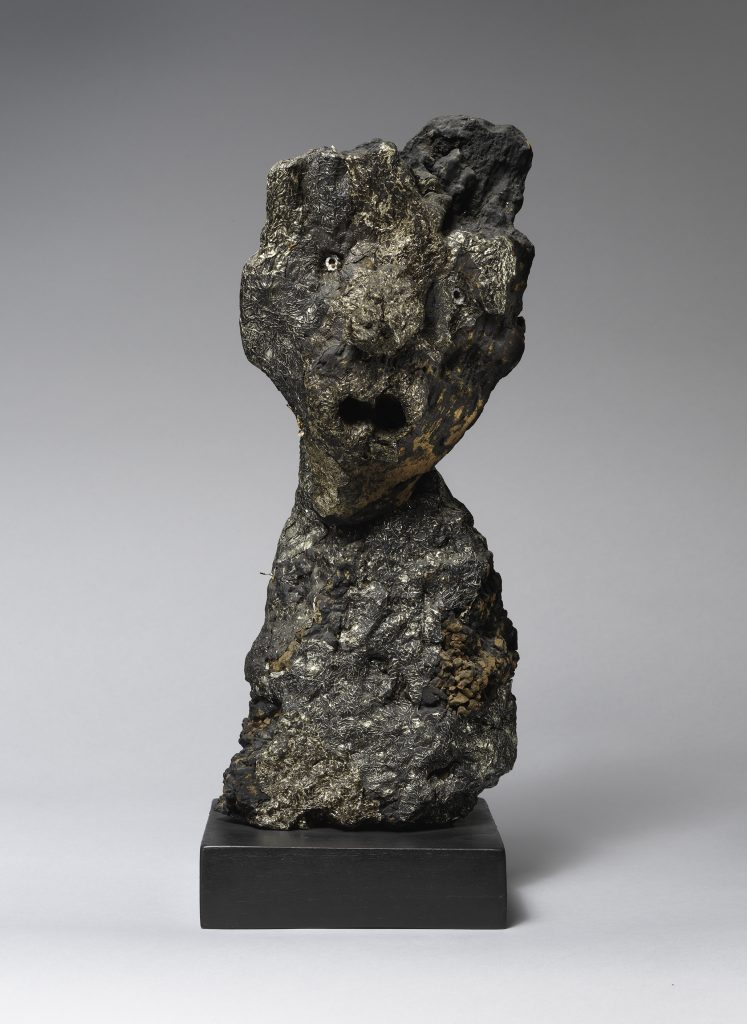 Significant works by Dubuffet in the exhibition include the Little Statues of Precarious Life, 1954–59, figures made out of natural sponge, wood charcoal, grapevine and lava stone; and the Texturologies from the late 1950s, inspired by the rich natural surroundings of Vence, Southern France, which pivot between our micro and macro worlds, their delicate speckles having a spellbinding effect. While Paris Circus, 1961, is a series of works drawn from the frenzy of street life bursting with consumerism and featuring a somersault of dense imagery.
Emerging from doodles the ever-playful Dubuffet made while on the telephone in 1962, L'Hourloupe developed into a new cycle of work, created over a decade and encompassing paintings, sculptures, architectural environments and performances. Meandering lines create fluid forms of molten red, white and blue. The series culminated in a theatrical performance of Coucou Bazar at the Guggenheim Museum in New York in 1973. This 'living painting' was performed in a one-hour spectacle with sixty artworks animated by performers, motors and remote control. These theatrical props are now too fragile for the performance to be re-staged as Dubuffet originally envisioned, but are presented here as a powerful display within the context of Hourloupe. In his later works, Theatres of Memory, Dubuffet returned to assemblage, layering fragments of paintings into enormous collages, such as Vicissitudes. More than 3.5 metres wide, Dubuffet in his winter years at 75 completed the work with a good deal of gymnastic exercise on a ladder'.
Jean Dubuffet: Brutal Beauty Barbican Art Gallery, 17th May – 22nd August
List of Artists from Dubuffet's Collection in the exhibition:Maurice Baskine (1901 – 1968); Gaston Chaissac (1910 – 1964) Aloïse Corbaz, known as Aloïse (1886 – 1964); Fleury-Joseph Crépin (1875 – 1948); Gaston Dufour, known as Gaston Duf. (1920 – 1966); Auguste Forestier (1887 – 1958); Madge Gill (1882 – 1961); Pierre Giraud (1925 – Unknown); Joaquim Vicens Gironella (1911 – 1997); Miguel Hernandez (1893 – 1957); Jan Krížek (1919 – 1985); Sylvain Lecocq (1900 – 1950) Augustin Lesage (1876 – 1954); Laure Pigeon (1882 – 1965); Henri Salingardes (1872 – 1947); Émile Ratier (1894 – 1984); Adolf Wölfli (1864 – 1930); and Scottie Wilson, born Louis Freeman (1888 – 1972)
Categories
Tags