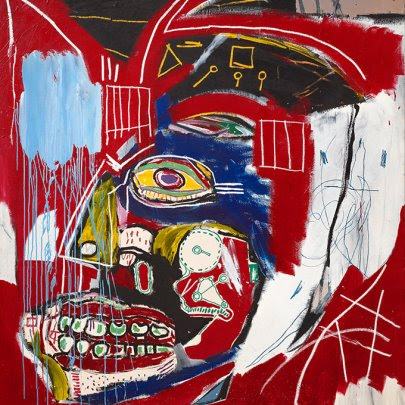 Christie's have announced the addition of artistic titan Jean-Michel Basquiat's monumental "skull" painting In This Case to its upcoming 21th Century Evening Sale at Christie's New York on 11th May (estimate in excess of US$50 million). 

In This Case is last in the series of Basquiat's holy trinity of "skull" paintings made in 1983. Included in the ground-breaking Basquiat retrospective at Paris's Fondation Louis Vuitton, In This Case was shown alongside his two most iconic masterworks, Untitled (1981)—held in The Broad Museum, Santa Monica—and Untitled (1982), which sold in 2017 for more than $110 million, reaching the highest price ever attained by an American artist at auction. With its blazing colour, pyrotechnic vigor, and explosive anatomical vision of the skull executed on an immense scale, In This Case takes its place alongside these works as a talismanic masterpiece.
'"In This Case' will be immediately recognizable to anyone familiar with Basquiat's trilogy of large-scale skull paintings from 1981-83. As his final expression in the series it is the most raw and visceral and emotionally-charged of the three paintings, with Basquiat holding nothing back. He trains the skull's single yellow eye directly out at the viewer, making it impossible to look away."

Ana Maria Celis, Senior Specialist and Head of 21th Century Art at Christie's
As a child, Basquiat was captivated by a copy of Gray's Anatomy given to him by his mother. While recuperating in the hospital after being struck by a car, the young artist—already an acute draughtsman—devoured the diagrams, which was the beginning of a lifelong obsession with the human form that, over time, would come to find its most piercing expression in the skull.
Bringing additional sources into play—among them Paul Richer's Artistic Anatomy, a 1966 volume on Leonardo da Vinci and Burchard Brentjes' African Rock Art—Basquiat developed this cranial subject into a hybrid self-image. Combining the linear precision of Renaissance scientific drawing with the primordial gestures of ancient cave painting, the distortions of Cubist heads and the vigor of contemporary street art, the skull became a furnace in which Basquiat poured the contents of his visual imagination, melting together centuries of stylistic influence.
Throughout the early 1980's, as Basquiat received international acclaim, the skull took its place among a number of figural forms through which the artist channeled his new identity. Alongside the athletic champions, kings and martyrs that populated his works of the period, the skull retained a power. It was both anonymous and unique; a link to the past and—although unbeknownst to him at the time—a dark harbinger of his own untimely end. It also reflected the very real dangers to young black life that haunt the streets of New York to this day. In This Case is recognized as Basquiat's tribute to Michael Stewart, a young African American street artist in his 20's whose death following his arrest by police in 1983 shook the community. Stewart's treatment while in police custody and trials of the officers generated debate regarding police brutality.
Large-scale depictions of skulls remain the most coveted works by Basquiat at auction. To date, two works by Basquiat have sold above the $50 million mark, including Untitled from 1982, sold at Christie's New York in May 2016 for $57.3 million.
In This Case will be on view at Christie's Hong Kong on 28th April before returning to New York for exhibition at Rockefeller Center ahead of Christie's 20/21 spring auction series. On May 11th, the livestreamed auction of Christie's first Evening Sale devoted to the art of the 21st Century will create a landmark moment that will define the future of collecting.
Categories
Tags