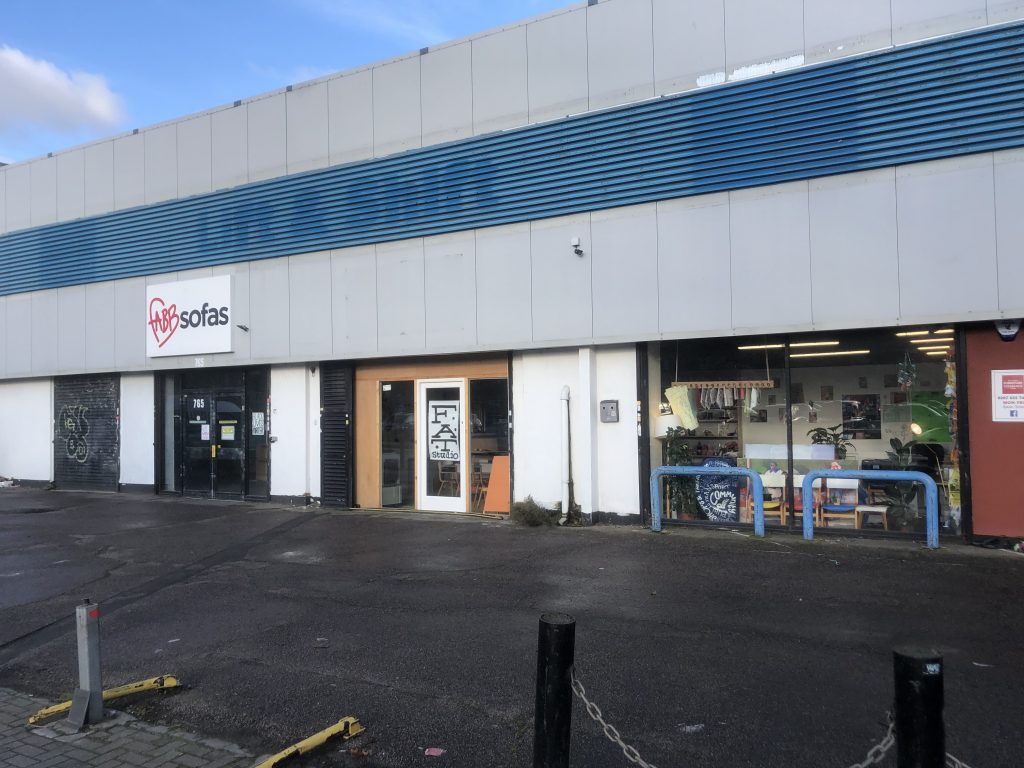 F.A.T Studio is run out of the front of an old FABB Sofas warehouse on the Old Kent Road. Homemade banners and signs fill the street-front windows and immediately give the hub a welcoming, unpretentious feel. Inside, the space is filled with art supplies, art books, and artists at their desks. In comparison to more formalised, private studios, F.A.T is commendably anarchic and much more culturally nourishing than a silent white cube gallery.
I spoke to Rachel Sale, an artist and one of F.A.T's founders about their newest project: Old Kent Road Arts Club. The club will be run out of the F.A.T space and will act as an arts venue running workshops and events for the local South East London community. 
Fundraising for the OKRAC has been a big success with 182 backers and £31,626 of their £37,959 goal raised so far – including £20k from the Mayor of London. However, with the deadline of the 11th of May fast approaching, the team are pushing to reach their target before all of the money raised so far will be returned to the backers. 
MAKE A PLEDGE AT spacehive.com/okr-arts-club !!!!!!!
In the following interview, Sale tells me all about the hub's ambitions, why they've found their home on the Old Kent Road, and which art world issues they're hoping the Arts Club will remedy. 
Introduce yourself and the core team – who are you? what do you do? 
F.A.T. Studio is a creative studio and C.I.C. that specialise in running community-focussed projects in south-east London. It's run by 6 creative professionals (friends who met at art school and have worked collaboratively ever since) who each bring different skills to the table and are committed to exploring what it means to be an 'community arts organisation' in 2021. 
What is F.A.T Studio as it currently stands? What's its history?
Our work is all about connecting local artists and citizens; bridging the gap between wider society and the arts. Communities are stronger when they are connected and we know that the arts have a powerful way of bringing people together. Therefore, as artists ourselves, we see it as our role to create space for important social gathering and exchange to happen. Since setting up in 2019 we have run a wide variety of community-focussed projects in partnership with local people/organisations and have supported over 40 local and emerging artists to run their own public events, in which skills and ideas can be shared. 
What has the Old Kent Road Arts Club got to do with F.A.T?  
Old Kent Road Arts Club will run from the space that is currently the F.A.T. Studio HQ. 3 of the 6 F.A.T. Studio directors will be taking on the job of running the Old Kent Road Arts Club.
Where did the idea come from? Why now?
We've always wanted to run a community arts venue from a space that is very visible to the public because we believe that more people could find their way into the arts if it was simply more visible and just part of everyday life. We want to make creative spaces un-intimidating and as regular as other civic spaces, like shops, cafes or libraries. We've also always been committed to finding ways of using our skills as creatives to engage in politics and community empowerment. We've slowly been working towards something like the OKR Arts Club since setting up in 2019, slowly gathering the network, skills and experience to do it. The pandemic presented us with a moment to stop and reflect on where we were at an organisation. We looked around and found ourselves in our road-side studio, in the middle of a neighbourhood under huge amounts of stress, uncertainty, surrounded by artists struggling to keep their practices going and a local community feeling more isolated than ever. In that moment of reflection we realised that this was the time to act. 
What issues within the art world (or society at large) is this project trying to address? 
The art and design world is at risk of becoming stagnant if it does not become more inclusive and diverse. When we were at university we were shocked by how undiverse the student body was in terms of race, class, sexuality etc (and the staff as well) and that just never felt right. So we're committed to finding ways of keeping the doors to the arts wedged open for as many people as possible. That means running free creative sessions for teenagers interested in creative careers; creating supported opportunities for people who are often underrepresented in the arts such as people of colour, people from working class backgrounds and LGBTQI folk; it also means literally just paying attention to creating a welcoming atmosphere for people who are new to the arts! Being around, being present, being up for a conversation with someone who's come to the front door is a big part of it for us too.  
What could the hub offer the local community? What's the potential for this project – what could be next?
The fundamental aim of the OKR Arts Club project is to connect people through a thoughtful programme of regular and completely free clubs, projects and events. It's about using the arts to bring local people together and thus make the community feel stronger. We're committed to working collaboratively on our programme of events and lots of our organisational work goes into creating opportunities for local people to grow their skills and ideas in a way that helps them become more self-sustainable, more connected to their local community and ultimately just happier. 
There is an incredible amount of inspiring people living and working along Old Kent Road but due to its nature – it's undoubtedly a very busy road! – it's not always obvious that there is such an abundance of creativity and culture here. The OKR Arts Club, with it's big windows, will be a space where people can see each other, meet each other, share knowledge, get excited about things and start new adventures. 
The space we have is meanwhile space which means that it's due for redevelopment but we can use it for a cheap rate while it's sitting empty. Although this presents us with a level of uncertainty about the future of the space, it also puts a fire in our belly and makes us want to do something with the space while it's still here. It means that we want to create a project that doesn't focus too heavily on a specific space or particular bits of equipment; instead we're focussing on building strong networks amongst local citizens and projects that can live on in different forms. That way, when we do have to vacate the space, we'll be able to reconfigure the OKR Arts Club in whatever space we find next. 
Why Old Kent Road? 
Well firstly we all live close by to OKR and have always been committed to working within a community that we're actually already part of in some way. We care about our area, it's as simple as that really. When we first saw the space we now rent as F.A.T. Studio (soon to be OKR Arts CLub) we were really excited by it as it fitted the bill for us in terms of being very visible to the public. And it was offered to us by Arebyte Studio (a charitable studio provider) at a rate we could afford. So it was a naturally good fit just in terms of the space itself. 
And then of course there is the fact that OKR is on the brink of such fierce redevelopment and the existing local community is facing such an uncertain future. As white, art school educated creative practitioners, we recognise that by having a studio on Old Kent Road, we are part of the area's gentrification and we feel it's important to acknowledge and respond to the problems with that. We feel it's part of our responsibility as local creatives to use our skills to do something positive for and with the community we have arrived at; something that supports community empowerment and creates opportunities – not something that treads on what is already here. That's really important to us as artists and just as people. 
Furthermore, the Old Kent Road area, parts of which are amongst the 10% most deprived areas in the country, is home to a proportionally high number of young people and people from BAME communities – these are two of the groups said to have been most affected by the Covid-19 crisis both in terms of work/education and mental health. Again, it feels important to us to engage with the truth of the struggle going on in our local area and actively do something to create opportunities that could help people grow new skills, find jobs, become more self-sustainable and feel happier within the community and within themselves. 
Lastly, it's important to state just how much incredible stuff has happened and continues to happen on Old Kent Road. It's an incredible place in terms of industrious history and also for community spirit! A big part of our work is about using creative practice to research and understand this area. Yes, there are struggles here but wow there is also so much to celebrate too!
What are the next steps, practically speaking?
The next step is to secure the funding target we've outlined in our crowdfunding campaign. We need £39k to run the first 12 months of the OKR Arts Club. The Mayor of London recently reviewed our proposal and has very encouragingly pledged £20k to our project! The campaign has also received over £11k in donations from 160 local people and organisations, bringing their current total to £31k. We need to raise another £8k to reach our target and if we don't reach it we'll use the money we've raised so far. If we can hit the target we'll aim to open our doors to the public in July 2021. 
Where should we look to stay updated about the project and how can we support it/you?
MAKE A PLEDGE AT spacehive.com/okr-arts-club !!!!!!!
FOLLOW AND SHARE THE CAMPAIGN ON @f.a.t.studio
VISIT US at 765-775 Old Kent Road, London, SE15 1NZ
EMAIL US ABOUT GETTING INVOLVED ON fat.studio.cic@gmail.com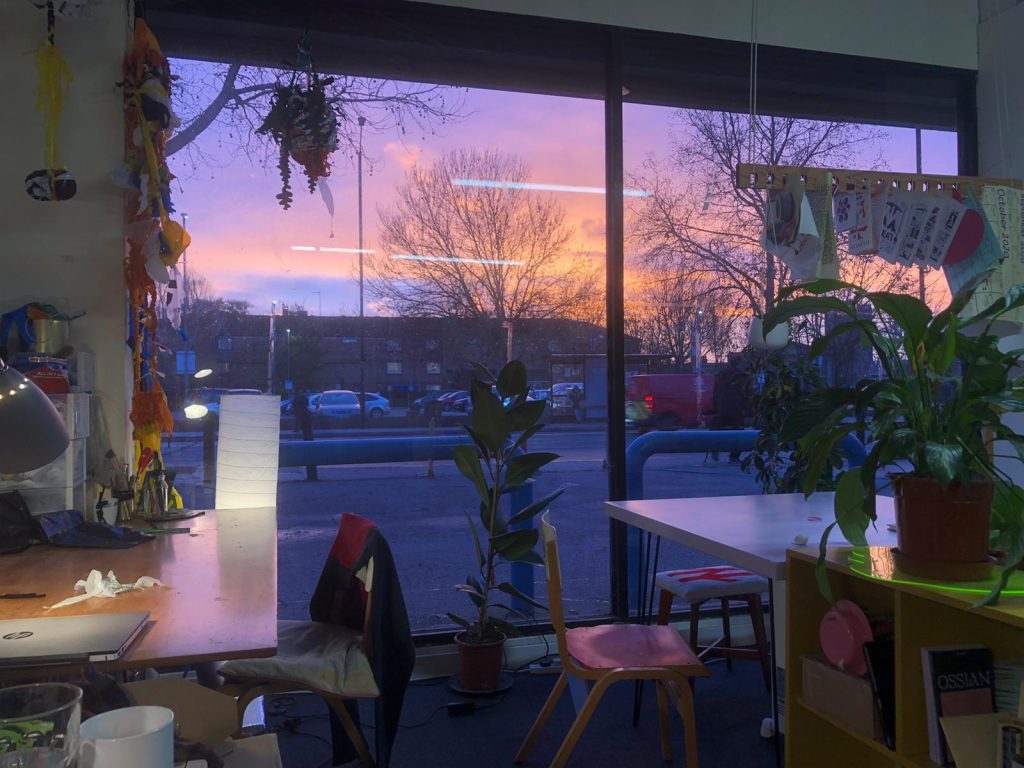 Categories
Tags