Lionel Messi has donated his adidas record goal scoring boots to the Museu Nacional d'Art de Catalunya, and together they have decided to offer this historic item of sporting memorabilia in a charity sale to support the Arts and Health Project of the Vall Hebron University Hospital in Barcelona.

Lionel Messi commenting on the charity sale:
"Achieving the record of 644 goals for the same club made me very happy, but the most important thing is being able to give something back to all the kids fighting for their health. We hope this auction serves to really raise awareness about this great initiative and I would like to thank all for supporting a cause so important to me."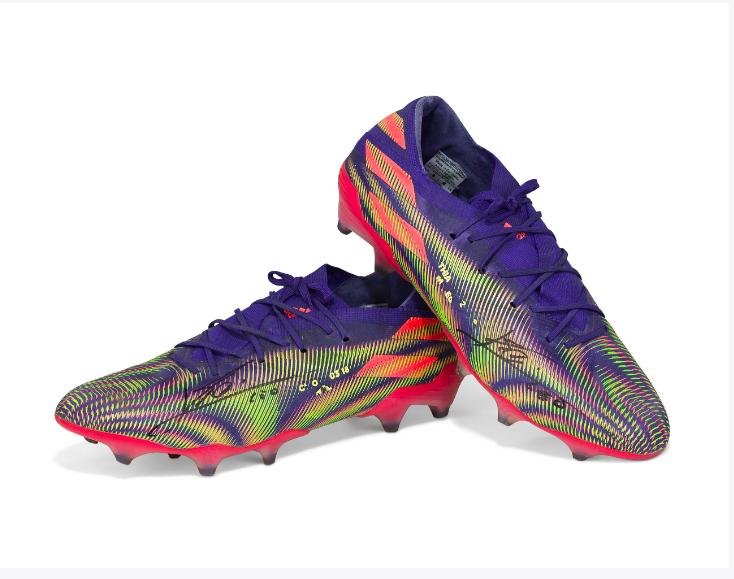 On 22nd December 2020, Lionel Messi broke one of football's greatest records, scoring the most goals
for a single club when he netted his 644th for FC Barcelona in their game against Real Valladolid. The
previous holder of this long-standing record was arguably the game's most celebrated player, Pelé.
The famous Brazilian scored 643 goals in 665 competitive games for Santos, with Messi achieving his
incredible feat in 749 appearances.

Messi, who had equalled the record in his previous match, collected Pedri's pass in the 65th minute
and calmly slotted the ball past the Real Valladolid goalkeeper to make the scoreline 3-0, before
pointing to the sky in celebration, a familiar sight for football fans across the globe. The Argentinean
joined FC Barcelona as a 13-year-old before making his first professional appearance for the senior
side in 2004, aged 17. Messi has won a remarkable 10 La Liga titles with the Catalan side as well as six
Copa Del Rey trophies and four Champions Leagues. On an individual level, Messi has won the famous
Ballon d'Or on six occasions, a record in its own right for a single player.
The game-worn boots, used to score the record-breaking goal against Real Valladolid, have been
signed by Lionel Messi. After initially being displayed at the Museu Nacional d'Art de Catalunya, the
boots are being now offered for auction to raise funds in aid of the Vall d'Hebron University Hospital's
Art and Health programme.

The boots are accompanied by a Certificate of Authenticity, and are estimated between £50,000 and
£70,000.
The online sale will take place between 19th to 30th April 2021. More information on the lot, the
registration process and the sale in general can be found under www.christies.com.
Categories
Tags