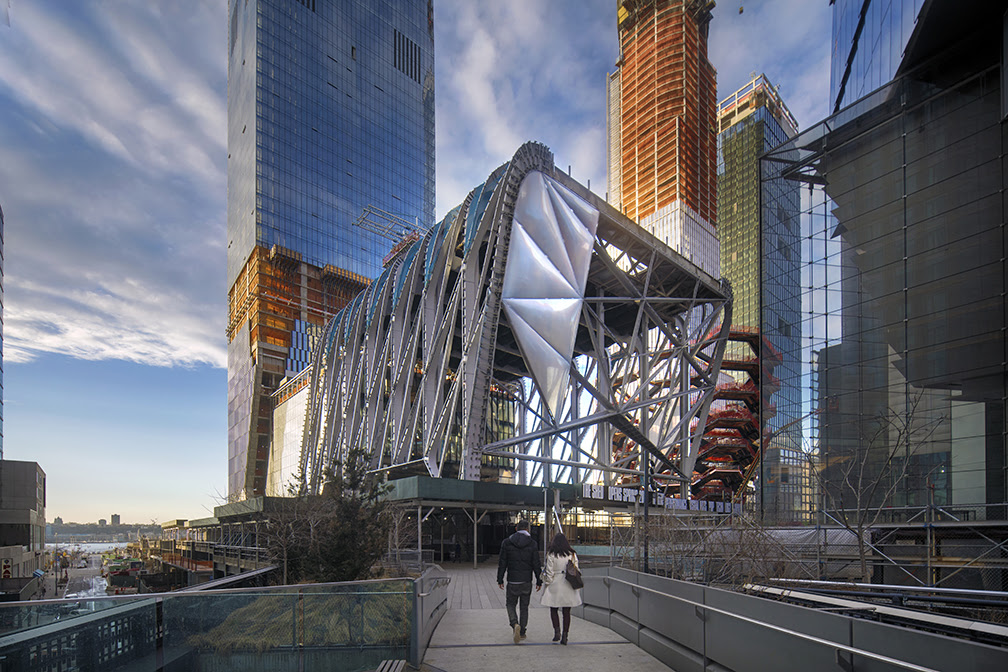 Today, Frieze New York revealed the highlights of its tenth edition, taking place for the first time at The Shed in Manhattan, from May 5 – 9, 2021. Reimagined for its new location,  the fair brings together over 60 major galleries and sees a strong representation from New York, celebrating the creative spirit of the city. A dedicated edition of Frieze Viewing Room will run parallel to the fair,  through May 14th, and will feature an expanded list of over 160 exhibitors, connecting international galleries  and audiences unable to travel.  
The fair's core program of artist talks, special projects and commissions will be accessible both at the fair and online via the fair's digital platform, Frieze Viewing Room, building on the hybrid format successfully launched in London last year. Frieze New York is supported by global lead partner Deutsche Bank, continuing a shared commitment to artistic excellence.
Loring Randolph, Director of Programming, Frieze New York said:
'After a challenging year it's so important – now more than ever – to support our artistic community, and this year's curated program strives to address some of the most relevant conversations in art today. The Tribute to Professor Sarah Elizabeth Lewis and the Vision & Justice Project in collaboration with over 50 galleries and institutions will form one of the most extensive strands of programming ever achieved. At the same time the return of the Artist Award, Frieze Talks and our new collaborative exhibition with Acute Art and The Shed, really promise to engage our audiences – at Frieze New York '
World-leading Galleries
Frieze New York invites the world's leading galleries to showcase ambitious solo, group and themed presentations by pioneering artists and offers the opportunity to not only discover up-and-coming talent but also engage with some of art history's most important figures.
Solo presentations by luminary artists:  • David Zwirner showing new work by American artist Dana Schutz, including a group of paintings  conceived especially for the presentation: large-scale canvases depicting various figures navigating post calamitous situations, expanding on Schutz's singular, radically innovative approach to subject matter and  painting. Also on view will be new sculptures by the artist 
• David Lewis presenting three foundational Thornton Dial assemblages, considered to be some of the artist's most important work
• Marian Goodman Gallery bringing a solo presentation of new works by French artist Annette Messager, an iconic figure in conceptual and feminist practice
• James Cohan showcasing new paintings by Trenton Doyle Hancock where the artist imagines a meeting  between his alter-ego  Torpedoboy , a black superhero, and one of the buffoonish Klansmen who populated  Philip Guston's paintings  
• Stephen Friedman Gallery displaying new paintings by British artist Sarah Ball, exploring themes of gender and identity
• Lisson Gallery exhibiting three important works by the French conceptual artist Daniel Buren, exhibited in the US for the first time, while a fourth work, Corner Piece in Three Parts (1980) will be included in the gallery's Online Viewing Room
• Esther Schipper and Mitchell-Innes & Nash with a solo presentation of works by pioneering Canadian collective General Idea
Curated group and themed presentations:
• Goodman Gallery showing works by Grada Kilomba, Pamela Phatsimo Sunstrum, William Kentridge, Hank Willis Thomas, Misheck Masamvu and Nolan Oswald Dennis. Highlights from the display include a major drawing by Kentridge which will debut at the fair and is to be included in his forthcoming survey at the Royal Academy in 2022; and a multi-part quilt by Thomas, made from decommissioned prison uniforms, and previously exhibited in the group show 'Radical Tradition: American Quilts and Social Change' at Toledo Museum of Art in 2021
• Jenkins Johnson Gallery with a group presentation of six artists exploring social and political issues of the diaspora, connecting past and current moment, including Ming Smith, Lisa Corinne Davis, Blessing Ngobeni, Enrico Riley and Rashaad Newsome
• kurimanzutto with works by artists Allora & Calzadilla, Wilfredo Prieto, Abraham Cruzvillegas and Roman Ondak, utilising abstraction to explore notions of politics, identity, and expression • Salon94 showcasing a dual exhibition of new work by artists Huma Bhabha and Daniel Hesidence
The Frame section for young galleries Advised by gallerists Olivia Barrett (Château Shatto, Los Angeles) and Sophie Mörner (Company Gallery, New York), Frame supports galleries operating 10 years and under to present solo presentations by today's most exciting artists. This year's lineup includes Galeria Bruno Múrias presenting work by Henrique Pavão; Helena Anrather and Capsule Shanghai showing a joint booth of works by Douglas Rieger; Wilding Cran Gallery with Karon Davis; Barro showing work by Agustina Woodgate; Château Shatto presenting Zeinab Saleh; Clima showing Dana Lok; Company Gallery with works by WangShui; Bridget Donahue and Hannah Hoffmann together showing Olga Balema; Microscope presenting Ina Archer; and Instituto de Visión showing Wilson Díaz.
Programming
Alongside the fair's gallery sections, Frieze New York is anchored by a program of collaborations, exhibitions and talks. The central strand of programming for 2021 encompasses a Tribute to the Vision & Justice Project and its founder, Sarah Elizabeth Lewis, Associate Professor at Harvard University, with over 50 galleries and institutions pledging their support. In another highlight, Precious Okoyomon is the winner of the 2021 Artist Award at Frieze New York, supported by the Luma Foundation.
'The Looking Glass': an exhibition of augmented reality (AR) artworks
'The Looking Glass', curated by Acute Art's artistic director Daniel Birnbaum and The Shed's chief curator Emma Enderby, is a large exhibition of augmented reality works presented in The Shed and the public area surrounding the building. The first chapter of this expanding exhibition, which opens on May 5 in collaboration with Frieze New York, premieres works by artists Precious Okoyomon, Cao Fei and KAWS. The works in this show are no doubt real, but not in the sense of tangible objects. Invisible to the naked eye, they come to life in your phone when you arrive at the right spot. Once caught on camera they appear as real as the environment around them. Precious Okoyomon presents two large animated flowers that read poetry. Cao Fei's RMB City AR is a futuristic urban fantasy. KAWS' COMPANION 2020 (EXPANDED) floats horizontally in the air seemingly pressed against an imaginary glass. Through the juxtaposition of physical and virtual worlds, the artworks in 'The Looking Glass', all visible through the free Acute Art app, convey a sense of surprise and wonder. The Shed and Acute Art will expand the exhibition with additional works on The Shed's plaza in July. Details to be announced.
Frieze Talks
The acclaimed Frieze Talks program returns under the guidance of Amy Zion (Center for Curatorial Studies, Bard College). Pairing literary figures with renowned artists, the Talks will take place via Zoom, each week in the month leading up to the fair, with the full series available for Frieze members to stream at Frieze.com, from May 5 onwards. Participants include: American Artist in conversation with Robin D.G. Kelly; Joni Murphy speaking to Ulrike Müller; Akwaeke Emezi and ruby onyinyechi amanze; and Richard Prince with Rachel Kushner.
Frieze Library: Volume Three
Organized in collaboration with Gordon Robichaux, the annual Frieze Library initiative invites Frieze New York's participating galleries to each submit one arts publication to be gifted to the Thomas J. Watson Library at The Metropolitan Museum of Art. The resulting selection of digital and physical publications forms a snapshot of the current moment, as explored through the work of artists, writers and art professionals. This year's publications will be on display at the fair and subsequently donated to the Thomas J. Watson Library; a bibliography will be available online.
Art:LIVE in collaboration with Deutsche Bank
Art:LIVE is a new broadcast and video program of accessible expert insights into recent developments in contemporary art and culture. Devised for audiences in a more distanced world, the content opens doors to inspiring spaces and important conversations, and offers exclusive access to artists, collectors, curators, and creatives in diverse fields. Taking the theme of 'Reflect, Refocus, Reset', this edition responds to the cautious optimism of the present moment and lessons from the recent past, and includes: an intimate talk with Marina Abramovi? in her NYC loft; a tour with Jessica Morgan through the expanded Dia:Chelsea, re-opening after two years of renovation, and the new site-specific commission by Lucy Raven; designer Delfina Delettrez on embracing family as a source of creative renewal; and a reflection by architect Annabelle Selldorf on her career and practice, following her landmark collaboration with the Frick Collection on its relocation to Marcel Breuer's former Whitney Museum. The programme will be available to watch on both Frieze.com and deutschewealth.com
Categories
Tags