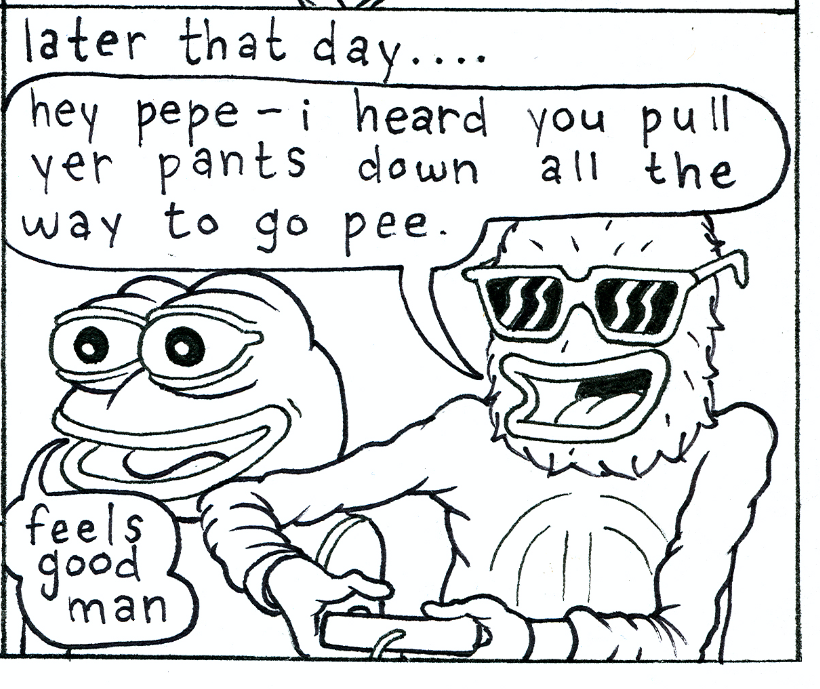 CHAIN/SAW NFT Gallery's inaugural exhibition, Iconography & The Internet, has added an extremely culturally-noteworthy NFT to its opening roster and forthcoming auction, the original Pepe the Frog, "Feels Good Man" panel from 2006 by Matt Furie, from which the viral meme was derived. Pepe is arguably the most ubiquitous meme of the internet age and his inclusion sits nicely alongside Michael Lavine's images of Kurt Cobain, Ryder Ripps' Oprah gifs and Michael Dotson's sketches for paintings of Disney sweethearts, all icons in their own right. The Iconography & The Internet auction begins on Friday, April 2nd at 8pm EST on CHAIN/SAW NFT's website: chainsaw.fun
Bringing notions of legacy, timelessness and transcendence into the conversations surrounding NFTs that are normally plagued by accelerated bro-talk and a quick cash-out, CHAIN/SAW NFT is more than a gallery, it is a platform for nuanced conversations. By engaging its accoladed artist roster in dialogue, CHAIN/SAW NFT seeks to provide personal guidance and context to them as the world collectively nurtures NFTs in their experimental infancy. These engagements live online as interviews that give artists an opportunity to demystify and humanize the digital art world. CHAIN/SAW NFT believes that artists should be the ones shaping the conversation as a new paradigm has emerged that yields alternative models for viewing, collecting, and experiencing art as we know it.
So, what does Matt Furie have to say about NFT's? Are they functional? Are they an opportunistic cash grab? Do they represent a sincere shift in appreciation of digital artwork? We hear from him below.
We just spent a lot of time on the computers these days, and we're creating a lot of digital content or creating digital images and digital music and spending a lot of time with this digital stuff. So I think NFTs are a way to take that time and energy that's put into that and give it some value. And also give people some ownership of something that would otherwise just pop up on an image search. It's interesting, and conceptually, it feels pretty new. And different and controversial. So we'll see where it goes.

Matt Furie:
ABOUT "ICONOGRAPHY & THE INTERNET"
Iconography & The Internet presents a dissection of iconography, disemboweling notions of celebrity through appropriation while remixing our current definitions of pop culture with a sorely missed sense of humanity. The group exhibit features the works of modern visionaries including Matt Furie, Michael Lavine, Michael Dotson, Ryder Ripps, AKLO91 + Loyal Duce, Lisa Ramsey and ABSRDST, facilitating a new context for NFTs to coexist in that invites postulations of legacy, curation and timelessness into the fold.
The word "icon" has become a part of our quotidian vocabularies as we leave digital fingerprints on glass ceilings shattering the pixelated remains of creative ecosystems past. We aren't just living in the future, we're shaping it at every second as we build immaterial bridges between a skeletal experience economy and humanized algorithms for our digitized selves to cross. Identity is now an amalgamation of references, original and appropriated, speculatively collaged in the image of validation, thirsty for hyperstition and the iconography that now comes with the blue-checkmark of a verified account. Culture goes pop! and the art world itself has entered a discourse that is more fragmented than ever as its thoughts oscillate around populism, exploitation and ownership. NFTs have arisen as both the antithesis and the answer, shrouded in an air of accelerated bro-talk and restless optimism.
ABOUT CHAIN/SAW NFT:
CHAIN/SAW NFT is a curated NFT gallery that provides artists with more personal guidance and context. Art has always had the power to shift the ways in which we experience and interact with the world. A new paradigm has emerged that provides alternative models for viewing, collecting, and experiencing digital media. This space has been quickly flooded with marketplaces and galleries, though, none seem to take a high quality, curated, artist-first approach. Chain/Saw recognizes that NFTs are the new paradigm and believes that artists should be the ones shaping it.
@chainsaw_nft, chainsaw.fun, twitter.com/chainsawnft
Categories
Tags