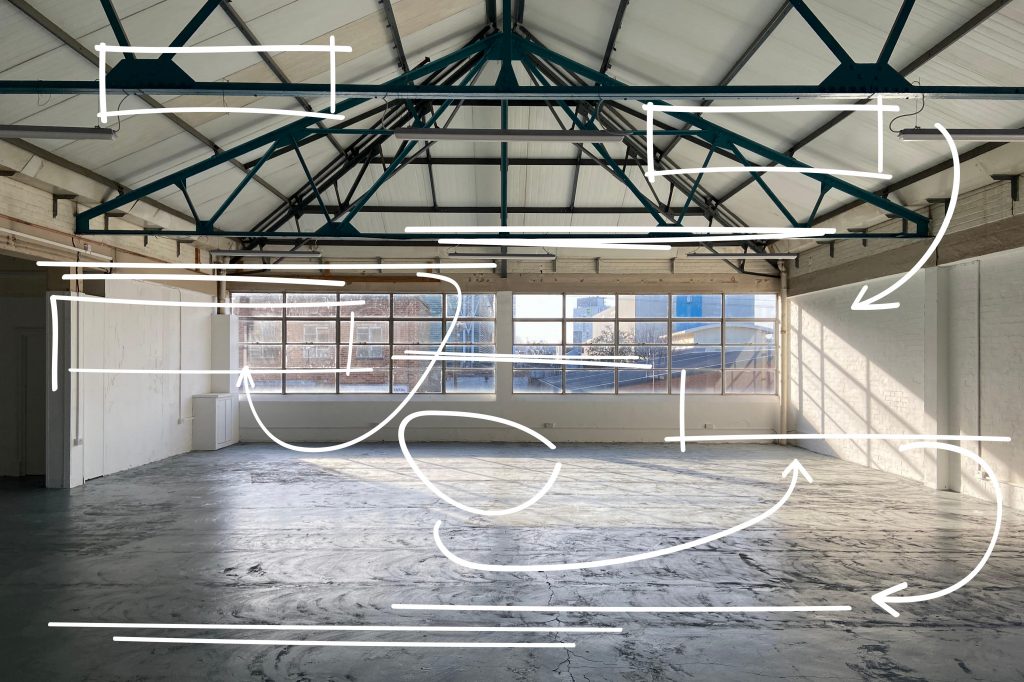 The newly founded London Performance Studios creative initiative have announced the launch of Seeding Space – 100 free space bursaries for artists built within converted warehouse spaces, available through 2021 and onwards in South East London. 
Seeding Space is the first in a series of exciting initiatives from the group created with artists at the centre, offering spaces across the next 18 months to support the creative freelance workforce to rebuild as we begin to navigate our way out of lockdown. The spaces can be accessed through an open call for applications that opens on April 6th. 
The stark numbers of freelancers that have fallen through the cracks over the past year and long before across different demographic groups remains an alarming issue that requires urgent attention within the creative industries. Seeding Space will meet some immediate requirements of artists by democratising this SE15 space in London.
The aim is to remove some of the current barriers to creative development for artists – identified through a queer, anti-racist, feminist, and equalist lens – through both the provision of free space and learning development opportunities.
Exploring new and risk-free structures for the visual and performing arts, London Performance Studios' bursaries will provide artists with one to three weeks of free space in its South Bermondsey rehearsal rooms for theatre companies, community groups, and independent artists working across the performing or visual arts fields, to develop new or existing works.
More than just the provision of free space, the successful applicants will have access to the London Performance Studios' rehearsal space including kitchen, breakout space and rehearsal room; access to a fully-equipped workshop, industry advice and career support, fundraising advice, and an outside eye or dramaturgical support. There is also an opportunity to participate in the future of London Performance Studios wider vision and to become a part of the community with priority access to other upcoming initiatives. 
Applications are open to all artistic and community ideas no matter how 'out of the box'. Anyone is welcome to apply who can clearly demonstrate a need for the space be it for R+D rehearsals, full rehearsals, gallery exhibitions, creation of a large scale piece of art, a community gathering, a public sharing or long table event. 
This project has been developed by Than Hussein Clark and Lise Bell. They began working together in September 2021, combining their extensive knowledge of the visual and performing arts, to develop this new artistic initiative. 
As a visual artist, Than is currently participating in the British Art Show 9 and the upcoming Belgrade Biennale. For the Belgrade Biennale, Than is developing a 16 part radio drama In Alphabetic Gardens with The Director's Theatre Writer's Theatre ensemble.  Lise, a specialist in the performing arts most recently joint CEO and Executive Director at the Gate Theatre. 
On bringing London Performance Studios' Seeding Space to fruition they commented: 
"Drawn from our collective experience of unlearning and confinement over the last eighteen months, London Performance Studios' first initiative Seeding Space understands space as a vital and often finite resource which must be rethought and shared in order to urgently address and rebalance the needs of creative freelancers in both the visual and performing arts in the capital. In handing over the mic to artists over the next 2 years with this rolling programme of bursaries, London Performance Studios' aim is not only to help kickstart the process of creative recovery for London's freelancers but also to begin the process of a larger handover of creative control. Through a wide-ranging platform of opportunities in which the lessons of the past year, and before, might be made manifest, finally addressing the precarity faced by creative freelancers with new structures of resource and skill sharing. We aim to honour their essential and central role in the creative industries."
The first round of applications for Seeding Space opens on April 6th.
For full details visit londonperformancestudios.com
Categories
Tags