'Round and round it goes. Like Sisyphus, the second-hand climbs and falls. Almost somewhere, new beginning. A second closer and a minute further. Close, but out of reach.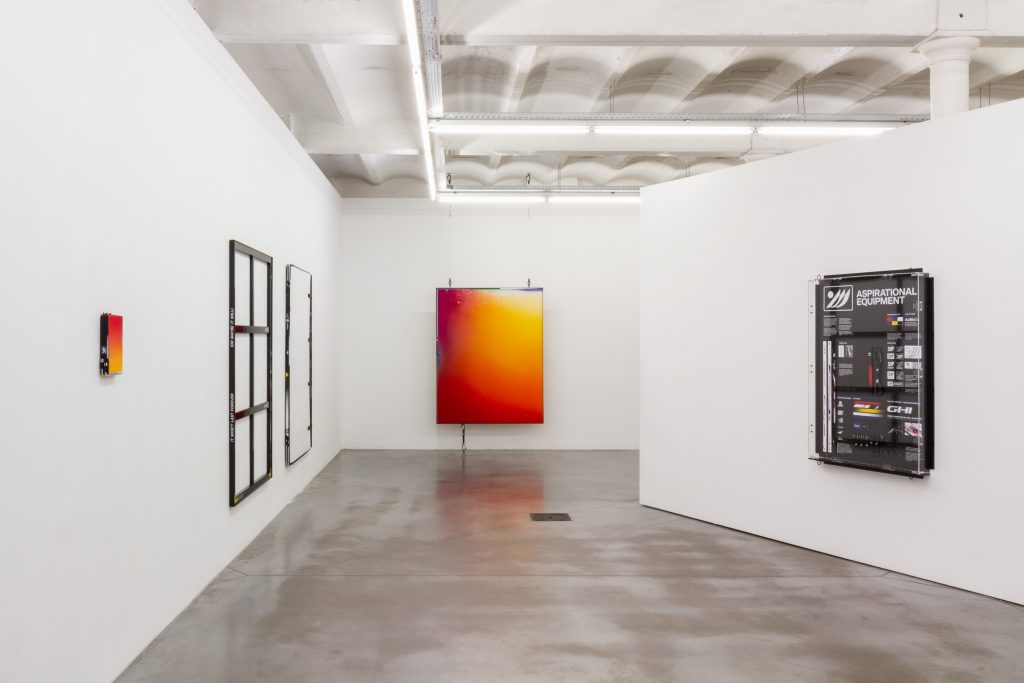 'It won't last forever (or maybe it will)' is Ben Edmunds' solo debut in Europe and his most ambitious exhibition to date. Best known for his large scale paintings that combine tropes of modernist abstraction with the stylised accents of extreme sports, this show marks an expansion of possibilities in his practice. The works move between painting, sculpture, photography, branding, useful objects and wearable equipment. In reference to his hopes and fears of the present moment, the title of the exhibition alludes to a central question in his work, "if you could live in this moment forever, would you?".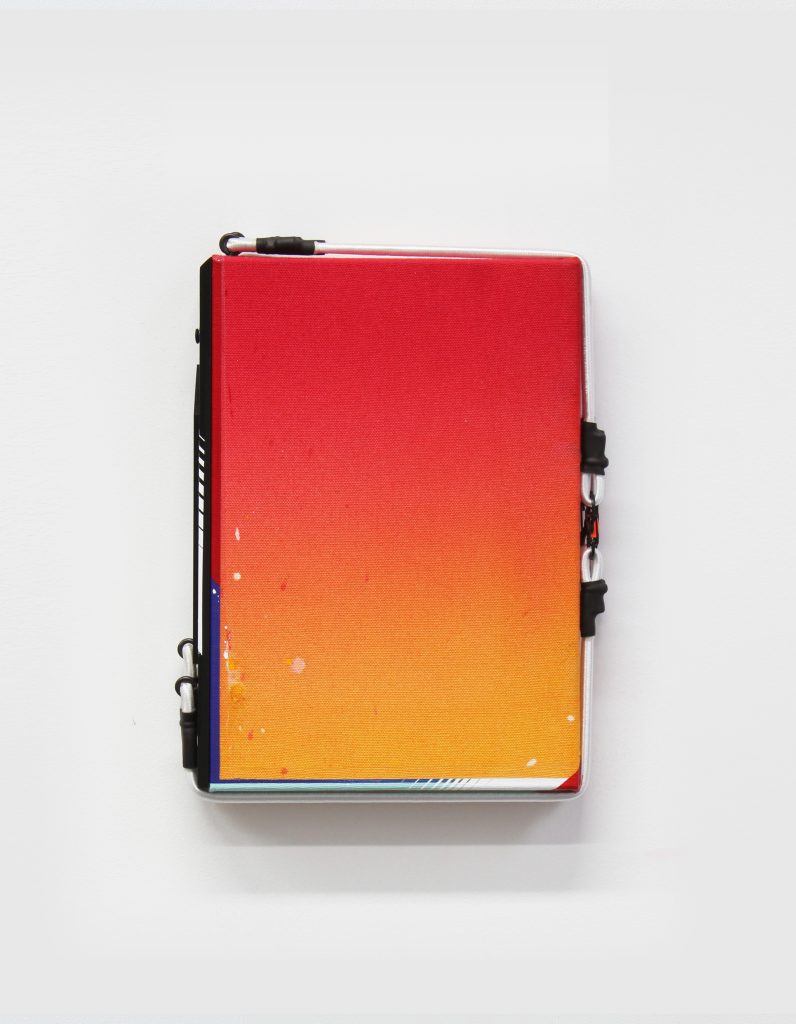 Growing up in rural England, Edmunds was surrounded by a culture of outdoor leisure pursuits. He draws on this personal history of sailing, windsurfing and cycling to explore the transcendental parallel between abstract painting and adventure sports. To the artist, these sports offer an escape – an urge to go beyond the known boundaries of geography and the body. Questioning the assumed anti-utilitarianism of abstract painting, the artist proposes to examine the function of a painting as equipment. If Goretex boots and screw lock carabiners take you to the top of a mountain, where can a painting take you?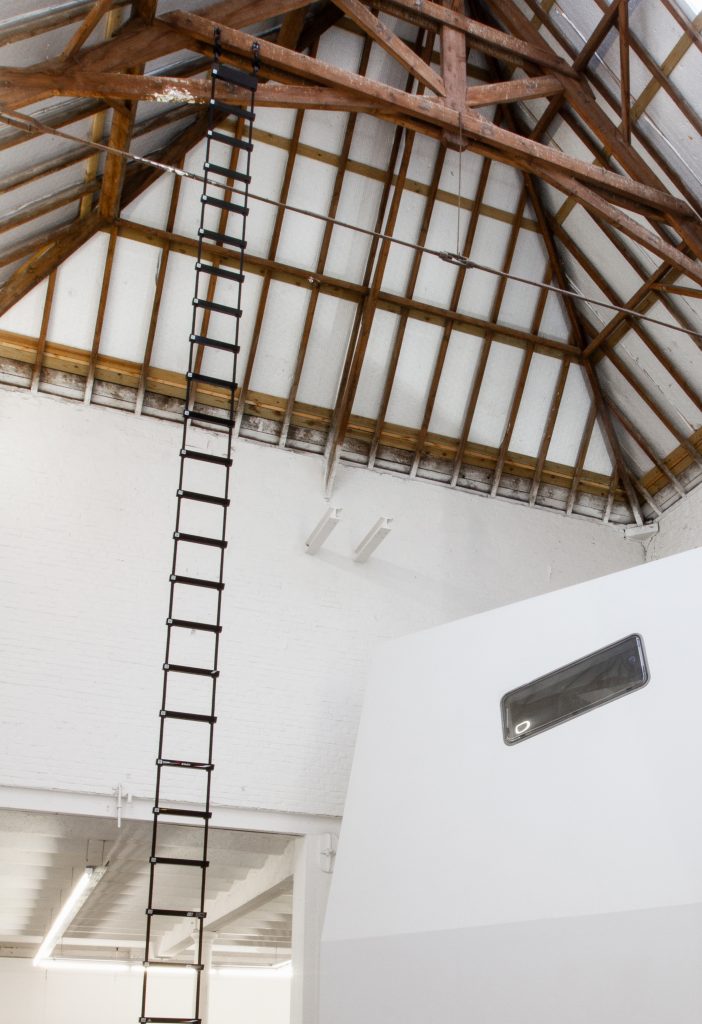 A deconstructivist of the 21st century, Edmunds playfully dismantles the established structures of painting throughout the exhibition. In works such as 'Perfect miracles' and 'After the religious experience' the canvas is partly stretched by bungee cords, revealing a carbon fibre stretcher beneath. In 'It won't last forever (or maybe it will)', the canvas is absent entirely, leaving a glossy set of stretcher bars with slick logos and stylised branding. Similarly, the artist plays with the labels associated with painting. "Longing", "dreamer", "romantic" punctuate the works with vulnerable moments poised between cliché and a sincere desire to be the mythological romantic painter. The various BE logos reflect on the value and significance of the artist's signature. It is in this vein, between romanticism and skepticism, that his work can be likened to that of Friedrich Kunath and Ashley Bickerton.
Underwritten into the dyed canvases, handmade carbon fibre components and short incidents of text is the sense that we are unsatisfied, in a perpetual state of wanting and desire. We live in a world of seductive adverts, property ladders, job promotions, and romantic affairs, all the while searching in the dark as the clock is ticking. Edmunds' colour choices, evoking the night sky, the deep blue ocean and the sunset, stimulate the desiring mind to understand the world on a mythical and cosmological level. His paintings evoke a distant horizon, something you can never reach or obtain.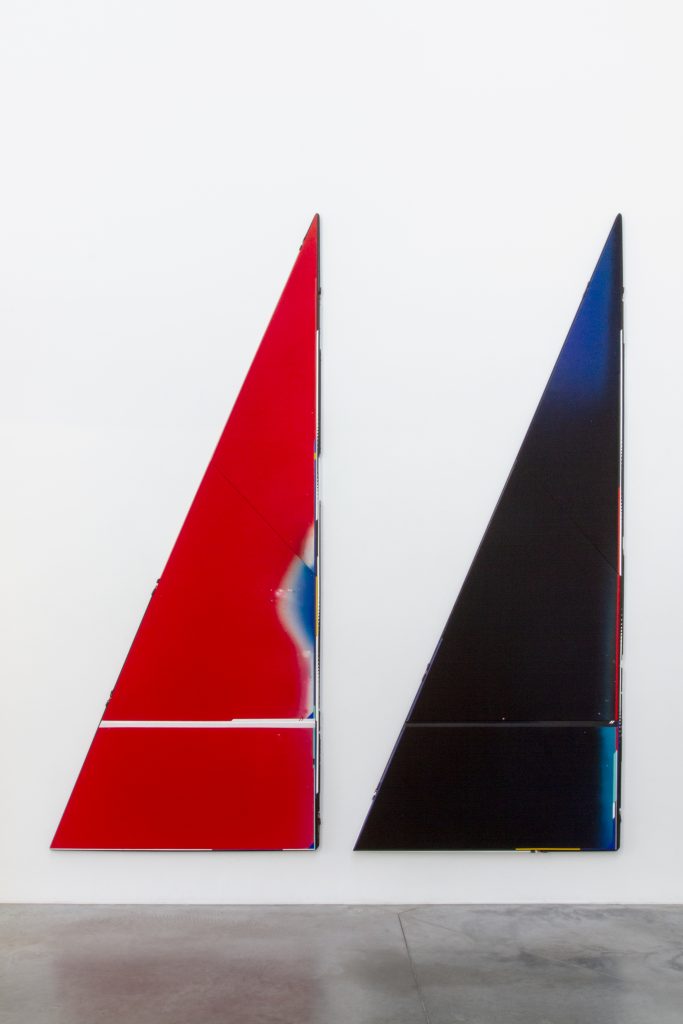 Through the lens of Abstract Expressionism and Colour Field, in which painting sought to become a transcendental experience, Edmunds' work can be seen as an updated modernism, a search for the meaning in the context of fashions and trends, 'couch to 5K', remote personal training and wellness coaching. His paintings appeal to the consumer who craves experiences through objects. This idea is also manifested in the company he founded, 'Aspirational Equipment'. A sports and lifestyle brand for romantics, it provides tools for explorers and dreamers. It recognises the act of searching as a fundamental human driving force and the state of being on the way somewhere as a part of the human condition.
Ben Edmunds
It won't last forever (or maybe it will) Exhibition — 25th April Tatjana Pieters Gallery Nieuvewaart 124/001 – B – 9000 Ghent tatjanapieters.com
About the Artist
Ben Edmunds was born in 1994 in Norwich, UK and lives and works in London. Since graduating from the Royal College of Art in 2018, he has held solo exhibitions at Kaikai Kiki Gallery, Tokyo (JP) & The Shophouse, Hong Kong (HK). Recent Group exhibitions are: 'Summer Show', Kaikai Kiki Gallery, Tokyo (JP); 'There's Something About Painting', Tatjana Pieters, Ghent (BE), 'Adieu to Old England, The Kids are Alright', Choi&Lager Gallery, Cologne (DE), 'La Main Qui Dessinait Toute Seule', Danysz, Shanghai (CN). Edmunds has participated in numerous art fairs, such as Art Taipei (HK), Art Basel Hong Kong and FRIEZE Art Fair in New York. Later this year he will present works at Complexcon Los Angeles and L21 Gallery, Palma de Mallorca (SP).
Ben would like to thank Rachel Glenn, Max Parsons, adidas Originals, Benjamin Haywood, Cecelia Charlton, Victor Seaward and Rosa Assennato for their help with this project.
Categories
Tags