" I'd never call myself an art expert, and I'd rather say I'm an art geek – someone who wants to tell stories and hear stories back to truly connect and understand one other, and our history. The art world can feel like a member's club to so many, but it isn't, and it shouldn't have to be, because art is for everyone. It can make everything feel better and it's so accessible – there are many museums and galleries that are free to visit, you can wander into any auction house, there's public art, and even social media plays an unequivocal role in platforming established and new talent. For me, being around art stops the blues, especially over this past year. And if through my enthusiasm for art, someone else can learn something, then that feels very rewarding. "

Russell Tovey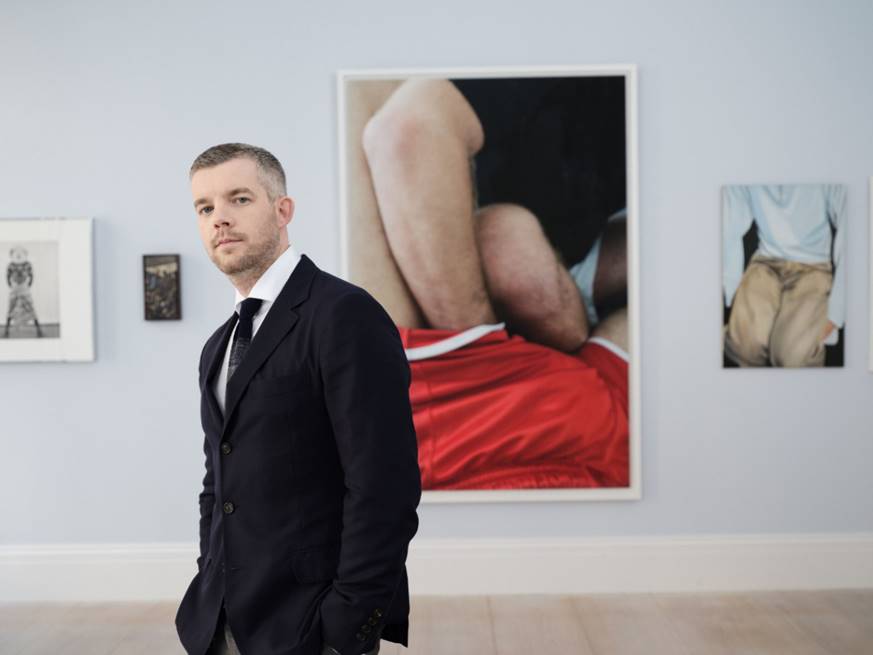 Russell Tovey, British actor turned collector, curator, podcast host and "art geek", has teamed up with Sotheby's for the 'Contemporary Curated' auction in London, which will open for bidding from 6-13 April. Together with specialists from Sotheby's Contemporary art team, Russell has handpicked a personal edit of works from the most established to the emerging generation of artists, bringing a fresh perspective to the series in its tenth iteration.
Russell's love for art is no kept secret, though he admits that when he rst ventured into the art world, he su ered imposter syndrome, believing that if something hung in an institution or gallery, then it had to be of stature and admired. Now, the actor is a strong believer that part of learning to love art is to trust your instincts, often quoting the writer Alan Bennett, "you don't have to like everything".
Through this auction, Russell hopes to open the door to a new audience for whom, he has felt, the artworld can often feel exclusive and elitist – just as he thought in the early days. For Russell, an auction house isn't simply a place to buy art, rather it is a space for everyone to experience an artwork or object, which you may never see again before they enter a collection. Russell also admires the lack of hierarchy between artists and artworks, rightly pointing to the idea that a £20 million painting could hang amidst works of much less value – you're not being told what's more important than everything else.
With estimates ranging from £1,000 to £100,000 and beyond, 'Contemporary Curated' provides an opportunity for not only established buyers, but burgeoning collectors on the hunt to acquire art at accessible prices. Russell purchased his rst artwork aged 25, acquiring a Mono-print etching by Tracey Emin – who he now counts among his closest friends and whose neon work, My Favourite Little Bird, is included in his edit – using his pay cheque from The History Boys. And, it was during the play's Broadway debut that Russell rst came across Sotheby's. Rooting through old publications at the Strand bookstore, Russell found archived Contemporary art catalogues, which became his resource to research works by the then barely published, Young British Artists.
In his edit for 'Contemporary Curated', Russell spotlights a bronze Holy Egg by Gavin Turk, a fundamental YBA who exhibited as part of Sensation (1999-2000) at the Saatchi Gallery in London – a show that "completely inspired and blew his [Russell's] mind" aged 16, as he experienced the work of living artists for the rst time. Good Luck (2005) from the series "SonofaGod Pictures" by Gilbert & George, the infamous British art duo and widely cited as an in uence on the YBAs, also features in his highlights besides Hunting Cheetah's (1960) by Peter Beard, which carries an estimate of £6,000-8,000.
With an affinity for works by female artists, Russell also spotlights a mixed-media piece by Sara Rahbar (Flag #6 Decaying confidant, you brought me to my knees, 2013), and a petit sculpture by Niki de Saint Phalle (Nana au Serpent, 1984). A large-scale Untitled photograph by Wolfgang Tillmans, concludes Russell's selection. Tillmans, who was the first photographer to win the Turner Prize in 2000 and recently appeared as a guest on Talk Art, has always been an "ultimate favourite" for Russell who has works by the artist hanging in his East London apartment.
BIDDING OPENS FROM 6th – 13th APRIL sothebys.com/russelltovey
Categories
Tags