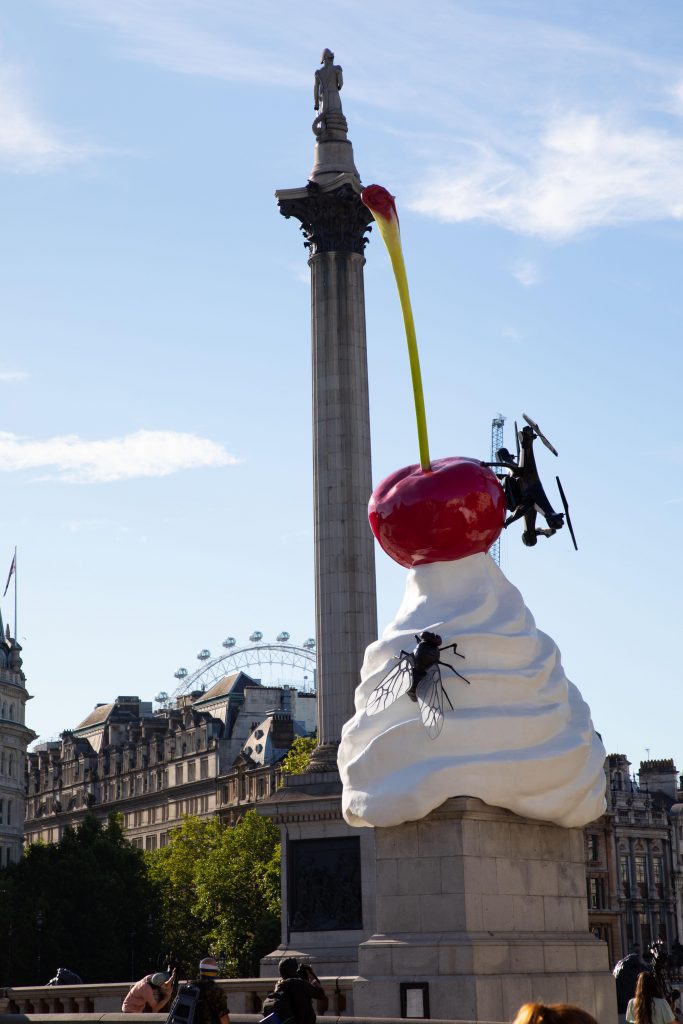 The Mayor of London, Sadiq Khan, today announced the six artists who have been shortlisted for Trafalgar Square's Fourth Plinth commission: Nicole Eisenman, Samson Kambalu, Goshka Macuga, Ibrahim Mahama, Teresa Margolles and Paloma Varga Weisz.   
The shortlisted artists' proposals will go on show at the National Gallery from late-May to July this year and will also be available to view online. A virtual tour of the exhibition will be created in partnership with Google Arts & Culture. The public will be invited to have their say about the proposed artworks, which will inform the decision of the Fourth Plinth Commissioning Group when selecting the two winning sculptures.
"Today we announce an array of international artists who have been invited to propose artwork for the iconic Fourth Plinth.  I'm excited by the imaginative range and creative ambition that each artist will bring to the project and very much look forward to seeing how they will respond to the space, which remains the most important public art commission in the world." 

Ekow Eshun, Chair of the Fourth Plinth Commissioning Group.
The two winning commissions will be announced this summer and will be unveiled on the Fourth Plinth in 2022 and 2024 respectively, following on from the current sculpture THE END by Heather Phillipson, which will remain until September 2022.  
The Fourth Plinth Programme?is the most popular public art project in the UK. Funded by the Mayor of London with support from Arts Council England, the programme invites world-class artists to make new works for the centre of the capital city. An established icon for London, it brings out the art critic in everyone. 
The programme was initiated in 1998 by the RSA with the support of the Cass Sculpture Foundation for the following commissions:?Ecce Homo?by Mark Wallinger (1999),?Regardless of History?by Bill Woodrow (2000) and?Monument?by Rachel Whiteread (2001). In 1999 responsibility for Trafalgar Square was transferred to the Mayor of London and the Fourth Plinth Programme is now led by the Mayor's Culture Team, under the guidance of the Fourth Plinth Commissioning Group.?
The Fourth Plinth Commissioning Group
Iwona Blazwick – Director of Whitechapel Gallery
Mick Brundle – Principal, Arup Associates
Jeremy Deller – Artist
Elvira Dyangani Ose – Director, The Showroom
Ekow Eshun – Writer, Broadcaster (Chair)
Priyesh Mistry – Associate Curator, Modern and Contemporary Projects, The National Gallery
Eleanor Pinfield – Director, Art on the Underground
Justine Simons – Deputy Mayor, Culture and Creative Industries
Matthew Slotover – Co-director, Frieze
Jon Snow – Broadcaster
Sabine Unamun – Acting Director, Visual Arts and Museums, London, Arts Council England
Categories
Tags