I came across Matt's work many years ago when he had a solo show in Leonard Street, in Shoreditch. I had just arrived on the London Art scene to study at Central St. Martins. I randomly walked into his private view. It was full of people and cameras everywhere. I was surrounded by a moving explosion of colour and layer upon layer of paint. I was blown away by the surface quality of his work and the movement within his painted subject matter. He was almost like a figurative Jackson Pollock with a Street Art / Urban Style crossing the boundaries between Street Art and Fine Art. His work was like a breath of fresh air.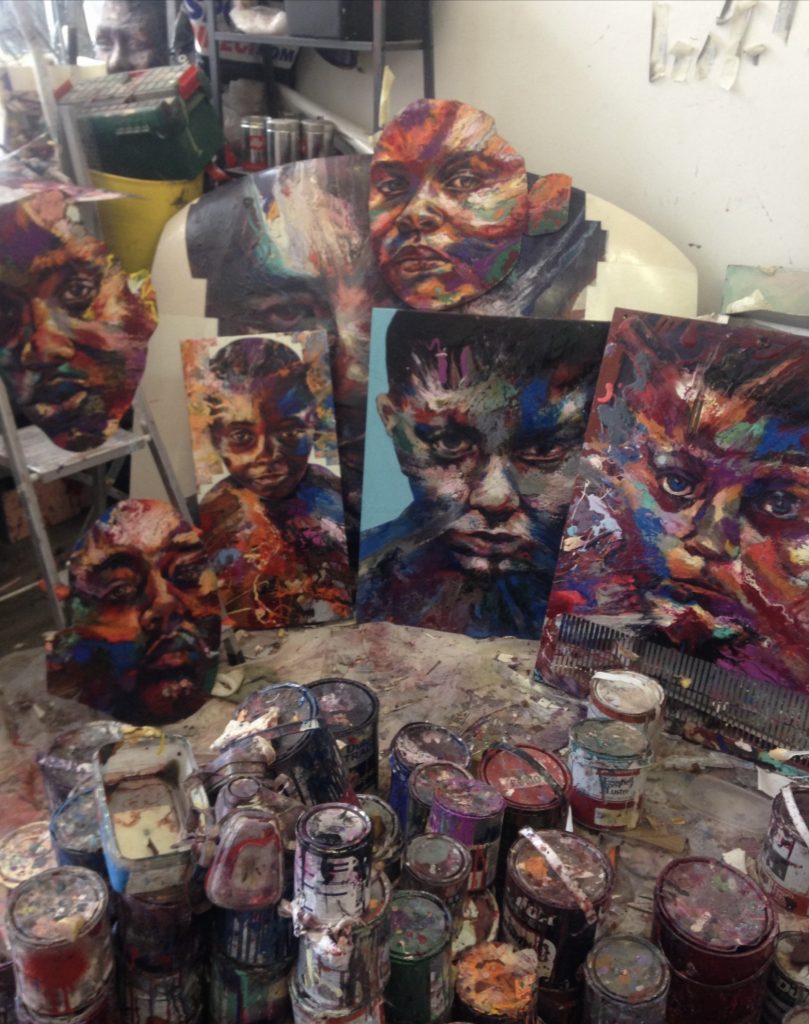 Then by chance, he got a studio next to mine in North London and more weirdly moved into the studio the same day as me! Then a triple weirdness he also a gloss paint artist. The same as myself. It was great to see Matt's work in progress and see him in his studio setting.
His usage of everyday objects, household paint and once overlooked subject matter was a real gem in North London. Also, Matt's is a person that has created a voice in Art through painting. For me, I love his subject matter and his ebbs and flows of paint touch my humanity. Matt as a painter has is not afraid of its processes and materiality. Matt let's paint breathe to create and make its own journey. His work has a certain freedom to it that gives it its own form of life. Matt's words…. 'The theme of my work is young, dispossessed people: individuals who feel undervalued, who don't have a voice, who get looked over." Matt gives these people a voice through Art. His work contains many references about our society that needs addressing and as an artist he does this in a sensitive, compassionate, and poetic way. As a society, we constantly need to think and rethink. Art gives Artists a licence to do his.
He is an amazing person who always greets you with a big smile and hello to everyone he meets. It does not surprise me his work contains a message about our society, and he is very much a man an artist of the people's hearts. He has complete dedication to his art, to society and his involvement within it.
Did you enjoy your lessons at school? How would you have improved them?
To be honest, I wasn't the most diligent of students, I was just mucking around and kind of unfocused. In the art lessons, because I had a talent for drawing, I was much more able to feel the point to the school world, for me, schools should hone in on students individual strength and encourage an emphasis on those attributes. I also felt that studying art at school, I wish there could have been more visiting artists, to demonstrate that an art career could be a valid choice to make.
When you were in school what artists did you leant about?
We were shown the usual's, Monet, Van Gogh, Michelangelo, I was never one to really care what other artists did especially the old masters and the conventional realists. when we looked at Cezanne though, I was interested in his impressionist view, to be able to interpret the world in your own vision, not just depict as we all see it, that was interesting to me.
What artists/ movements do you feel that your school could have covered more?
I would like to have noted more contemporary artists, living, practising ones, to know that this art stuff is real, has a relevance to our modern world, art should in my mind be a reflection on the thoughts and ideals of the time so knowing more about the artists out there and what they made of the world of their time.
What support did you have in University ?
financial?
I'm lucky, I can't pretend that I had it tough, I went to. a London university so stayed at home, I received a grant and had tuition fees paid for, because once upon a time the arts was valued like that, I see it as these days, so many voices are lost because certain individuals cannot afford to continue there education, I most likely would never have carried on studying art as I wouldn't have seen it as a viable path to follow and my artistic flame would have maybe petered out, sliding doors scenario I guess.
How are women represented in Art? Is there a balance between women and men in the Arts?
There's been progress I guess, as we see in society in general the male-dominated gatekeepers still stubbornly hold on to the power they've always had. The more woman, ethnic minorities that maintain their stance and break past the gatekeepers and have higher positions in the art establishment, there can be a process for change. At the end of the day, there's no point asking white upper-class men to help with the issue of representation, we've all got to forge our way, support each other and make our own power moves.
What role do you think Ethnic minorities play in the Arts in Western society ?
There's so much amazing art being made by BAME and it's so important that those voices are given platform to be seen and heard art should be about creating discussions, showing different aspects of what it is to be human and so it's vitally important that we as minorities realize our importance within western society, continue to make representative art that speaks for the numerous cultural voices, Art is culture and culture is humanity so art has to encompass all aspects of the human experience for it to be truly relevant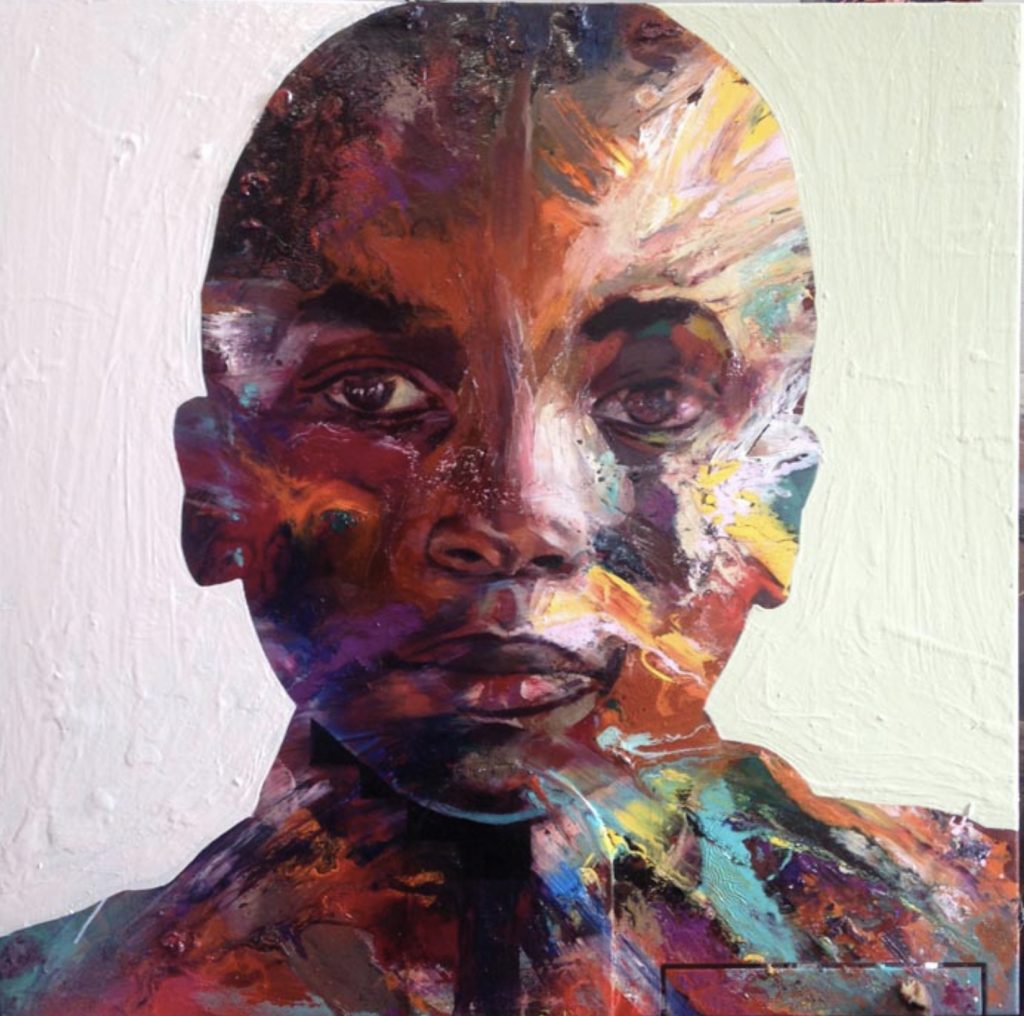 What motivates you to create Art work?
I feel that there's an inherent need for me to make a visual mark on the world, I'm not making art for the sole reason of flogging it to someone else, I don't ant to see my art as products but more as personal statements, my reaction to the world around me, sharing my world view. I've always felt like my point of view was valid, but I see in everyday society that the subject matter that my work revolves around is ignored or dismissed, a world which still marginalizes the 'others'.
I've had many a moment when I've questioned why I make my art, why i persist with the subject matter of depicting marginalized members of society, then i see the news and see the injustices out there, how poverty and racism are as prevalent as ever then my desire to do what i do is re ignited. i do what i do because i believe what i do has to be done.
What artists would you like to meet dead or live and why?
i guess Basquiat would be an interesting fellow to hang out with, there are individuals that epitomize what it is to be a true creative , obviously I wouldn't want to partake in any of his drug based endeavors but it would be amazing to see him create one of his pieces
Do you think Art has to have a meaning?
I would like it that when an artist makes a piece of art, they place an element of themselves into that work, that's all I want to see ..that the creator gave a shit when they produced something, that it's not just a product that they bash out to sell. for me, a work of art has meaning if the artist meant to make it, that they cared to make it, that they want to see beauty in what they produce. For me as a creative individual who is concerned about the world around me, I like to see art that says something, that speaks on relevant issues. But that's me.
Who has inspired you to create Art ?
I feel that the environment I came from was and is an informer of what I do and why I do it, wanting to represent and depict what is normally demonized or derided or misunderstood is really important to me. the inner city and those that inhabit those areas deserve to be seen as fully rounded individuals and I wish to make it my business to show their world. I used to see where I was from as being bleak, I depicted it that way, then I became a parent. Wanting to see the world as a better place for my children is what inspires me to make the art I do, to see beauty where others may see ugliness, to see the best in others and to always aspire to include everyone in the picture.
Could you explain why you use gloss paint?
I love working with unconventional mediums, I like to see what happens when you mix up different paints, gloss paints are liquid and runny and i wanted to explore all the marbleizing effects i could get with them.
What areas of Art do you find more difficulty with?
I'm no businessman, I still suffer with the artist syndrome that is 'being humble'. it's led to a few galleries not conducting their business practices correctly. I think that it's important to always be aware of your position in the gallery /artist relationship, it's a collaboration, we're working together so need to respect what each party brings to the table. so consignment notes, being punctual with payments etc should just be standard practice for a gallery..know your worth I say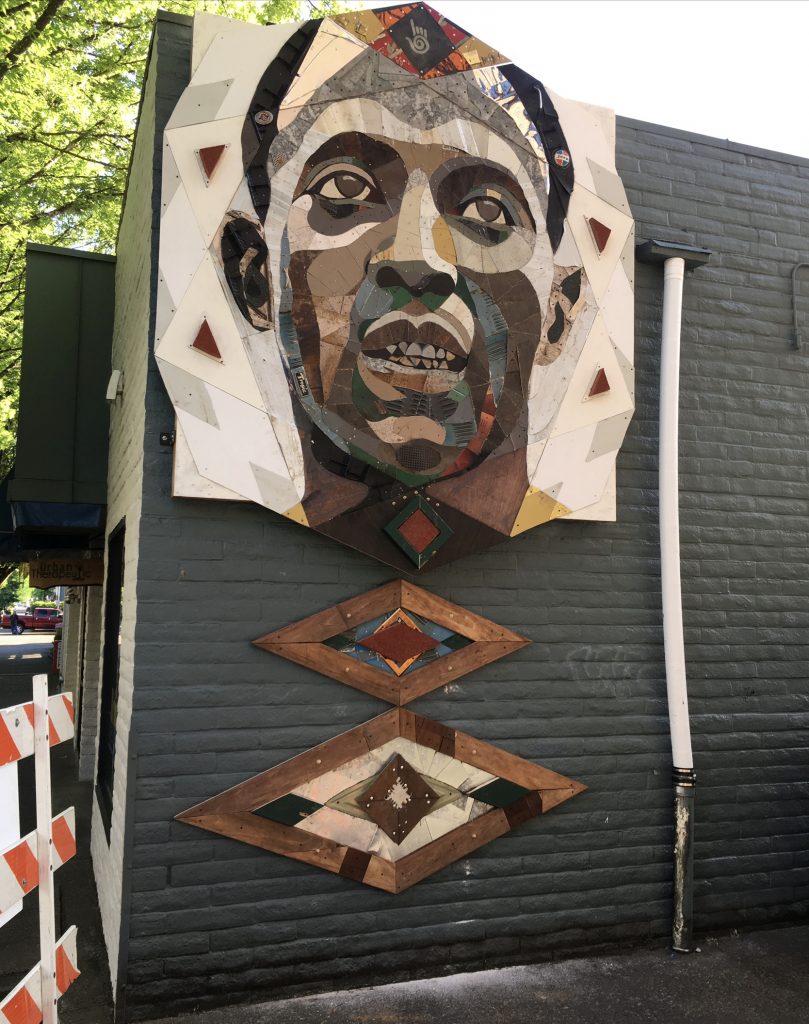 Could you tell us about the artwork you have been most please with and why?
I'm primarily known for. my paintings but I like to move around mediums and disciplines..to explore possibilities. I began chopping up all the metal objects I had been using to paint on and used the different metal colours to create portraits and sculptures. I was asked to make a mural out in America and so i went there and created a mosaic mural piece that was made from reclaimed metal, i was totally out of my comfort zone but managed to complete the piece in 8 days, the image depicted track and field legend Jesse Owens
What would you say to saying to any artist starting out in the Art world?
Be brave, believe in your voice, and have fun developing your voice, it might make the road a little bumpier, but travelling your own path I feel, makes it more rewarding when you reach your destination.
Categories
Tags