Vivienne Westwood joins WePresent, the editorial platform of WeTransfer, and Serpentine to call on the public with a new campaign to SWITCH to green energy today. SWITCH forms the second instalment of Groundwork: a creative series by WePresent that documents the behind-the-scenes research into artists' new works for Back to Earth, Serpentine's multi-year environmental programme.
"First step to save the environment: SWITCH to green energy. We must rely on cooperation and collaboration to maximize our impact and we must act now! What's good for the planet is good for the economy."

Vivienne Westwood, Designer and Activist
Exclusively available on WePresent, SWITCH shares Westwood's personal answer to 'how can I save the environment?' Through the power of global unity and specific actions outlined in her NO MANS LAND Manifesto, SWITCH is charged with powerful ideas and mantras that pave the way to a sustainable future. Westwood inspires all to join the global efforts for climate justice, asking us to 'Act Fast, Slow Down, Stop Climate Change'.
Vivienne offers new hand drawn slogans, posters and cards that encapsulate the urgent need to incite change now, while bringing people together for a common cause. Read the article, view the wallpapers, use your voice, create a movement, be part of the conversation and the solution, and see what can happen after you decide to #SWITCH.
A new iteration of Westwood's 2017 Fashion Switch to Green campaign, which encouraged the fashion community to join her in the switch to renewable energy, SWITCH is Vivienne's call to all industries and individuals. It arrives in the wake of recent research that found more than one billion people will be displaced or forced to endure insufferable heat by 2070, inspiring Westwood to reactivate her campaign once more.
"Serpentine is delighted to continue our relationship with Vivienne Westwood as an artist and activist, which began in 2008 when she participated in our Manifesto Marathon. Her Back to Earth campaign, SWITCH, encourages disparate industries to make a collective effort to switch to green energy sources. This aim is aligned with our longstanding objective of looking beyond silos to bridge different creative disciplines. We are so glad to be working with WePresent to amplify Westwood's Back to Earth campaign and those of the other four artists featured in the Groundwork series."

Bettina Korek, Chief Executive, and Hans Ulrich Obrist, Artistic Director, Serpentine
Serving as both artwork and environmental resource, Westwood returns the power to the people with never-before-seen drawings in her own hand. In support of the SWITCH campaign, Westwood has developed a series of iconic images on playing cards emblazoned with powerful etchings, including "what's good for the planet is good for the economy" and "uninhabitable land". SWITCH envisions a unified way of industries working together towards this urgent cause. On the occasion of SWITCH, Julie's Bicycle, a partner for Serpentine's Back to Earth project, and supporter of the SWITCH to Green Energy campaign since 2017, has produced a downloadable information sheet on why using renewable energy matters.
As part of the Groundwork series, WePresent invites the public to donate to a charity chosen by the featured artist. Westwood has chosen Cool Earth, a non-profit organisation that works alongside rainforest communities to halt deforestation and climate change. Donations can be made via the WePresent feature and a dedicated Cool Earth wallpaper on the WeTransfer site. Every year, WeTransfer donates up to 30% of advertising real estate to raise awareness for artists, creative work and the world's most pressing issues. As a B Corporation, WeTransfer has committed to double these donations, up to 30,000€ to all five artist charities.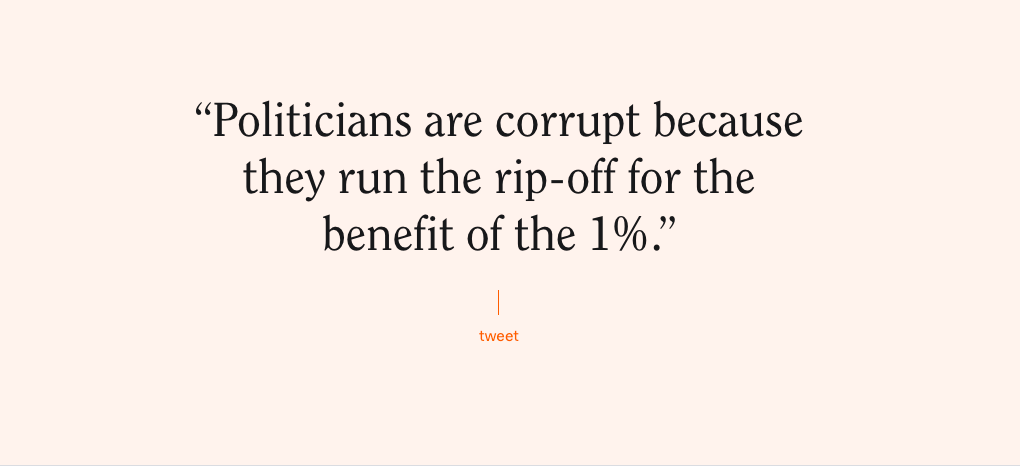 "WePresent scours the globe for unexpected stories about creativity, and this collaboration with Vivienne Westwood is no different. Many people know Westwood as a fashion designer, but her WePresent story focuses on her legacy as an environmental activist. The SWITCH campaign is an example of how creativity can be used as a force for good in society, which WeTransfer believes is the driving force behind humankind. It likewise echoes our pledge to the planet as a Climate Neutral Certified company, paving a way towards a net zero carbon future."

Holly Fraser, Editor-in-Chief of WePresent, said
Each month, Groundwork reveals a digital mini-encyclopaedia documenting the creative journeys of five artists involved in the Serpentine's multi-year Back to Earth project, including Revital Cohen & Tuur Van Balen, Vivienne Westwood, Karrabing Film Collective, Himali Singh Soin and Tabita Rezaire. WePresent and the Serpentine join forces to shine light on the rich contributions art can make to tackle the climate crisis, while encouraging observers to reflect and consider action.
SWITCH by Vivienne Westwood will be available from today
23rd February 2021 exclusively on wepresent.wetransfer.com
Categories
Tags