Are you a design whiz? Don't let that talent go to waste!
The world is always in need of good design, with plenty of people willing to fork out money for fantastic work. While you could offer your skills for hire, this path isn't for everybody—especially if you don't want your creative juices getting stifled by your clients' instructions.
So why not sell your designs instead?
There are platforms that help you do just that: you create the art, and they'll help you sell it. Some of these platforms are even free to join and use! Sounds interesting? Then check out these four platforms.
1. Spring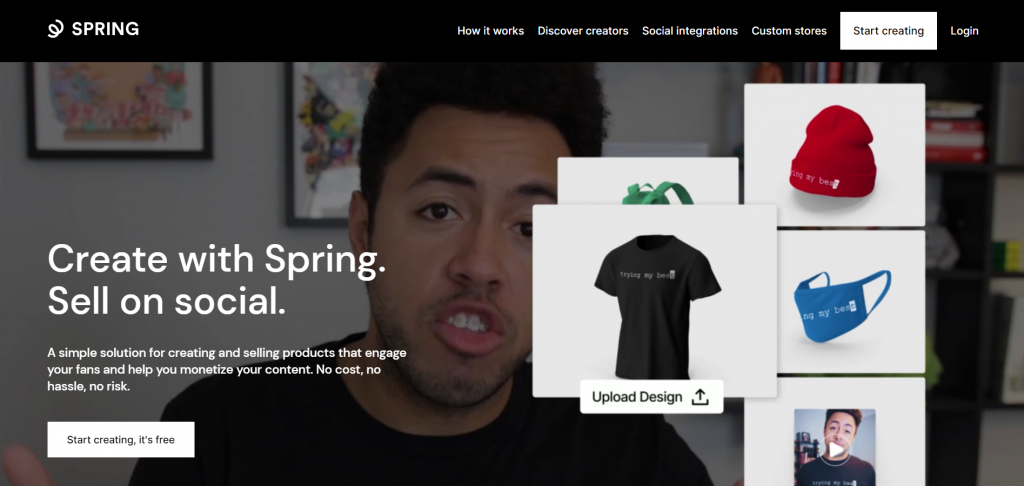 If you want to sell your designs on physical products, Spring can make this happen. First, pick the product(s) to print your design on. (There are over 50 to choose from, from apparel to stickers, home decor and more.) Then, upload your graphics to the platform and design your product's look. Choose its color, add text to it and more. When you're happy with your product, set a price and customize your product listing. And you can start promoting it! You don't have to worry about actually stocking your products, because Spring will fulfill them on demand. (It can ship internationally, too!) There are limits as to how far you can take the design of your product, though. For example, if you're designing a T-shirt, you can put an image on the front or back of it, but you can't add anything to its sleeves.
2. Adobe Design to Print + Zazzle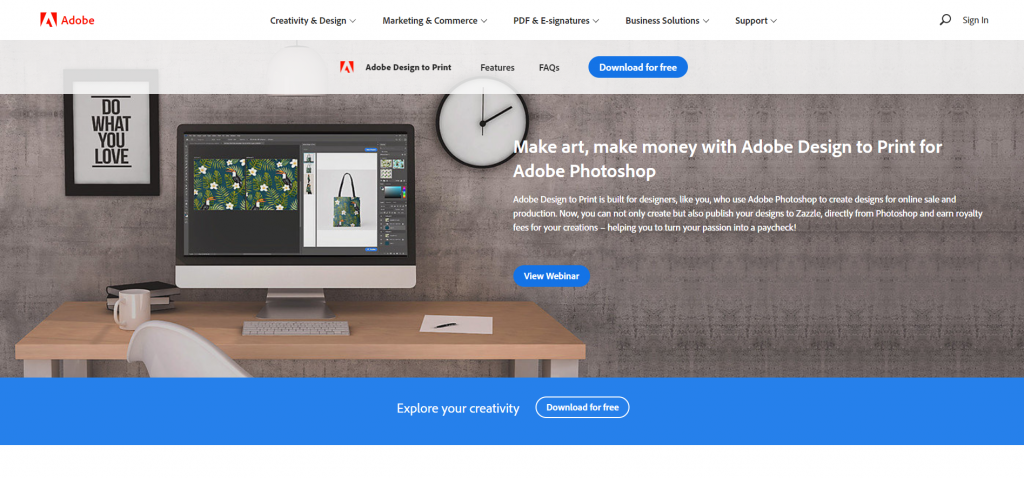 Photoshoppers, this might be the avenue for you. If you download the free Adobe Design to Print plugin for Photoshop, you'll be able to design physical products right within Photoshop for selling in the Zazzle creator marketplace. Like Spring, Zazzle will take care of printing and shipping orders for every sale. You can also set your own royalty rates for your products. Photoshop offers industry-standard graphic design tools for creating sophisticated designs, so Adobe Design to Print is a great option for experienced Photoshop designers. However, while the plugin itself is free, you'll need to have a paid subscription to Photoshop. And Photoshop isn't exactly cheap if you're on a budget: it costs $31.49/month on a monthly plan or $20.99/month on an annual plan. This also means that any initial royalties you earn will go towards paying off these fees before you can start making a profit.
3. Canva Creators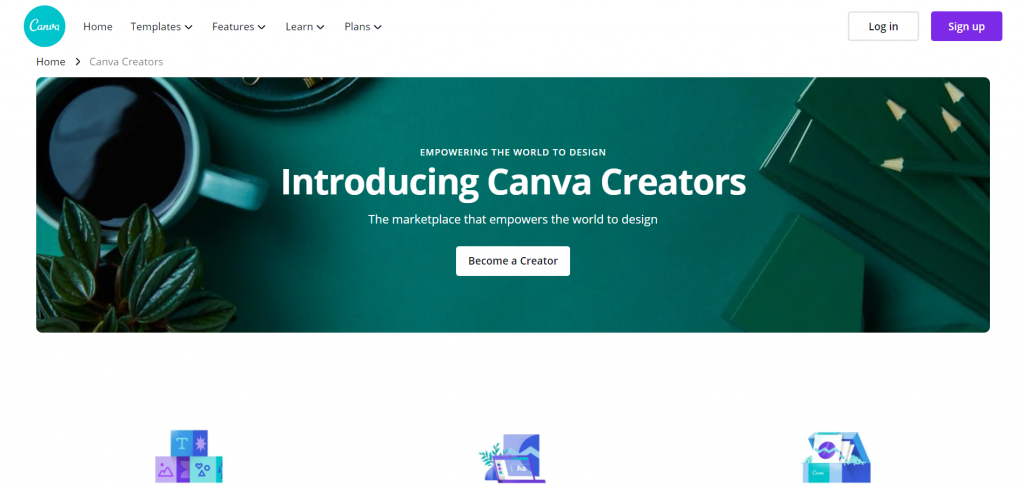 Canva is a popular graphic design platform for creating posters, social media posts and the like. And now, it's venturing into helping Canva users monetize their designs. How? By setting up a new marketplace called Canva Creators. Currently in beta, Canva Creators will let anyone create and submit Canva templates to the marketplace. If a template is sold, its designer will receive a fee (no word on how much this will be yet). Apart from using your own photos and graphics, you can also tap on Canva's around 30 million different elements to design your templates. Use these to make truly unique templates that others will love (and buy)! But don't get too excited just yet—as of writing, access to Canva Creators is by invite only. If you're interested, you can submit your design portfolio to Canva for its consideration.
4. PosterMyWall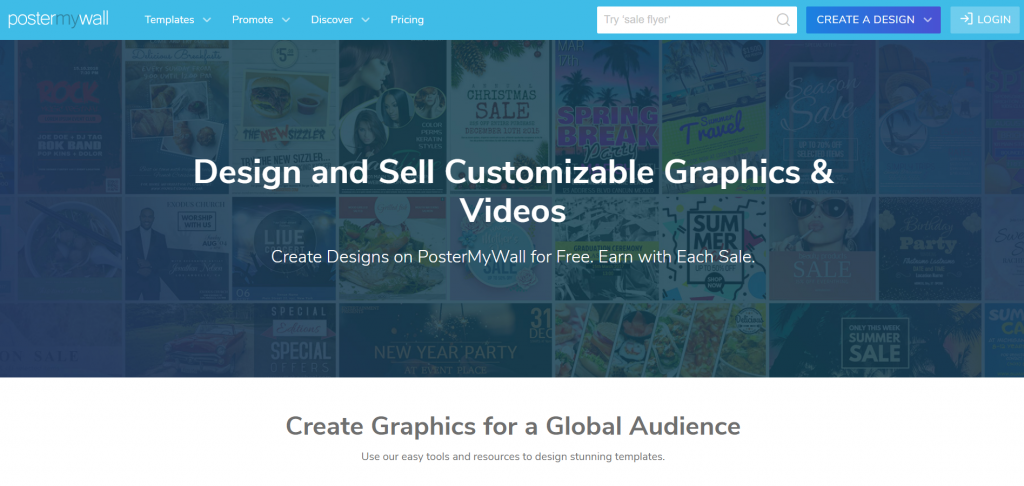 Like Canva, PosterMyWall is another graphic design platform that can help users design (and earn) on their own terms, without needing to work with clients to get paid. And unlike Canva, PosterMyWall's monetization platform is already live! To get started, sign up for a free PosterMyWall account and create a design. The platform is simple to use, with options for adding shapes, text, layouts and even videos. Just use the drag-and-drop editor to place your elements where you want them to go.
Experienced designers will also appreciate the advanced design options, such as adjusting background saturation, masking and the menu maker. After you've published your template, others can start to use it. But keep in mind that you will be paid only if users buy the template (instead of using its free watermarked version). Generally, you can stand to make $1 for every sale (you get more royalties for selling video designs).
Get paid to design—on your own terms
If you dread the thought of having to work with clients, I hope this post has shown you that there's another way of monetizing your design skills! There are various platforms such as Spring and PosterMyWall that help you create and sell your designs. You could sell your designs on physical products, or on digital products such as templates. The best part? You have full creative control over your designs. The more you market and sell your designs, the more your reputation will spread—in turn netting you more buyers, fans of your work and possibly even opportunities to collaborate with fellow designers. The sky's the limit! The only question that remains is:
Are you ready to kick-start your design career?
Categories
Tags