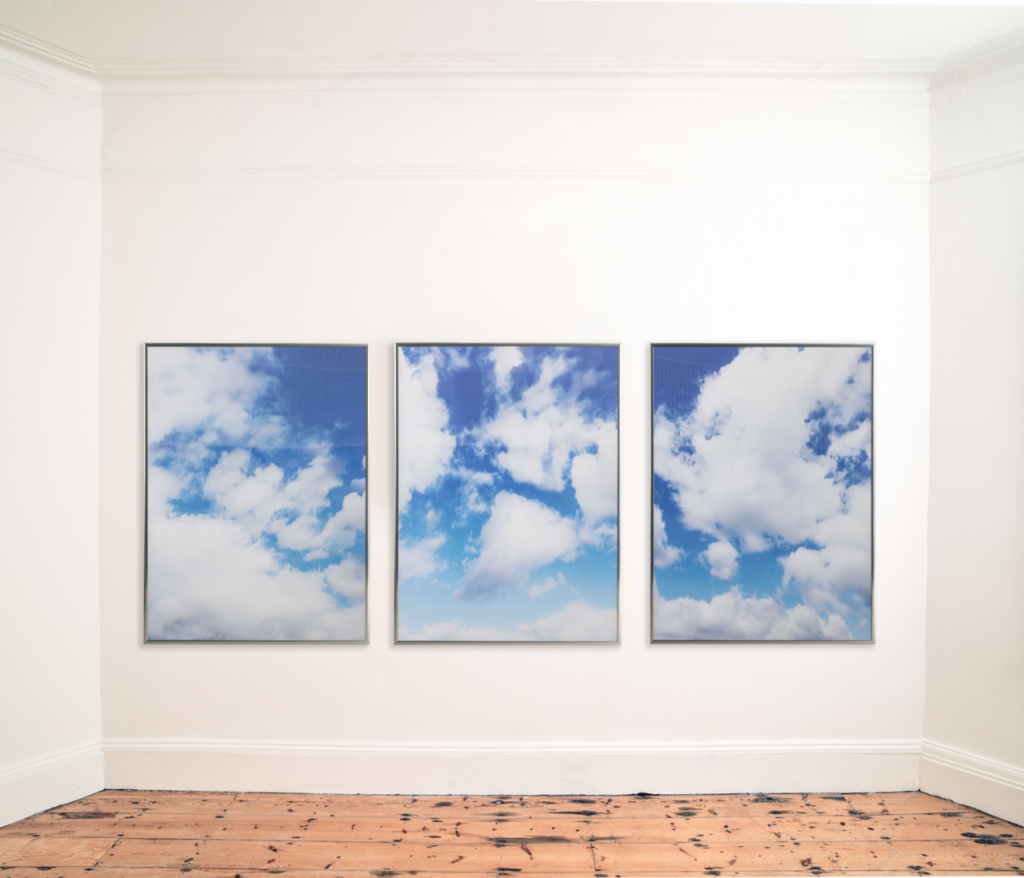 Alex Vardaxoglou is currently sharing an online Presentation of works in collaboration with British artist Mimi Hope (b. 1994), ahead of a physical exhibition at the gallery later this year. The Presentation, which runs from to 13th March 2021, features a selection of unique lenticular works from Hope's acclaimed Clouds series.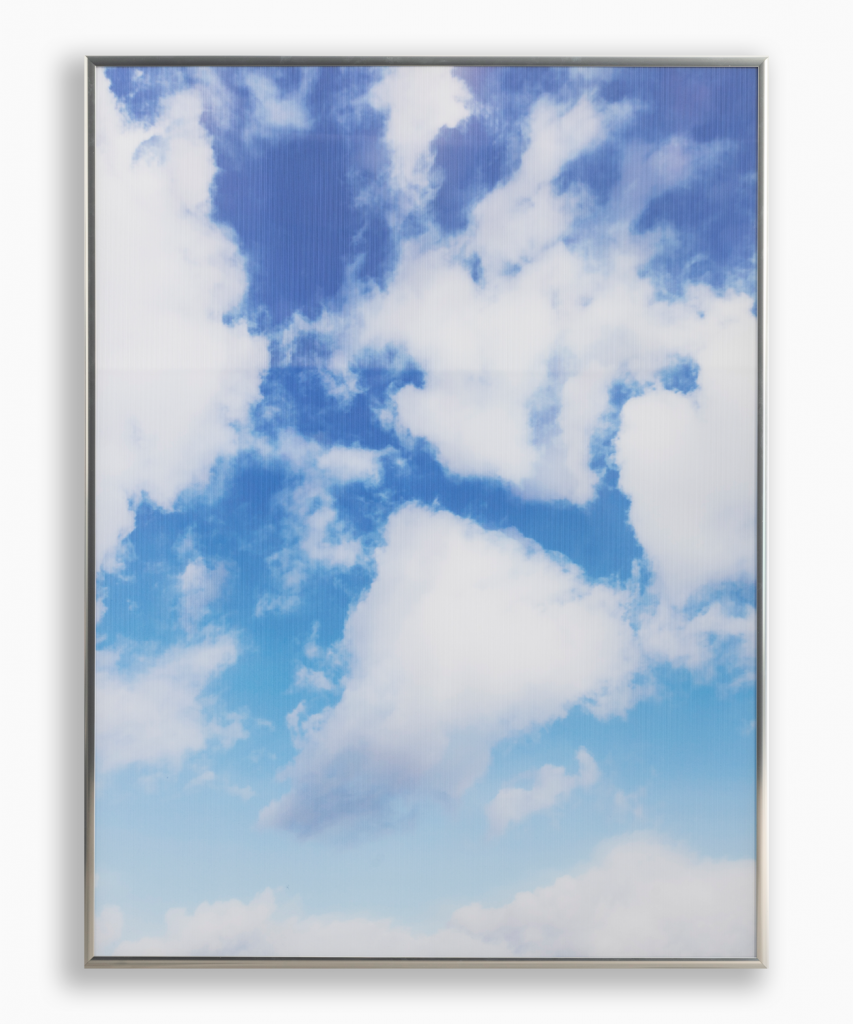 A favoured method of advertisers to elicit the viewer's dreaming of holidays or winning the lottery, blue skies and clouds represent an ideal world or a seemingly unattainable goal. In the tradition of Pop Art, Mimi twists the logic of this conventional trope, freeing it from its commercial context to pose questions about the viewer's relationship with aspiration and desire. In doing so, the works straddle a tension between the criticism of a standardised visual iconography on the one hand, and the celebration of natural phenomena on the other, setting up a powerful commentary of our time.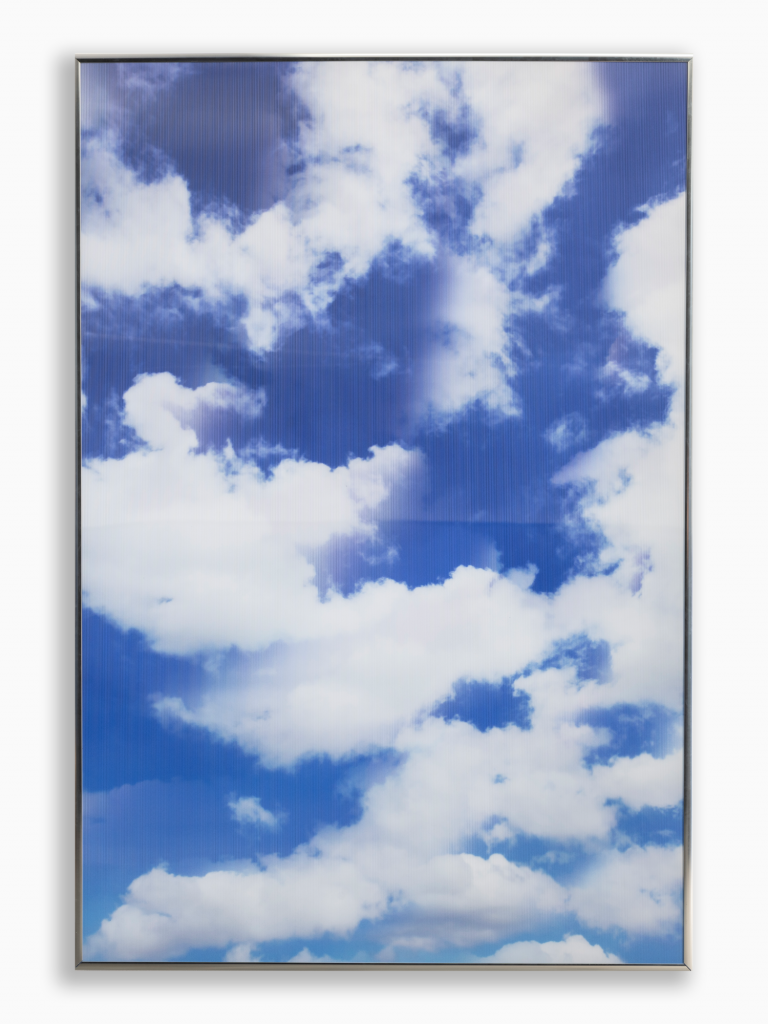 Lacking any internal reference point to other objects, the clouds are set adrift within their aluminium frames; the spatial proportions and positioning become indeterminate, and the clouds themselves lose any authoritative vantage over the viewer's gaze. The absence of the world of defined objects creates a mystery in perspective – a mystery that is reconciled only by one's temptation to move around them, exploring the myriad ways in which the clouds ripple and roll.
In this sense, the works draw on a childlike fascination with engaging objects through play and infinite motion.
These works embrace a rich artistic and historical legacy; Monet, Turner, O'Keeffe, and Richter, for example, have all been celebrated for their handling of this subject. The artist's choice of the lenticular medium creates an interesting dimension, however; the clouds are literally rolling and seemingly infinite, as they are only activated by the viewer's movement around them. And, when viewed in the context of advertising and fiscal dreaming, perhaps the consumer's dream is then constantly unattainable. This is the excellence of the lenticular as a trick.
Presentations: Mimi Hope at Alex Vardaxoglou –– 13th March 2021 vardaxoglou.com/presentation-mimi-hope
About the Artist
Mimi Hope (b. 1994) lives and works in London. Recent exhibitions include: Koenig Galerie, Berlin, 2020; Sarabande Foundation & Burberry, London, 2020; Palazzo Monti, Italy, 2019; Supplement, London, 2018; Bloomberg New Contemporaries, Liverpool Biennial & South London Gallery, England, 2018.
Categories
Tags