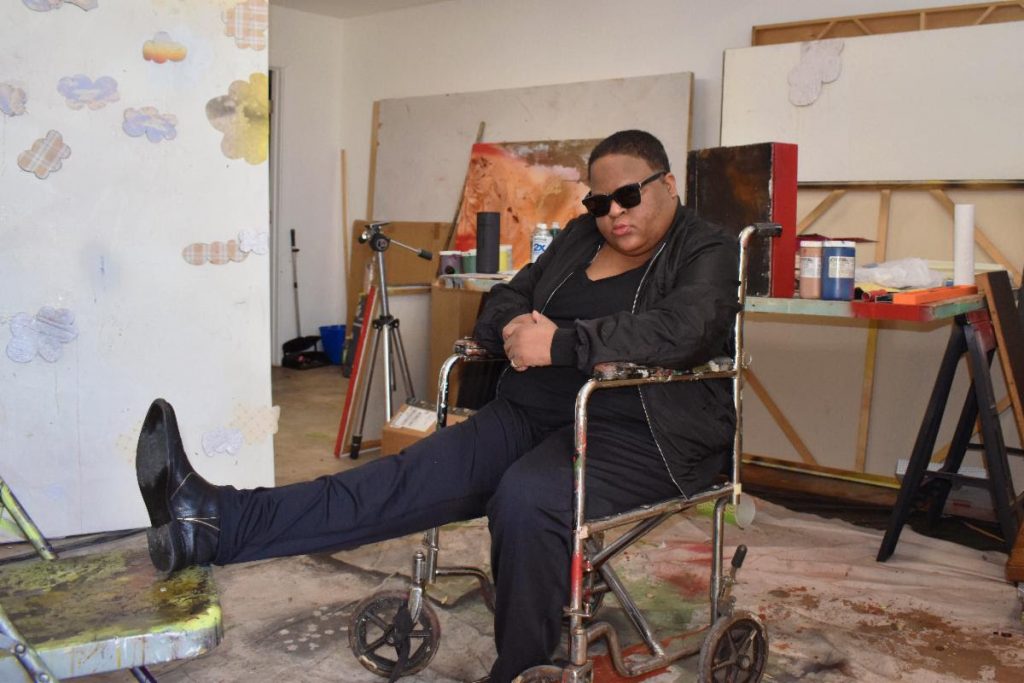 Roberts Projects have announced representation of Los Angeles-based artist Brenna Youngblood.
In assemblage, multimedia collage, painting, sculpture and installation, Brenna Youngblood takes as her subject the distilling and revising of an alternative Americana as seen through a dry art historical lens. Her work incorporates both autobiographical and fictional narratives to explore the iconography of the Black experience, the methods, politics and ethics of representation, and the legacy of abstraction. Youngblood often integrates found objects and materials into her compositions, imbuing her work with a sensual, tactile quality. This strategy is perhaps clearest in her most recent paintings–which explore the formalities of the painted surface–and are similar in certain aspects to the works of Color Field artists of the 1960's and 70's, yet examine more complex political subject matter in a symbiotic-like network of aesthetic relationships.
Brenna Youngblood's work is often considered in the context of notable West Coast assemblage artists including Noah Purifoy, George Herms, John Outterbridge and Betye Saar, among others. Youngblood's works are held in private and public collections, including Museum of Contemporary Art, Los Angeles, CA; Hammer Museum, Los Angeles, CA; San Francisco Museum of Modern Art, San Francisco, CA; Studio Museum in Harlem, New York, NY; and Fundación/Colección Jumex, Mexico City, Mexico, among others.
Born in Riverside, California in 1979, Brenna Youngblood currently lives and works in Los Angeles. She received her BFA from California State University, Long Beach in 2002 and her MFA from the University of California, Los Angeles in 2006 where she studied with artists John Baldessari, Catherine Opie and James Welling.

She has exhibited widely and her work has been included in museum exhibitions including Made in L.A.–the Los Angeles Biennial organized by the Hammer Museum and LA><Art, Los Angeles, CA and Fore at the Studio Museum in Harlem, New York, NY (2012); the Los Angeles County Museum of Art, Los Angeles, CA (2013 and 2016-2017); the Contemporary Arts Museum Houston, Houston, TX (2014); Spelman College Museum of Fine Art, Atlanta, GA; Art + Practice, Los Angeles, CA (2016); Massachusetts Museum of Contemporary Art, North Adams, MA and the Kemper Museum of Contemporary Art, Kansas City, MO (2017). Solo institutional exhibitions include Riverside Art Museum, Riverside, CA (2020), Seattle Art Museum, Seattle, WA (2015), Pomona College Museum of Art, Claremont, CA (2015), the Contemporary Art Museum, St. Louis, MO (2014), and the Hammer Museum, Los Angeles, CA (2006). In 2016, she was the recipient of the Seattle Art Museum's Gwendolyn Knight and Jacob Lawrence Prize.
The artist's debut exhibition with the gallery will be on view March 6 – April 17, 2021. A catalogue will be published by Roberts Projects in conjunction with the exhibition.
Categories
Tags