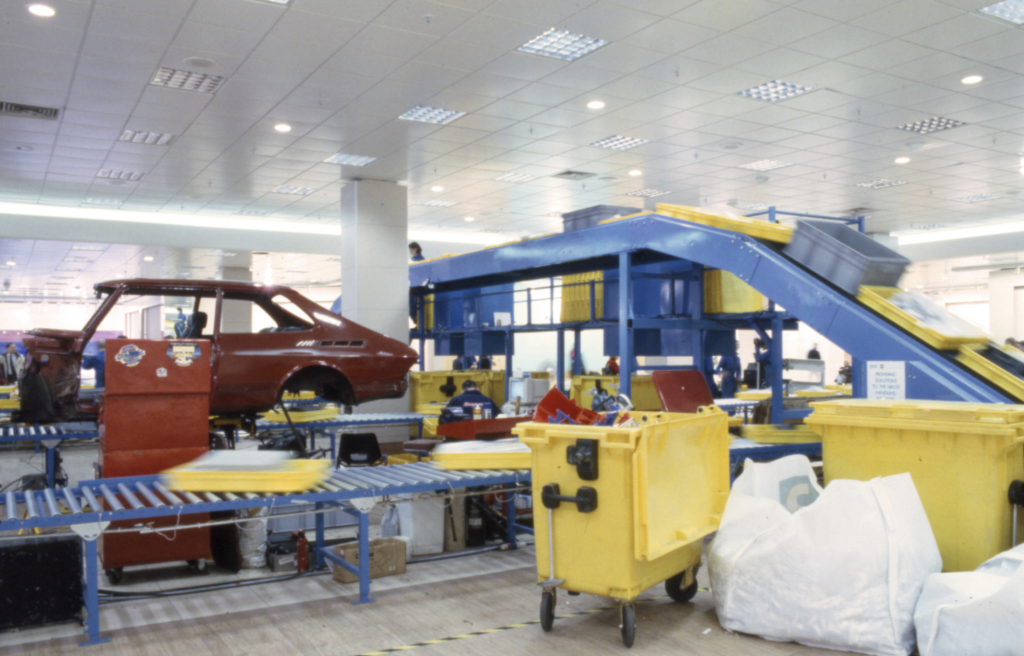 This February marks twenty years since one of the most remarkable artworks Artangel has commissioned, Michael Landy's Break Down, took place in London from 10th – 24th February 2001.
To prepare for Break Down, Michael Landy made an inventory of everything he owned: every book and record, every article of clothing, every photo and work of art, and his red Saab car. Cataloguing all his possessions took a year to complete. The final list comprised 7,227 items.
A specially constructed facility modelled on a material reclamation factory was installed in an empty department store on Oxford Street. Landy then set about systematically destroying all his possessions with the help of a team of operatives and a dedicated car mechanic.
Classified into ten categories – Artworks, Clothing, Equipment, Furniture, Kitchen, Leisure, Motor Vehicle, Perishables, Reading Material and Studio Material – the stuff of Landy's life circulated on a system of roller conveyors moving like a large Scalextric track around the store. Each individual possession was then taken apart, broken down, pulped and granulated. After two weeks every single thing that Landy had once owned was no more. He was a man without possessions.
Wolfgang Tillmans made 111 photographs of the work which he gave Michael Landy afterwards as a special souvenir portfolio. To mark the anniversary, Thomas Dane Gallery in London will present an archive display of a selection of Wolfgang Tillmans' photos of the work and other material. This will be open by appointment when the gallery reopens.

A live online conversation and audience Q&A between Michael Landy and Artangel Co-Director James Lingwood will take place to mark the anniversary of the first day of Break Down, presented live on YouTube on Wednesday 10 February 2021 from 7pm GMT
Register to attend the free event here.
Categories
Tags