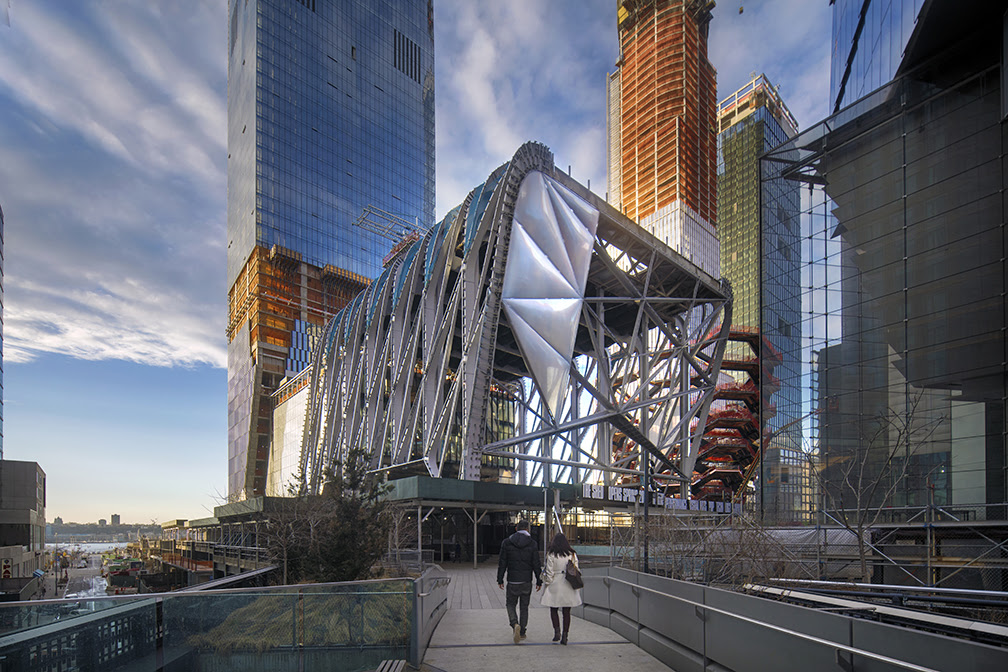 Today, Frieze New York revealed the list of participating galleries for the fair's tenth edition, which will take place for the first time at The Shed in Manhattan. From May 5 – 9, 2021, New York's leading art fair will bring together over 60 major galleries alongside a program of talks and special projects, supporting galleries and artists through the ongoing pandemic. A dedicated edition of Frieze Viewing Room will run in parallel with the fair, complementing the in- person event with expanded online programming and connecting galleries and audiences across the globe. Frieze New York is supported by global lead partner Deutsche Bank, continuing a shared commitment to artistic excellence.
Reimagined for its new location, the 2021 edition of the fair features a strong contingent of New York and US-based exhibitors including: Miguel Abreu Gallery, Tanya Bonakdar Gallery, Canada, James Cohan, Gagosian, François Ghebaly, Marian Goodman Gallery, Alexander Gray Associates, Hauser & Wirth, Casey Kaplan, Karma, Andrew Kreps Gallery, David Kordansky Gallery, David Lewis, Lisson Gallery, Luhring Augustine, Matthew Marks Gallery, Lehmann Maupin, Mitchell-Innes & Nash, Pace Gallery, Salon 94, Sikkema Jenkins & Co. and David Zwirner, amongst others. International galleries from across the globe taking part include: Massimo De Carlo, Fortes D'Aloia & Gabriel, Goodman Gallery, Xavier Hufkens, Gallery Hyundai, Jhaveri Contemporary, Tina Keng Gallery, Victoria Miro, The Modern Institute, Peres Projects, Thaddaeus Ropac, Esther Schipper, Société, Proyectos Ultravioleta, White Cube, and Mendes Wood DM.
Continuing to provide a platform for galleries that have been active for 10 years or less, the fair's acclaimed Frame section, dedicated to solo artist presentations, will be advised by gallerists Olivia Barrett (Château Shatto, Los Angeles) and Sophie Mörner (Company Gallery, New York). First-time Frieze New York exhibitors in 2021 include: Galeria Bruno Múrias presenting work by Henrique Pavão and Wilding Cran Gallery with Karon Davis. The Frame section will also see participants including, Barro who will show work by Agustina Woodgate, Château Shatto presenting Zeinab Saleh, Clima showing Dana Lok, Company Gallery with a booth of work by WangShui, Bridget Donahue and Hannah Hoffmann showing a joint booth by Olga Balema, PM8 / Francisco Salas presenting Elena Narbutait? and Unit 17 showing Gabrielle L'Hirondelle Hill.
'Frieze has made a commitment to the city's galleries and artists since the first days of the pandemic—and that commitment continues with this year's Frieze New York. We are working tirelessly to produce successful and safe live and digital events, and our wonderful colleagues at The Shed have been instrumental in our efforts. We are so proud to be joining forces with this cultural institution in New York, whose show of ground-breaking artist Howardena Pindell is on view now.'
Ideally situated in Manhattan, The Shed is located at 545 West 30th Street, between 10th and 11th Avenues, in close proximity to major arts destinations including The High Line and the Chelsea Arts District.
'I am hopeful that Frieze New York 2021 at The Shed will be a spark to re-ignite our collective creative spirit in New York City this spring. I look forward to the galleries unveiling incredible solo and curated presentations in their stands to coincide with the great exhibitions planned to open throughout the city, including: Deana Lawson's Hugo Boss prize at the Solomon R. Guggenheim Museum, Yayoi Kusama's exhibition "Cosmic Nature" at the New York Botanical Gardens, and El Museo del Barrio's first triennial, a national large-scale survey of Latinx contemporary art. At the heart of everything we do is our community, and we look forward to continued innovation and collaboration.'

Loring Randolph, Director of Programming, Frieze New York
More New York Art News HERE
Categories
Tags