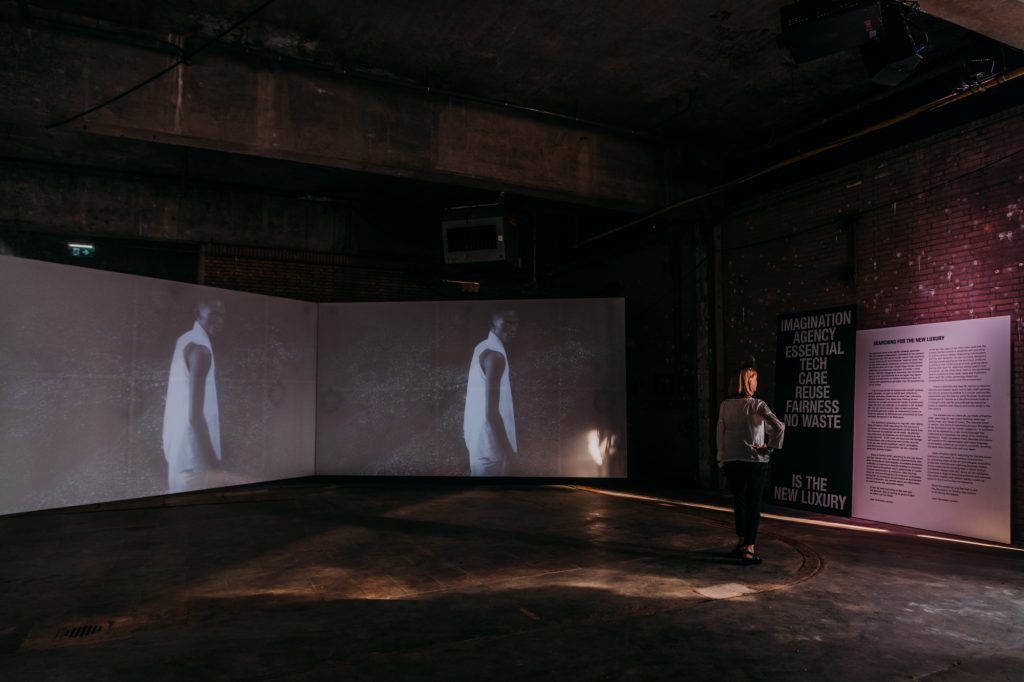 State of Fashion is launching an Open Call for Curators for its 2022 biennial, based in Arnhem, Netherlands. The platform is on the lookout for fresh thinkers with an outspoken view on the challenges the world faces, the necessity for fundamental change, and the role that fashion plays in this transition. For its biennial, State of Fashion is calling out to individuals as well as groups, teams and collectives, with groundbreaking and novel ideas on how to use the cultural and safe space of the biennial to actively challenge and change fashion. The invitation to apply is open to creative practitioners including (but not limited to) designers, artists, researchers, writers, makers and performers.
State of Fashion is globally recognised as a pioneering platform that explores urgently needed radical change in fashion. Since its inception, State of Fashion has robustly addressed the environmental as well as the social footprint of the fashion industry, while uncovering new materials and production techniques. This framework was also the primary focus of its inaugural 2018 biennial 'Searching for the New Luxury', curated by José Teunissen, Professor in Fashion Theory and Dean of School of Design and Technology London College of Fashion (UAL).
Recent natural and political events, in addition to an exacerbated climate crisis with severe consequences for humanity, have led State of Fashion to a broader focus. Covid-19 has once and for all exposed the vulnerabilities of the existing fashion system. As a consequence of fallen consumer demand and clothing trade due to stringent lockdown measures, fashion companies cancelled their orders or readjusted their payment and delivery procedures. As a result, millions of local garment workers across the world returned to their hometowns, towards an uncertain future. The murder of George Floyd in the US sparked a worldwide conversation about how our societies are still imbued with racism on many levels. In fashion, it revealed that ensuring diversity, equity and inclusivity takes more than just a stronger representation of Black, Indigenous, People of Colour (BIPOC). It requires a critical and rigorous view of how the fashion system is organised. It needs a radical approach that challenges the industry at its roots.
The Open Call
State of Fashion considers fashion as a driver of positive change and aspires to be a catalyst for cultural transformation. The starting point for the Open Call for Curators consists of three key questions that touch on the topics of Humanity, Equity and Community. The questions are an open invitation for a conversation with the curatorial team of the 2022 biennial.
Humanity
Fashion is a medium for conversation about who we are as humans, how we relate to one another and to other species, and how we belong to nature. If compassion, sympathy and a generous disposition define humanity, how can fashion contribute to a world that is more humane for all?
Equity
Real change in fashion requires more than changes in the way we produce and consume garments, or the way we reward labour. It also requires a radical shift in power, one that dissolves the idea of the oppressor and the oppressed. What are groundbreaking ways to create true, just and sustainable equity? Who has access and agency in this matter? How do we remain critical of our own endeavours?
Community
Fashion weaves together a worldwide community of people, practices, skills and materials associated with dressing the body. How can fashion practices inspire deeper relational connections between the people in this community, and between people and their environment? How do we make the knowledge that is exchanged within communities accessible and sustainable?
The Open Call for Curators launches on Tuesday 15th December 2020 at www.stateoffashion.org, and will run until Sunday 24th January 2021. State of Fashion will assess applications with the support of an international Creative Advisory Council, consisting of Omoyemi Akerele, Otto von Busch, Carla Fernández, Hakan Karaosman, Aditi Mayer and Amanda Pinatih.
DATES: Tuesday 15th December 2020 – Sunday 24th January 2021
BRIEF: stateoffashion.org/en/open-call-en/open-call-curators
APPLY: stateoffashion.org/en/open-call-en/application-form
The new curatorial team will be announced in April 2021. The State of Fashion Biennial will open in the spring of 2022.
About State of Fashion
State of Fashion is an international fashion platform that connects pioneers in fashion design, research and business, and shares their ideas and innovations with the world. The platform stands for critical reflection on common positions and models in the fashion industry. Together with designers, companies, scientists, educators, consumers and other stakeholders in fashion, State of Fashion actively explores an urgently needed new fashion system.
State of Fashion builds on the Arnhem Fashion Biennial (2005-2013), as well as on the profile built up by the City of Arnhem as a hub for renewal, research and innovation in fashion. The platform works in close collaboration with Arnhem-based fashion partners ArtEZ University of the Arts, Museum Arnhem and Fashion + Design Festival Arnhem. It also plays a pivotal role in the national programmes Taskforce Fashion and Culture. Fashion. State of Fashion is part of the Sonsbeek & State of Fashion Foundation, which also organizes the ongoing sonsbeek 20-24 program for visual arts. The Foundation is structurally supported by the Municipality of Arnhem and the Province of Gelderland. From 2021 onwards, State of Fashion will be supported by the Dutch Ministry of Culture, Education and Science within their national cultural infrastructure scheme for 2021-2024. www.stateoffashion.org | @stateoffashionnl
Categories
Tags