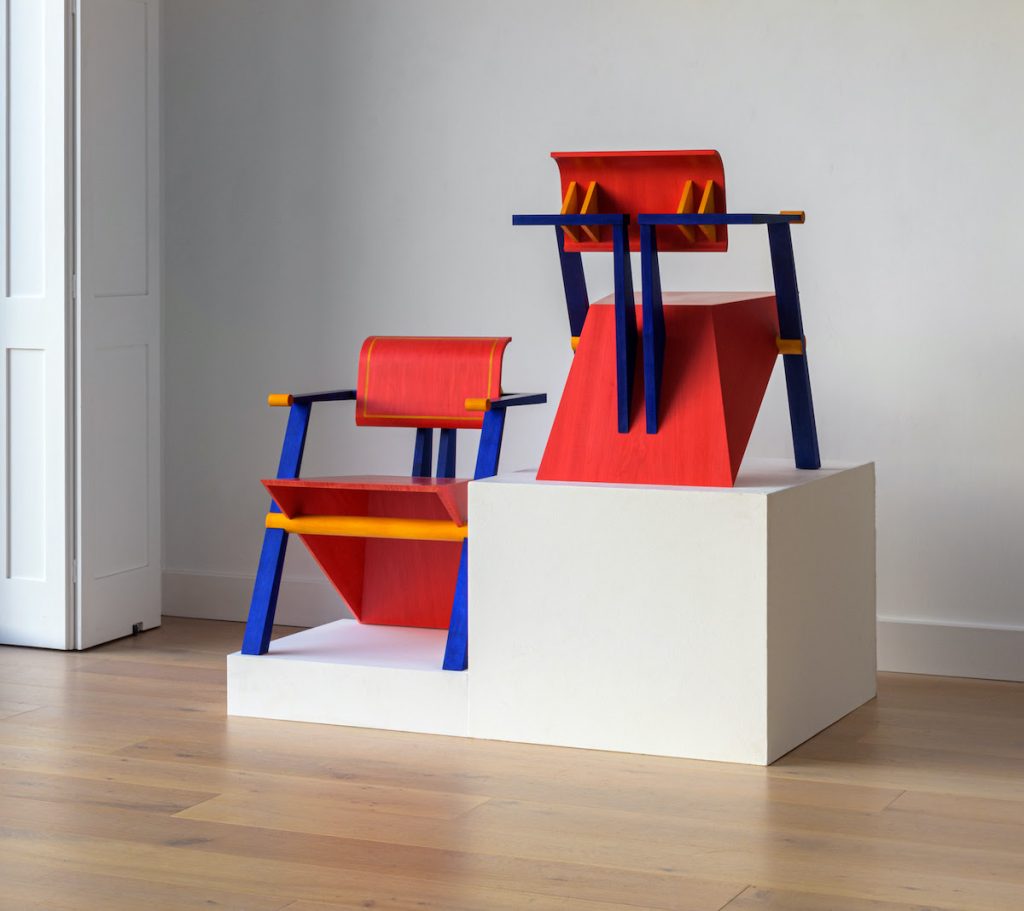 The New Art Centre has announced an exhibition of work by the British furniture designer Fred Baier, showcasing pieces made by the artist throughout the course of his long career. The exhibition articulates Baier's lifelong approach to furniture-making, exploring the relationships between geometry and function, making and concept, and marrying technical innovation with a conceptual approach to production.
A self-described 'furniture artist', Baier creates visually challenging and complex furniture that sits somewhere between art and contemporary furniture design. His diverse and inventive body of work is characterised by an embrace of technology and bold experimentation with form, colour and design, as well as an inquisitive and uniquely imaginative approach to functional problem solving. A veneer of humour is balanced by an underlying seriousness, which lies in his commitment to using creativity to funnel challenging mathematical problems into something which can be used.
Baier was amongst the first furniture designers to recognise the potential of computers and digital rendering programs as tools to assist and advance the practice of three-dimensional design. The exhibition at the New Art Centre will feature the first ever piece by Baier to be conceived, modelled, developed and produced using a combination of commercial and homegrown software. Designed in 1982 and rendered in lacquered birch plywood in 1994, Love Seat is one of the earliest items of furniture to be completely cyber-generated. Taking an amalgamation of simple solids (cone, cylinder, cube and pyramid) as his starting point, Baier used early computer aided CAD and CNC design and computer numerical control programs to open out two negative spaces in generated planes. These twin recesses formed the lovers' seats: intimate spaces providing sanctuary from the outside world.
Another key work, Park Life (1989) – a vinyl-clad chair composed of three prismatic solids colliding at unconventional, irregular angles – exemplifies his practice of beginning with a mathematical principle or conceptual narrative, before turning to software as a means to resolve any functional questions that may arise from his proposition. To ensure that the ambitious design of Park Life was feasible, Baier collaborated with a PhD student developing an early 3D-modelling program, to digitally draught the sketches and cut the individual components with such acute precision that the chair would ultimately be stable.
Baier's interest in futurism and his curiosity for the advancements in production methods is balanced by an awareness that, given the physical nature of the furniture he produces, his practice can only ever exist within its immediate present. The immediacy and precarity of the present is reiterated in his 2005 work A Tool to Place You in the Here & Now, a stool comprising a flat plane of sycamore on the tip of a cone.
More recently, Baier has pushed back against the increased reliance of designers upon computer aided production and the proliferation of technology in everyday life, during a period of self-reflection that has led him to return to previous works. He has salvaged 'offcuts' from previous designs and reconstituted them as objects in their own right. This process is evidenced in works such as Rockin Bowls (2010), the forms sourced from the digital waste bin of his computer modelling program and rendered in lacquered MDF board and birchwood ply. It is this enduring appreciation of innovative design techniques and hand-rendered decorative objects that makes Baier's furniture so unique. His at once forward-facing and deep commitment to the present is what will ultimately serve.
Fred Baier: form swallows function The New Art Centre 23rd January – 10th April 2021 sculpture.uk.com
About the Artist
Fred Baier graduated from the Royal College of Art in 1975. He has taught at Brighton University, the Royal College of Art, and Rochester Institute of Technology, NY. Baier has apprenticed in his studio a whole new generation of furniture designers; and has designed and made work for many private clients. His work is held in several public collections, including:
Birmingham Museums & Art Gallery Brighton Museums
Carnegie Museum of Art, Pittsburgh Crafts Council Collection
Crafts Study Centre, Farnham Cyfarthfa Castle Museum
Hackney Museum London
House of Lords (commission 2011) Leeds City Museum
Lewis Collection Virginia Museum of Fine Art, Richmond, US Portsmouth City Museum
Shipley Art Gallery, Gateshead, CAS acquisition
Templeton College Oxford
Victoria & Albert Museum London
About New Art Centre
The New Art Centre and Sculpture Park are based at Roche Court, Wiltshire. Founded in 1958 in London, the New Art Centre gave first exhibitions to many significant Modern British artists. The gallery continues to exhibit the work of emerging contemporary artists alongside British Art from the 1950s to the present. Based at Roche Court for over twenty-five years, it was the first sculpture park of its kind in the United Kingdom. The gallery spaces, all designed by Stephen Marshall, are recipients of numerous architectural awards and the nature of these indoor spaces, in combination with the 60-acre sculpture park, allows the New Art Centre to show artwork from the small scale to the monumental. The New Art Centre represents the Estate of Barbara Hepworth and works closely with many artists including Michael Craig-Martin, Richard Deacon, Antony Gormley, Gary Hume, Richard Long, Eva Rothschild, Edmund de Waal, Bill Woodrow and Alison Wilding.
Categories
Tags