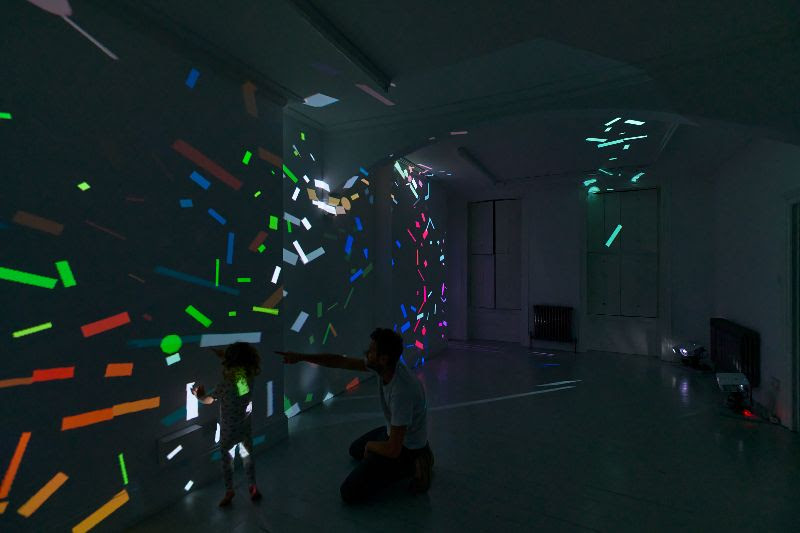 because because because because because is a solo exhibition by BAFTA-winning artist and filmmaker Ian Gouldstone at Sim Smith. The exhibition is a graceful performance in tech, exploring notions of chance, imagination and the importance of connection at a time when we are apart.
The exhibition exists in its own computer-simulated ecosystem within the gallery space. The room is dark apart from overlapping projections. They propel a series of coloured shapes which bounce, spin, and knock each other off balance. Their unpredictable motion highlights the architecture of the space where the forms rotate on walls, dart across ceilings, skirt across radiators, and reflect in windows. And while hermetic, this seemingly simple work still invites us in to observe its unfolding complexity and connect it with our own reality.
"I think of my work as a trap. It uses the modern computer spectacle to catch people and hold them. But the purpose of this is not to abuse them or extract value. Rather, I see my traps as a way to set people free."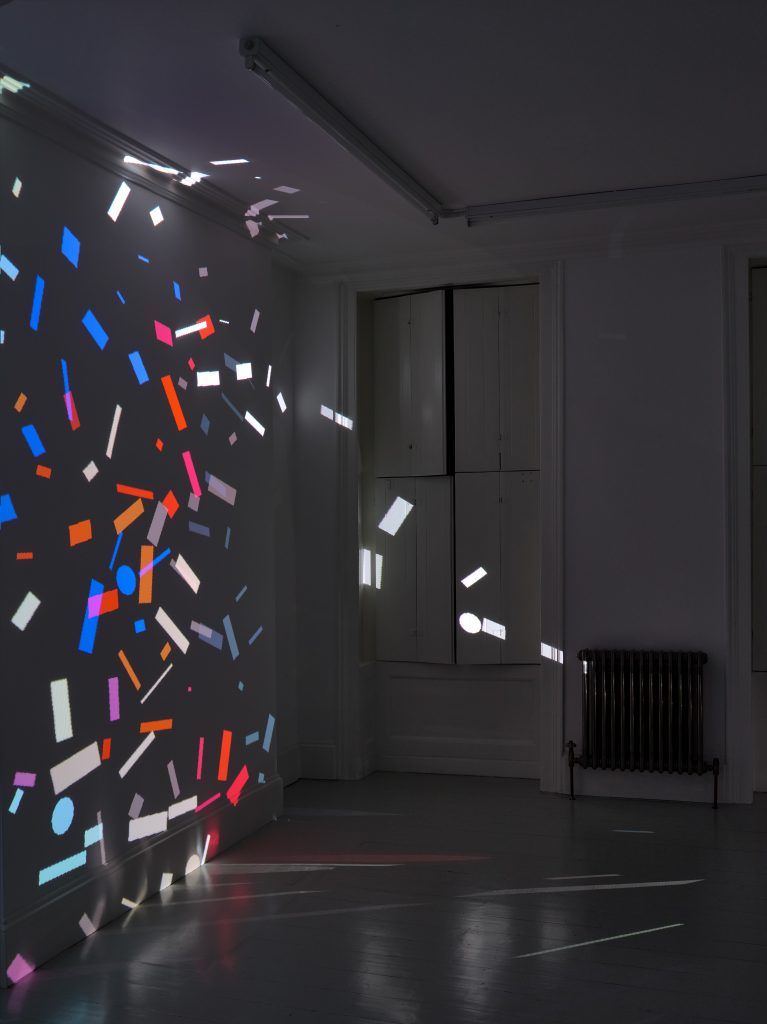 Taking its name from the one of the most recognisable songs from the Hollywood masterpiece The Wizard of Oz, "We're Off To See The Wizard", Gouldstone's performance is a series of powerful abstract sensations; storytelling in technicolour, allowing people to gather round it like a campfire, promoting feelings of closeness, connections and being with family and friends. Standing in the space is stirring yet reassuring. It feels personal and warm, rhythmic and beautiful, both chaotic and contained. It provokes questions, and an unexpected emotive response not commonly associated with digital work.
Gouldstone works with the infinite – his programs run forever, changing unpredictably over time. Rather than presenting a series of predetermined events with a single outcome, his works endlessly transform into something new. They feel alive and in constant flux, nobody knows what they will do next. The work thrives off of this sense of spontaneity and the element of surprise, infusing it with meanings, aesthetics and experiences that physical materials alone cannot.
With a title that derives from one of the greatest musical fantasy films of all time, this work is a commentary on the uncertain times we are living through. Through the language of systemic abstraction, Gouldstone pushes us to reflect on connections, chance, and cause and effect. Behind the curtain there are common themes; the idea of home, good versus evil, friendship, hopes and dreams, perseverance, respect, disappointment and power.
Ian Gouldstone because because because because because, through to- 19th December 2020 at Sim Smith
About the Artist
Ian Gouldstone lives and works in London, UK. He is a BAFTA winning artist and filmmaker whose work incorporates games, animation and new media. He has shown work and held events internationally at venues including the Institute of Contemporary Art, London, The Australian Centre for the Moving Image, Ars Electronica Linz, The National Videogame Arcade, Nottingham, The Jozef Stefan Institute, Ljubljana and SLEEPCENTER, New York. Recent public exhibitions include 'Artificial Creators', Eden Project, Cornwall and 'Digital Graffiti, Alys Beach, Florida, US.
Gouldstone is a founder of the Australian games collective Pachinko Pictures, a former member of the Computational Creativity Group at Goldsmiths and also the Gesture and Narrative Language Group at the MIT Media Lab. He graduated from Harvard University with a degree in mathematics before studying animation at the Royal College of Art and has recently completed his MFA in Fine Art at Goldsmiths. Based in southeast London, Ian Gouldstone is also a trustee of Deptford X, London's longest-running contemporary art festival.
Categories
Tags