Tracey Emin has curated a small but powerful exhibition featuring a selection of paintings by her favourite artist – Norwegian Expressionist Edvard Munch – exhibited in the Royal Academy of Arts alongside a selection of her own paintings, neons and sculpture. Titled 'The Loneliness of the Soul', the exhibition was due to open in November, but had to be put on hold for a month due to the second UK lockdown. 
At first this combination of a female artist born in the British seaside town of Margate, who achieved notoriety in the 1990s for her tent embroidered with the names of all the people she had slept with, with a male Norwegian painter of the 1900s famed for his iconic image 'The Scream', would seem unlikely. Yet, upon visiting the exhibition the aesthetic similarities and artistic lineage between the two become clear, for despite being born in different centuries, different parts of the world and with different genders, Emin and Munch are united by their ability to capture suffering and loneliness in their artwork, and in their sensitivity to the most difficult aspects of the human condition.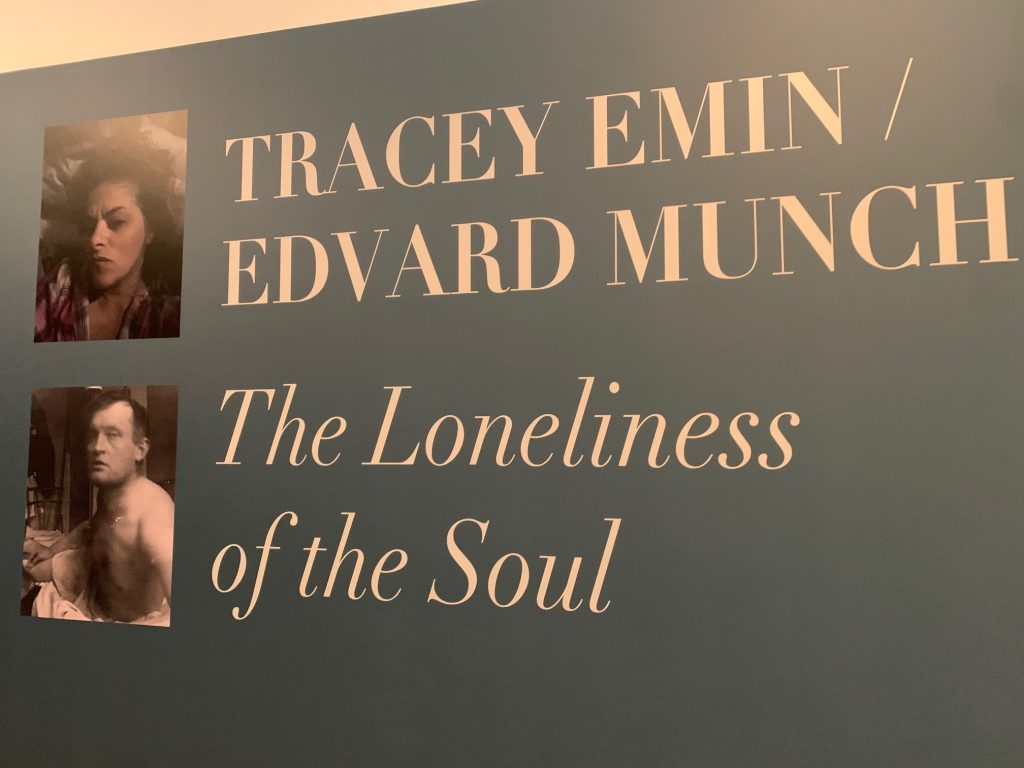 Delving into Munch's back story uncovers much sadness and misfortune in his life: his mother died of TB when he was only 5, and his sister tragically died from the same illness when he was 14. Tracey Emin has had her fair share of trauma, and channelled the emotional baggage she carried from the rape and miscarriage she endured into her art. Further uniting Munch and Emin psychologically was the fact that neither married, being unlucky in love and remaining single, with this loneliness mirrored in the title of the Royal Academy exhibition curated by Emin.
'The Loneliness of the Soul' as a title is weighted with sadness, and so is the exhibition, which coincided with Emin's discovery that she is in the advanced stages of bladder cancer. Seeing the exhibition becomes even more poignant knowing about Emin's illness and the extreme surgery she went through during lockdown. Fearful that she wouldn't live to see the end of 2020, Emin had invasive surgery in an attempt to rid her body of the cancerous cells. This knowledge that the artist has been confronted so brutally with her own mortality, makes the paintings even more prescient, and although they were painted before her cancer diagnosis, they appear to have been sadly prophetic with the blood red paint and forlorn, ravaged self-portraits prophesising her illness.
Emin confesses to an obsession with Munch since discovering him around the age of 15, when she was obsessed with David Bowie and admired the artwork on the cover of his albums 'Heroes' and 'Lodger' which was inspired by Egon Schiele. Her interest in Schiele led her to a Margate bookshop where she found a book on Expressionism featuring art by Schiele as well as fellow Expressionists Oskar Kokoschka and Edvard Munch. It was Munch who truly captured her imagination, and in 1998 when she was studying at Maidstone College of Art she made multiple woodcuts inspired by Munch's colour palette. Later, in 1998, Emin travelled to Oslo to film a TV show at the country home of Munch. While in Oslo she made a video of herself curled up on the end of the jetty, crying in a primal outpouring of grief induced by a recent miscarriage she had suffered. She titled the video work 'Homage to Edward Munch and all my dead children', and armed with this knowledge one can make the connection between Emin's film and Munch's painting 'Crouching Nude' (1917-19), which is featured in the RA show.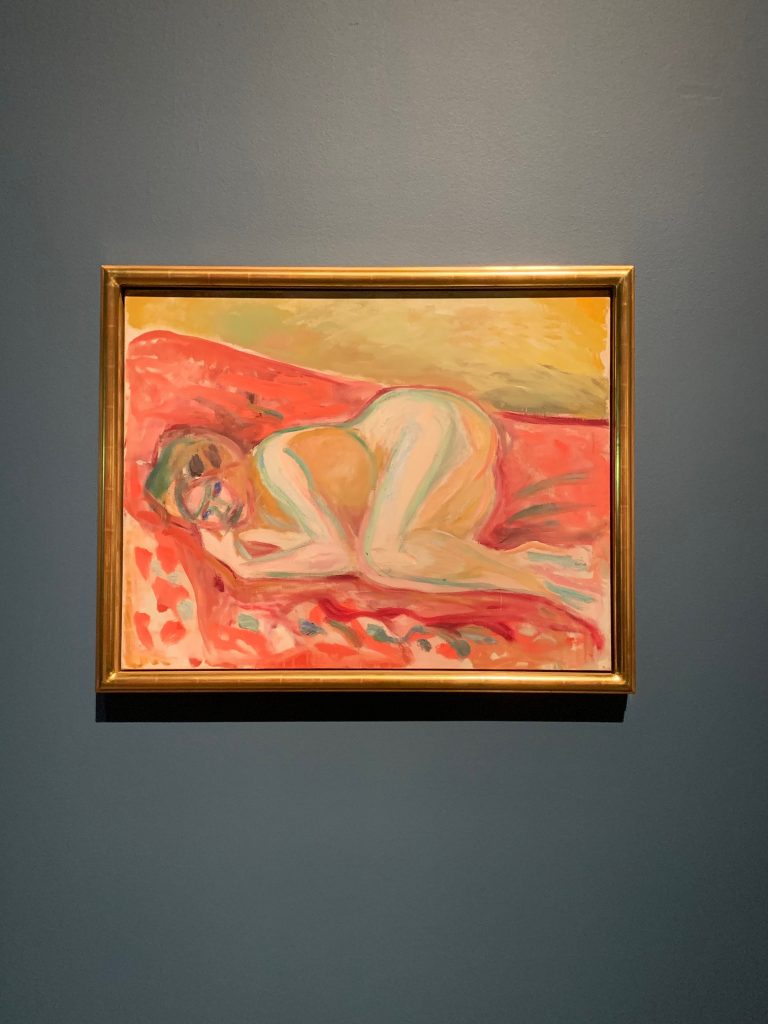 Having carved out a successful career for herself as a masterful communicator of angst, capable of expressing her innermost fears and traumas through her art, what Emin has in common with Munch is an ability to use art as a vessel for the human condition. Both artists explore the murky territories of the psyche and navigate the choppy waters of raw emotion in their work. Aptly titled 'The Loneliness of the Soul', this Royal Academy exhibition features more than 25 of Emin's works chosen by the artist herself for display alongside her own curated selection of 19 oil and watercolour paintings from the MUNCH collection and archives in Oslo, Norway.
I visited the private view at the RA a month after it had been scheduled – my first outing into central London since lockdown 2.0 – with a feeling of trepidation mixed with relief at venturing into the outside world after more isolation. The rainy London day matched the thoughtful, introspective mood of the exhibition, and the painting that really moved me in the Emin/ Munch exhibition, apart from Emin's auto-biographical nudes which evoke a feeling of isolation and eerily predict the trauma her body has been through since her cancer diagnosis and treatment, is Munch's painting 'Consolation'. 'Consolation' (1907) is a captivating portrait of a pair of unclothed women, one with her arm gently placed around the other's neck as she holds her head in her hands, in a touching act of kindness. The muted palette and melancholia of this beautiful painting feels really poignant for the dark period of human history we are living through. There's something tragic yet comforting about 'Consolation', for if the Covid-19 pandemic has taught us anything, it's that small acts of human kindness can be completely life-affirming in such a time of uncertainty and fear. With 'Consolation', Munch expressed in a few strokes of paint the feeling of emerging from lockdown and slowly beginning to see a light at the end of the tunnel…and feel hopeful.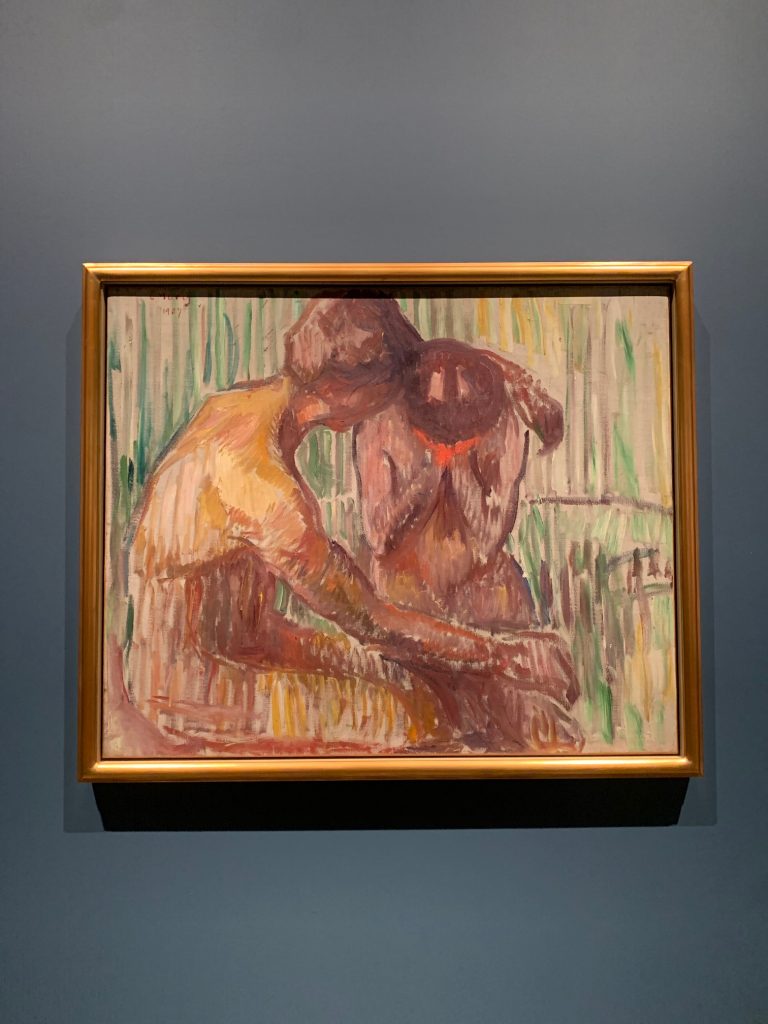 Edvard Munch was the pioneer of Expressionism best known for his angst-ridden painting 'The Scream'. However in the RA exhibition there is no mention of The Scream, for Emin has chosen to curate a selection of Munch's nudes and juxtapose them with her own nude self-portraits. Shown next to each other, Emin and Munch have so much more in common than it would seem when you hear the names of two art heavyweights from seemingly opposing times and places. Emin's sombre palette features mostly tones of blood red, greys, browns and black, and can be seen to be influenced by Munch's muted tones.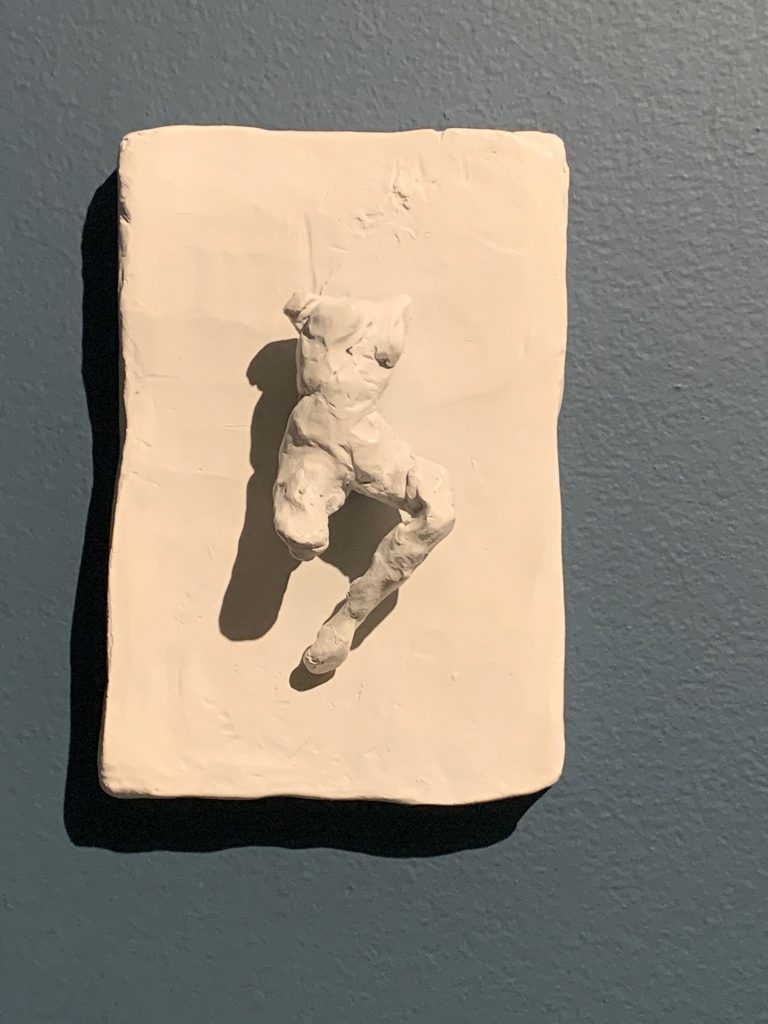 A tiny wall-mounted sculpture of a crucifixion possesses a fragility exacerbated by the knowledge of the invasive surgery Emin went through recently to remove her cancer. The pose of the figure in Emin's 2019 acrylic on canvas 'I am the last of my kind' has echoes of the crucifixion in the way the figure's arms hang limp by her sides, her head to one side, with drips of paint acrylic from the hand-painted typography elongating the nude further. The words applied to the canvas feel like a stream of consciousness with fatalistic phrases which eerily prophesise the trauma of Emin's cancer diagnosis, such as "I think I am trapped till I die'… 'I am getting old now'… 'The part of me I so much protect is my memory'…'that has made me survive.' The sadness of ''I am the last of my kind' could in some part be influenced by Munch's painting 'Seated female nude' (1923-33), which depicts a forlorn-looking woman with greying hair, head bowed as if in contemplation of the finite nature of life.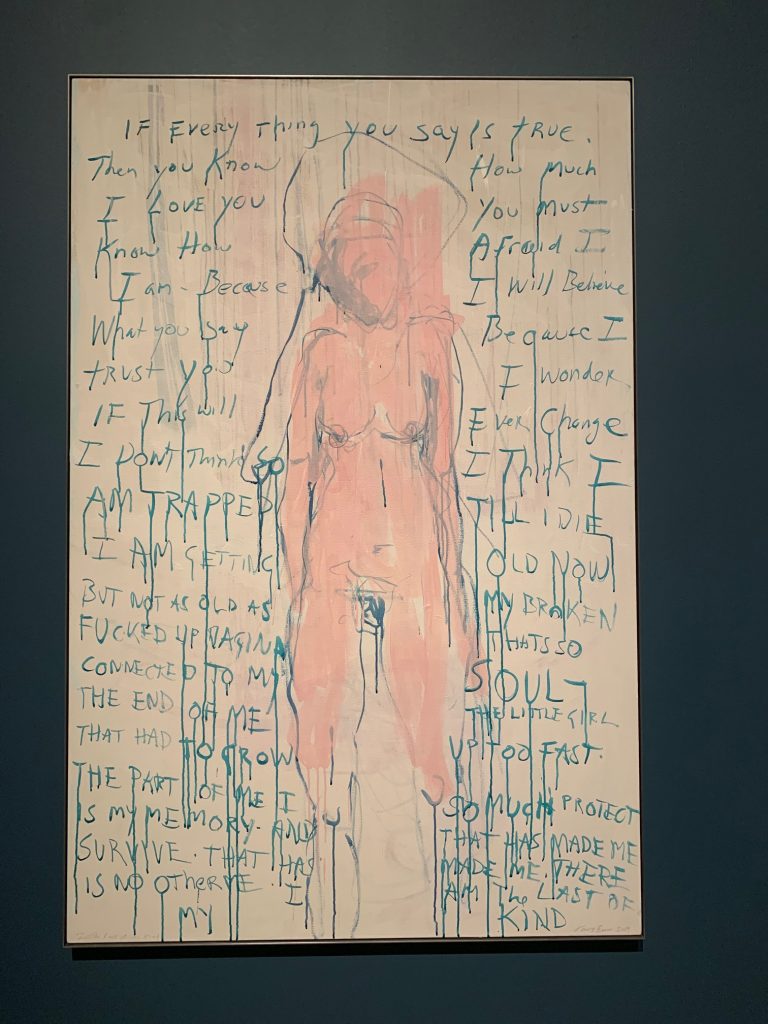 A neon titled 'More Solitude' (2014) conveys a heavy feeling of loneliness with two simple words. This neon is as effective at communicating the human condition with words as Munch's 'The Scream' famously communicated with paint. 'More Solitude' takes on multiple meanings in the wake of the pandemic, for if it had been created more recently it could refer to the isolation enforced by lockdown, or the need for more time alone, but most likely is a cry for help for someone to rescue the artist from loneliness.
'It – didn't stop – I didn't stop' (2019) is a painting of a naked body with a palette of black, white and blood red, painted by Emin in 2019, which could refer to rape or miscarriage, and examined now could be a prophetic painting of the artist's traumatic surgery. The close juxtaposition of 'It – didn't stop – I didn't stop' with Munch's 'Crouching Nude' (1917-19) demonstrates how Munch influenced Emin, with the similarity of pose in Emin's painting, and how her interpretation echoes Munch's figure, a woman who is at once exposed in her nakedness yet defiant in her bold confrontational stare.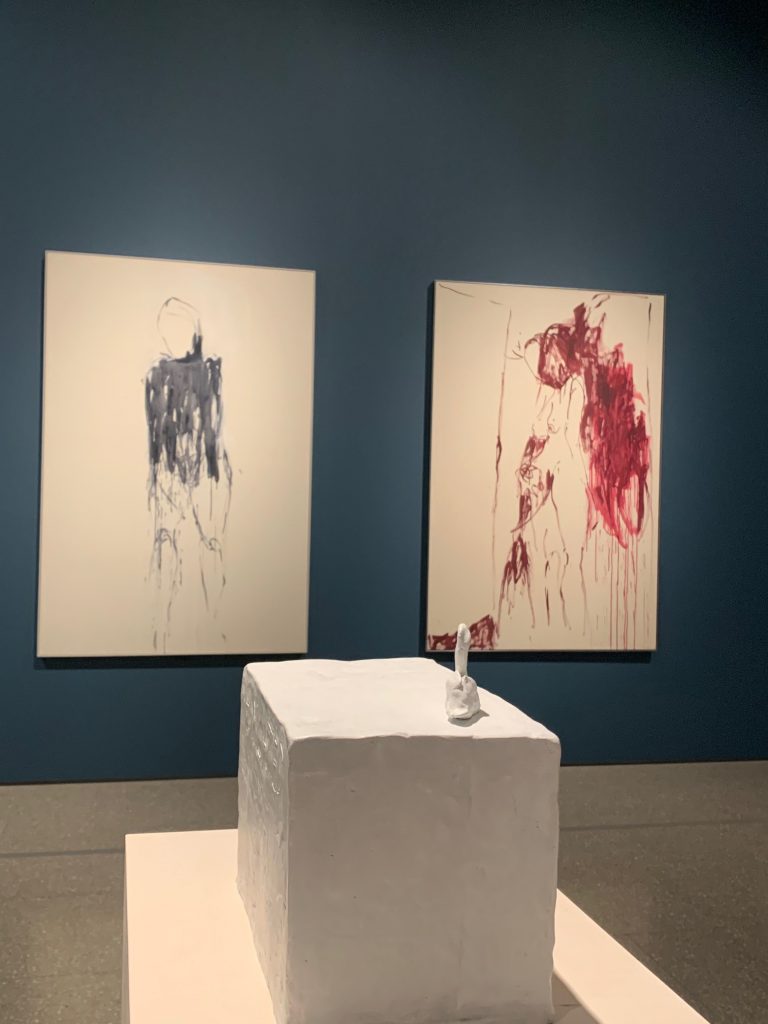 Although this isn't a cheerful exhibition, it's a vital one for anyone interested in how to capture the human condition in an artwork, providing a masterclass in expressing the inner workings of the soul through art. With this exhibition Emin carries the baton of artist-existentialist from one century to another, and I am full of hope that she beats the cancer and continues to enlighten the art world with her particular examination of the human psyche.
The exhibition was organised by MUNCH, Norway, in partnership with the Royal Academy of Arts. The Loneliness of the Soul is at the Royal Academy until 28 February 2021:royalacademy.org.uk/tracey-emin-edvard-munch
Categories
Tags