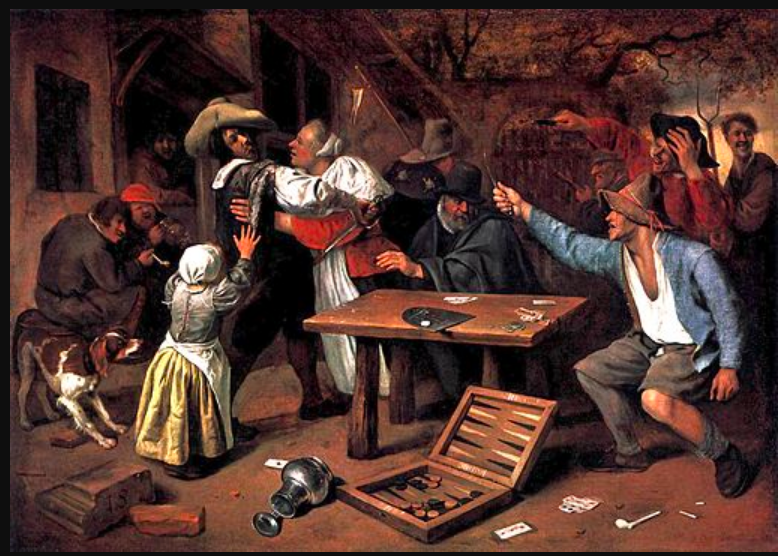 Card games have featured in many well-known paintings over the centuries. But which are the most famous of all? Here is our selection of the top six.
Argument Over a Card Game
Cards and a backgammon board are knocked to the floor inside a lively bar by an upset drunken patron in Jan Steen's masterpiece Argument Over a Card Game. Created sometime in the second half of the 17th century, it perfectly catches the drama of a dispute over a game at a tavern. The Dutch Golden Age painter Jan Steen is well-known for his psychological insights and sense of humour, and Argument Over a Card Game is no exception. Of course, today you do not have to brave dingy bars to play your favourite card games. Instead, you can simply go online and start playing games like blackjack at Casumo.com within seconds.
Soldiers Playing Cards
French painter, sculptor, and filmmaker, Fernand Léger made many drawings while he was deployed to construct trenches during World War I. Many of those drawings were used to create paintings later on; one of which was Soldiers Playing Cards. Léger used his own version of cubism, known as tubism, to depict soldiers participating in a game of cards. But the soldiers look more like robots than flesh-and-blood humans with their angular and pipe-like limbs.
The Cardsharps
The Cardsharps was an important milestone for Caravaggio when he painted it in 1594. At the time, he was working at the workshop of the Cavaliere Giuseppe Cesari d'Arpino, where he had been painting the finishing details of mass-produced fruit and flowers paintings. He painted The Cardsharps to, hopefully, forge an independent career, and it worked. Caravaggio is now regarded as one of the greatest Baroque artists to have ever lived. The Cardsharps depicts two boys playing cards. One has extra cards tucked into his belt, and a sinister old man can be seen signalling to his accomplice.
The Card Sharp with the Ace of Diamonds
French Baroque painter Georges de La Tour's The Card Sharp with the Ace of Diamonds features two men and two women playing a game of cards. The young well-to-do-man on the right is being fleeced by the other players, who appear to be in on it together. The cardsharp himself can be seen retrieving the ace of diamonds from behind his back. The oil painting, produced around 1636 to 1638, now hangs in the Louvre.
The Card Players
French Post-Impressionist Paul Cézanne's The Card Players is a series of five paintings depicting peasants smoking pipes and playing cards. The paintings were produced during Cézanne's final period, during the early 1800s, when he created some of his most acclaimed work. One version of The Card Players was sold to the Qatar royal family in 2011 for $250 million and then sold on to Blake Davis for $300 million, making it the most expensive painting ever sold at the time. The record was beaten by Leonardo da Vinci's Salvator Mundi, which sold at auction for $450.3 million in 2017.
Dogs Playing Poker
Even someone who knows nothing about art knows Cassius Marcellus Coolidge's series of paintings, Dogs Playing Poker. The artworks may not be up to the masterful standards of Caravaggio or Cézanne, but they are undoubtedly the most famous paintings featuring a card game. The eighteen paintings, an example of kitsch art, collectively include an 1894 painting, a series of 16 paintings commissioned to advertise cigars in 1903, and a 1910 painting. Each work depicts anthropomorphized dogs. Eleven of the paintings depict them sitting around a card table playing poker. In 2015, the first painting in the series sold at auction for $658,000.
Categories
Tags