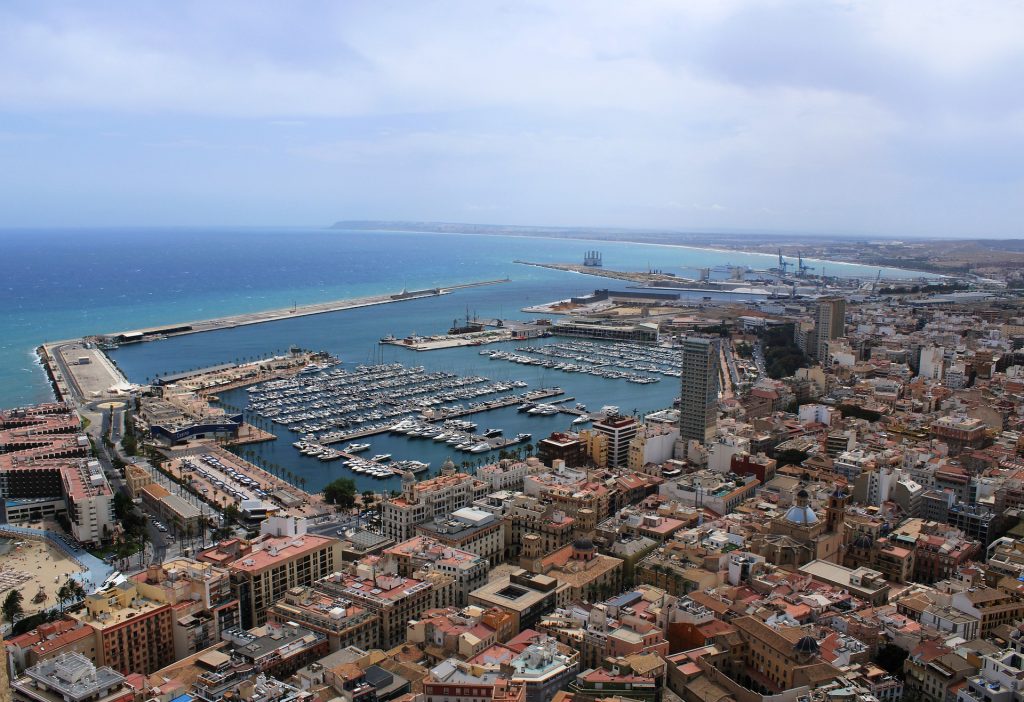 Many foreigners are buying real estate in the unofficial capital of Costa Blanca, Alicante. Over the last year, more than half of the purchases were made by foreigners. This year's situation is different because of the pandemic.
We will try to analyse the market of Alicante property from the inside with the expert, CEO at Virto Property, Sergey Sinyugin.
Centro
In the south of Alicante is the Centro area. Most of the historical and architectural sights of the city are located here. Tourists love Casco Historico for its architectural monuments and proximity to Mount Benacantil, along with the Castle of Santa Barbara.
Almost all two- and three-storey buildings in this area are secondary stock. Some houses are even over a hundred years old. Lovers of non-standard layouts very much appreciate narrow stairs and high ceilings. The cost of a three-room apartment with an area of about 80 m² starts from €150,000.
Sergey Sinyugin, recommends this area for investors planning to make money by renting real estate. The last tourism law of July 9, 2018, allows each municipality to set rules for houses and apartments that can obtain a tourism license, which means the right to rent out an object legally.
In Alicante, tourism licenses are now only issued to facilities located on the ground floor. The exception is Casco Historico and one more zone, which means that, here, you can officially rent an apartment on any floor. During the high season, you can earn €100- €150 per day.
Centro Tradicional is a diverse area of new builds and resale. The price of housing in new buildings varies from €250,000 to 300,000. Ensanche-Diputacion is a business part of the city with large shopping centr?s. Prices are similar to Casco Historico and Centro Tradicional. 
Pla del Bon Repos-La Goleta-San Anton
Part of San Anton is reminiscent of the historical part of the city. However, the houses located closer to Jaime II Avenue are partly inhabited by gipsies. So, before buying a home, visiting its surroundings at night because, during the day, it is not always possible to distinguish the Spanish quarter from the gipsy one.
Pla del Bon Repos is considered one of Alicante's best areas for permanent residence. The cost of an average three-room apartment in these houses is about €65,000.
Raval Roig is located at the foot of the castle hill and very close to the beach. The price tag is appropriate: houses on the first line with a sea view cost from €150,000, on the second — from €110,000.
The La Gogeta zone is distinguished separately. It is convenient in terms of location due to the proximity of shops, the beach, and a large parking lot.
Campoamor-Carolinas-Altozano
The Campoamor-Carolinas-Altozano area includes Carolinas Bajas, which consists of resale housing. There are many Arabs and other refugees here, some of whom have come illegally or live on welfare. The cheapest apartment on the fifth floor without an elevator or renovation (70 m²) costs about €50,000.
Carolinas Altas is a residential area with several schools and supermarkets inhabited by Spanish families. The cost of housing is slightly higher here.
Altozano is a privileged area with newer and more expensive properties. Apartments in these complexes are priced at €100,000 or more. There are also several lower-class houses at €50,000-70,000.
Juan XXIII
Behind Campoamor-Carolinas-Altozano, a kind of ghetto begins – the gipsy areas: Cuatrocientas Viviendas, Virgen del Remedio, Colonia Requena, and Juan XXIII. Therefore, housing here is the cheapest: you can find options up to €15,000. Apart from gipsies, people live here either from despair or after having been deceived by realtors.
Benalua- La Florida-Babel-San Gabriel
For those who like to live near the centre, the Benalua quarter is the best choice. This is a calm Spanish area with good infrastructure. Housing prices start at €60,000.
San Gabriel is located closer to the outskirts of the city. Although it has access to the sea, it is difficult to call it a fully-fledged beach. From there you can easily get to Alicante airport.
Parque Avenidas-Vistahermosa
This is the elite part of the city. A three-room apartment in the Garbinet and Parque de las Avenidas districts costs about €150,000. Many families with children tend to settle here because of the schools.
Vistahermosa is an area with mostly detached private houses and townhouses. Prices for chalets and small villas start at €300,000.
Playa de San Juan-El Cabo
The most eastern part of the city is the Playa de San Juan-El Cabo area. This is a tourist part of the city, which is almost empty in winter. A new studio's price is from €150,000; a three-room apartment costs at least €220,000. The Golf Zone is the territory of golf courses, with townhouses available for about €250,000.
Categories
Tags