Many of us had high hopes for 2020, but it truly took an unexpected and unwelcome turn. Artists, in particular, have been affected by the 'situation' though many are finding innovative ways to create during the crisis. As we head into the winter months, it seems like a good time to look back over some of our favourite news and stories from the world of art and design so far this year. It is one of the very few areas in the news where stories of hope, generosity and positivity can be found.
#Scarfup Campaign
One of our favourite stories is about the scarf up and keep the cold out campaign. A group of contemporary artists joined forces with the CW+ charity and are donating scarf designs to raise awareness around sufferers of asthma and CPOD, and those that are particularly vulnerable to respiratory conditions. The program is designed to promote the need for care around those with underlying conditions, in particular at a time like this, and works as follows:
Artists create and donate original scarf patterns that reflect their artistic styles
These are then transformed into a knitting or crochet pattern
People in the community download the patterns for free
Volunteer knitters make and donate these scarves to the hospital
Patients receive for attending follow-up appointments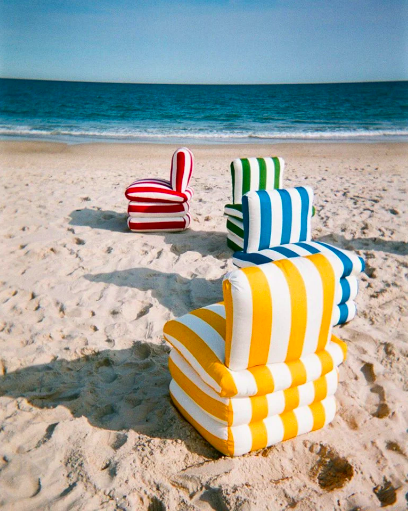 Home Office & Design
One of our favourite designs this year is the Pillow Chair designed by New-York based creative director, Will Cooper. Originally designed for indoor use and ideal for creating a cosy WFH or relaxation space, it is now also available in an outdoor edition. No matter which job you have, setting up a home office can help make daily tasks and meetings that bit more comfortable. Building a desk or putting together home office furniture can be done easier than expected. Accessories such as the pillow chair can be used to create a nice break-space to relax on your lunch break for instance. A nice home coffee brewing set up is also up there among home office essentials.
Using art to reduce medical debt
Also in amazing art news is the turning of medical bills into paintings to help eliminate medical debt. With almost 140 million people in America struggling to cover medical debt, this initiative is truly valuable and innovative. The artists behind this took medical bills from a small number of people that were struggling to pay off medical bills. They transformed them into oil paintings and then sold them to cover the patient's medical costs, with the work being priced at the value of the bills.
Overall, 2020 is a bit of a disaster and daily news and media is fairly stress-inducing pretty much all of the time. The world of art and design, however, is one area where stories of hope and creativity can be found, and where we can see how community intersects with art and design, whether as part of the creative process or simply for observation and to brighten the day.
Categories
Tags