The Social Revolution of Our Time Cannot Take Its Poetry from the Past but Only from the Poetry of the Future, 5, 2019 Oil on canvas, inkjet on canvas Overall dimensions: 92 x 116 x 2 in  (233.7 x 294.6 x 5.1 cm) © Meleko Mokgosi
Meleko Mokgosi's first solo exhibition in the United Kingdom has opened at Gagosian's Britannia Street gallery. It's an ongoing project with paintings created between 2013 and 2019. Titled Democratic Intuition, it takes its name from Gayatri Chakravorty Spivak; a scholar, theorist and feminist critic. Mokgosi creates a dialogue with Spivak's ideas on democracy, saying
"depending on how you're educated, the kind of abstract thinking you have available to you, the kind of resources you have, it will affect how you conceptualize democracy"
(The New York Times, 2019).
In this thought provoking, beautiful and inspiring exhibition, Mokgosi engages the viewer philosophically and politically, the exhibition is introduced with the words
'Democracy is incompatible not only with the foundational elements of the human subject, but also with the various systems and institutions that support dominant forms of subjectivity or humanism in general'
– Mokgosi

The Social Revolution of Our Time Cannot Take Its Poetry from the Past but Only from the Poetry of the Future, 6, 2019 Oil on canvas, inkjet on canvas Overall dimensions: 78 3/4 x 114 1/4 x 1 1/2 in (200 x 290.2 x 3.8 cm) © Meleko Mokgosi
Mokgosi was born in Francistown, the second largest city in Botswana. He now lives, works and teaches in New York. Gagosian praises Democratic Intuition as 'an eight-part epic that includes multi-panel depictions of southern African life and folklore'. Each 'part' is as individual in it's layout as the next. Mokgosi utilises the canvas and its often untapped, diverse form, to create compositions; be they a circular canvas alongside a short story, a piece of text inkjet printed onto raw canvas, or a multi-panel construction which sprawls across the gallery walls, undeterred by corners of the room.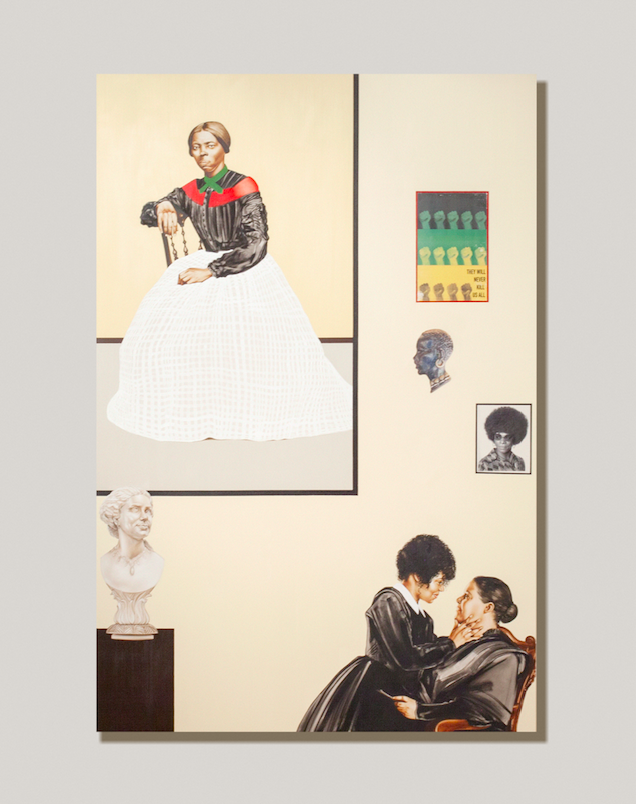 Bread, Butter, and Power, 2018, (detail) Oil, acrylic, bleach, graphite, photo and pigment transfer, and permanent marker on canvas, with plastic sleeve, in 21 parts;  1 part: 108 × 72 inches (274.3 × 182.9 cm), 18 parts, each: 96 × 96 inches (243.8 × 243.8 cm), 1 part: 96 × 132 inches (243.8 × 335.3 cm), 1 part: 84 × 12 × 12 inches (213.4 × 30.5 × 30.5 cm)  © Meleko Mokgosi
In several instances, text is printed onto raw canvas and annotated in presumably the artist's own handwriting. The texts are gallery essays and artists biographies about Eva Hesse, Picasso, German Expressionists and more that Mokgosi has annotated. With pen to canvas, he critiques the texts and the racism, social injustice and ignorance that is concealed in flippant and outright discriminatory language. These notes interrupt the scenes of predominantly southern African figures; rendered in high detail, accompanied by stories in English, and in Setswana; the lingua franca of Botswana. Despite the breadth of work and information, it's not easy to access it all. Some of the paintings are hanging sideways, and several annotated texts are placed high on the gallery walls, meaning angling your neck to read them, a reminder that this is not a passive viewing experience. Adding to this, they are handwritten, so words are harder to read than printed text. Some paintings in depict figures that hover in space, with minimal backgrounds to indicate their location. Landscapes quickly fade away when the figure is no longer within them. The brushstrokes become abstract and rough, leading our eye back towards the figure; this is the important part, this is where you should look. They portray 'the asymmetries of power that underscore traditional divisions of labor.' (Gagosian)

Objects of Desire 4, 2016-20 Oil and photo transfer on canvas, inkjet on linen 2 paintings:  64 x 44 in (162.56 x 111.76 cm) 64 x 40 1/4 in (162.56 x 102.23 cm) 4 wall text panels: 18 x 24 in (45.72 x 61 cm) each © Meleko Mokgosi
The large scale of the canvases inside the huge rooms of Gagosian are dramatic at first sight. The skilfully rendered paintings are mainly of figures, in oil and charcoal. Their 1-1 scale allows the viewer to feel as though they are inside the scene, just as the painted figures emerge from the raw canvas backdrop. They depict women in embrace, school children, South African military veterans and the relationships between them. As well as everyday figures, he includes
'a portrait of a defiant young Harriet Tubman, dressed in the black, green, and red of the Pan-African standard; a self-portrait by Cameroonian photographer Samuel Fosso in the guise of Black radical Angela Davis; and Mokgosi's own protest poster in ANC colors, which refers to the people's battle cry following the infamous Uitenhage massacre in 1985: THEY WILL NEVER KILL US ALL.'
Gagosian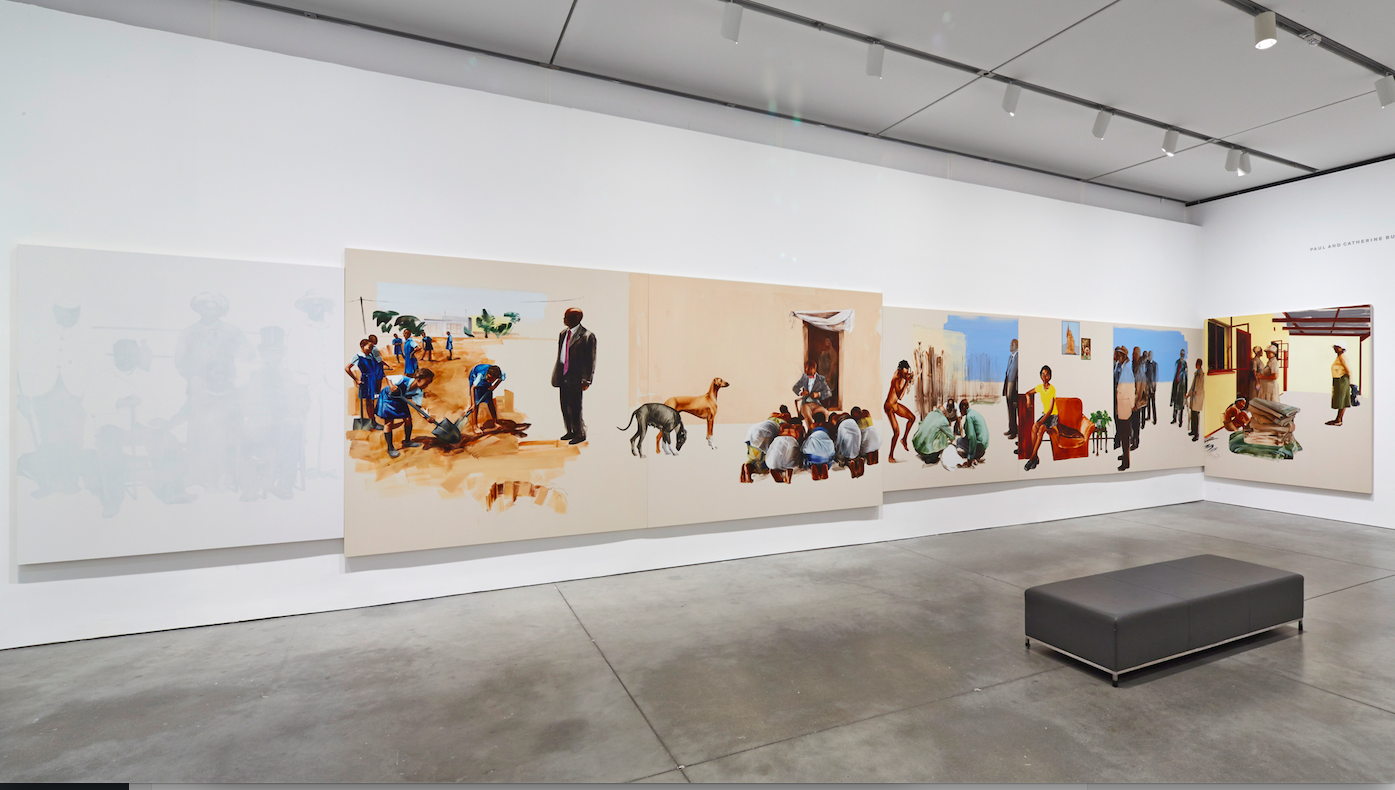 Democratic Intuition, installation view 2020 ©Meleko Mokgosi Photo: Lucy Dawkins Courtesy Gagosian
The paintings feel impossible to turn away from. Mokgosi employs composition, colour and continuous scenes flowing into each other, encouraging our eyes to move across the surface, with moments for pause encouraged only by negative space. He walks us around the story, as he narrates and directs our path. His interest in cinema appears through sharp details and blurred backgrounds, that shift like a camera's altering perspective, and we follow it loyally. The figures
'jump-cut between the confines of manual work, the freedoms of intellectual enterprise, and their ties to gender and race… portraying the asymmetries of power that underscore traditional divisions of labor.'
(Gagosian)
Each 'part' of Democratic Intuition started life as a research project; enabled by his understanding and reading of history, politics and philosophy. The entrance room of Gagosian contains two vitrines with a selection of books. Books such as Patricia Hill Collins' Black Feminist Thought, Pumla Dineo Gqola's Reflecting Rogue, Jacklyn Cock's Maids & Madams, and Rebecca Ginsburg's At Home with Apartheid, among many more. These are next to the entrance, and so passed on entering and leaving the gallery. For many viewers the books might hold different significance before and after experiencing the exhibition.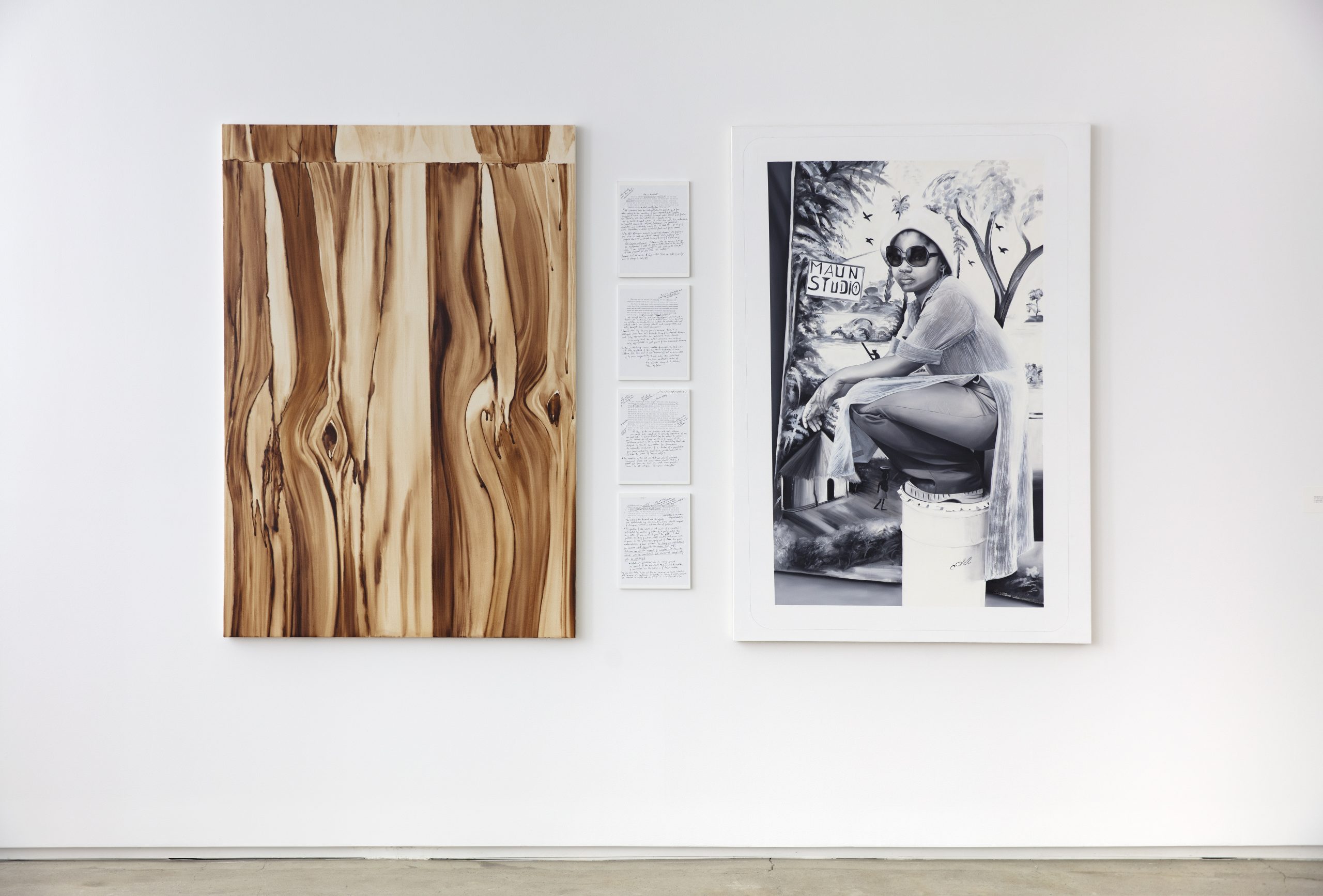 Objects of Desire 7, 2016-20 Oil on canvas, inkjet on linen 2 paintings: 64 x 44 in (162.56 x 111.76 cm) each 4 wall text panels: 18 x 24 in (45.72 x 61 cm) each © Meleko Mokgosi
In a video by the Vilcek Foundation entitled Meleko Mokgosi: 2017 Vilcek Prize for Creative Promise in Fine Arts, we witness him at work. He opens the film saying
'I never romanticised being an artist. I don't do the whiskey and cigarette at three AM. It's work. Work that takes time, and an intense amount of intellectual and emotional investment.'
Last year he became a member of faculty at Yale School of Art, and he also continues to teach from his New York based, tuition-free Interdisciplinary Art and Theory Programme. Perhaps viewers of his paintings are treated on the same level as his students. To engage with the work takes effort, both physically and mentally, but learning through art can be as useful as traditional teaching. I leave you with Mokgosi's own words on this, that
'art can find ways of speaking to specific audiences. You can't change the world but you can hopefully communicate things you care about, and hope that something can happen after that.'
(Vilcek Foundation)
Meleko Mokgosi Democratic Intuition, December 12th, 2020 Gagosian Britannia Street, London
Categories
Tags