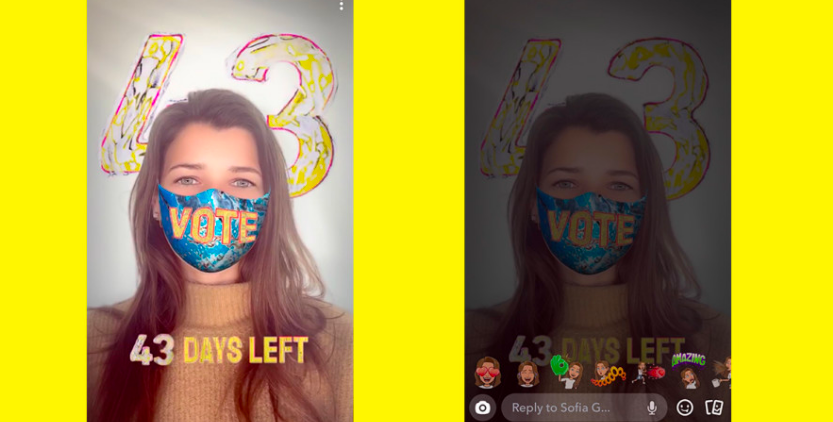 For National Voter Registration Day Snap partnered with Mark Bradford on a new augmented reality Lens to encourage people to register to vote. Snap reaches more 13-24 year olds in the US than Facebook, Instagram and Messenger combined — and a majority are of voting age. In fact, of the 100 million Snapchatters in the U.S., 80% are 18+.
This new lens applies the artist's signature abstract painting style to a face mask emblazoned with the word "Vote," and features a button that takes Snapchatters directly to our voter registration tool. This goal of translating ideas into action through abstract painting, which Bradford's practice combines with social engagement elements, has been a consistent focus for the artist since the early 2000s. Over the course of his career, Bradford's work has elevated critical social themes, including racial justice and equity, women's rights and police brutality — and we're incredibly honored that he is bringing his powerful talent to Snapchat.
Snap has a strong record when it comes to voter registration — in the 2018 midterms, the company helped well over 400,000 Snapchatters register to vote and 57% of them actually voted. To help them turn out this cycle, Snapchat will remind users who have registered about key voting deadlines in their states; messages reminding users to make a plan to vote; a voter checklist available in their user profile, and resources from civic partners in their Voter Guide.
More App news A new Sol LeWitt App Launched 
About the Artist
Mark Bradford (b. 1961 in Los Angeles; lives and works in Los Angeles) is a contemporary artist best known for his large-scale abstract paintings created out of paper. Characterized by its layered formal, material, and conceptual complexity, Bradford's work explores social and political structures that objectify marginalized communities and the bodies of vulnerable populations. Just as essential to Bradford's work is a social engagement practice through which he reframes objectifying societal structures by bringing contemporary art and ideas into communities with limited access to museums and cultural institutions.
Using everyday materials and tools from the aisles of the hardware store, Bradford has created a unique artistic language. Referred to frequently as 'social abstraction,' Bradford's work is rooted in his understanding that all materials and techniques are embedded with meaning that precedes their artistic utility. His signature style developed out of his early experimentation with end papers, the small, translucent tissue papers used in hairdressing; he has since experimented with other types of paper, including maps, billboards, movie posters, comic books, and 'merchant posters' that advertise predatory services in economically distressed neighborhoods.After gluing an image pre-selected for its historical significance onto canvas, Bradford outlines it with rope or caulk before affixing numerous layers of different types of paper. The artist then lacerates, erodes, and excavates the surfaces of his paintings using 'tools of civilization' to reveal intersections between the layers of signifying materials, thereby transforming and expanding the medium of painting.
Born in South Los Angeles, Bradford moved to LA's beachside Santa Monica neighborhood with his mother at age 11. Throughout his childhood he worked in his mother's beauty salon in Leimert Park where he first developed a curiosity in artistic and creative expression, and after high school, Bradford spent his summers traveling in Europe. His experiences visiting museums and consuming art left an enduring impression, and for the first time, at the age of 31, he began his formal arts education.
Bradford received his BFA from the California Institute of the Arts (CalArts) in Valencia in 1995 and his MFA from CalArts in 1997. Bradford received his first solo exhibition, 'Floss,' at the San Francisco Art Institute's Walter & McBean Galleries in 1998 and his New York museum debut in 'Freestyle' at the Studio Museum in Harlem in 2001. In 2006, Bradford participated in the Whitney Biennial at the Whitney Museum of American Art where he won the coveted Bucksbaum Award, leading to his first major solo museum exhibition the following year at the Whitney, 'Neither New nor Correct.' In 2008, in the wake of Hurricane Katrina, Bradford participated in Prospect.1 in New Orleans, and in 2010, the Wexner Center for the Arts presented a retrospective of his work that traveled for two years to five institutions around the US.
In 2015, Bradford received his first solo museum exhibition in Los Angeles, 'Scorched Earth' at the Hammer Museum, and that same year co-founded Art + Practice in Leimert Park with his longtime partner, Allan DiCastro, and philanthropist and art collector Eileen Harris Norton.
In 2017, Bradford represented the United States at the 57th Venice Biennale with his solo exhibition 'Tomorrow is Another Day.' Complementing the presentation at the US Pavilion and in keeping with his practice to engage marginalized communities, Bradford launched Process Collettivo, a six-year partnership with the Rio Terà dei Pensieri social cooperative that provides skills training and employment opportunities to incarcerated men and women in and around Venice. Following the Biennale, 'Tomorrow is Another Day' traveled to the Baltimore Museum of Art, where Bradford collaborated with Greenmount West Community Center (GWCC), a community art space offering educational resources to families in Baltimore.
In November 2017, Bradford unveiled 'Pickett's Charge' at the Hirshhorn Museum and Sculpture Garden in Washington, DC, and in 2018, installed a 32-canvas painting of the text of the US Constitution titled 'We The People' for permanent display at the US Embassy in London. In 2019, Bradford produced 'Life Size,' a large image of a police body camera on a vinyl banner at the entrance to the backlot at the inaugural Frieze LA fair and on wheatpaste posters throughout Los Angeles. Bradford also created a limited-edition print series with the same image to raise money for the Art for Justice Fund to support career development opportunities for people transitioning out of prison.
Bradford has exhibited to acclaim internationally and received numerous awards and honors, including his appointment to the American Academy of Arts and Sciences in 2019, the US Department of State's Medal of Arts in 2014, his appointment as a National Academician in 2013, and a MacArthur Fellowship Award in 2009. Permanent installations of Bradford's work include 'What Hath God Wrought' (2018) on the campus of the University of California, San Diego, and 'Bell Tower' (2015) at the Tom Bradley International Terminal Departures Hall at Los Angeles International Airport.
Recent solo exhibitions of Bradford's work include 'End Papers' (2020), a historic survey exhibition of his early paintings at the Modern Art Museum of Fort Worth; 'Cerberus' (2019) at Hauser & Wirth London; and 'Los Angeles' (2019) at the Long Museum West Bund, Shanghai.
Categories
Tags