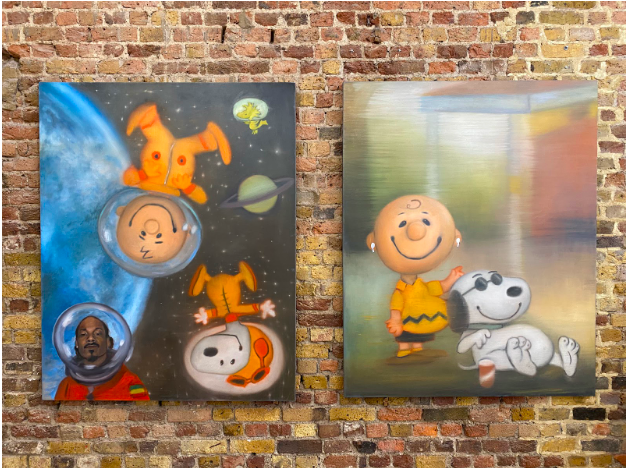 There is little doubt at how peculiar the times we are experiencing are, so peculiar that our pecuniary system looks as effective as Boris's shake hands and wait for strategy, which meant BBC News had to show the exterior of Holby City for a bit. 
Thankfully, we didn't have to take our guidance from Dominic same sandwich everyday Raab indefinitely & Bojo has made enough of a recovery to occasionally pop up on TV and demonstrate how his hair is as predictable as the behaviour of the virus, short of the long is, life is starting to be re-adjusted to suit the unpredictably of the follicles and follies, all around us.
 One of the working professional categories, which weren't furloughed because this isn't France, are Artists, a rare breed who before the pandemic decreed that the hottest trend on the catwalk for AW 2020 are facemasks and Birkenstocks, were pretty good at self-isolating and drinking from the cup of human pity on a daily basis. 
Yet some of these breeds of sabre brushed wielding softies aren't all as wretched at Van Gogh was when he decided the best way to get heard was to reduce his physical ability to hear. Some, unbelievably want you to take pleasure in the image being presented to you on varying sizes of canvas. One of which is Tim Gatenby, who in his image constriction capacity allows us to dive into a joyous reservoir of cartoon imagery remixed to reflect the current state of being. No doubt big data crunchers will soon inform us inebriation, gluttony and the quest for a safe space has exponentially grown during the last few months so it seems apt that Bart Simpson, Mickey Mouse and Snoop Dogg have all let themselves go in a quest to put themselves slightly further away from the bleakness of reality.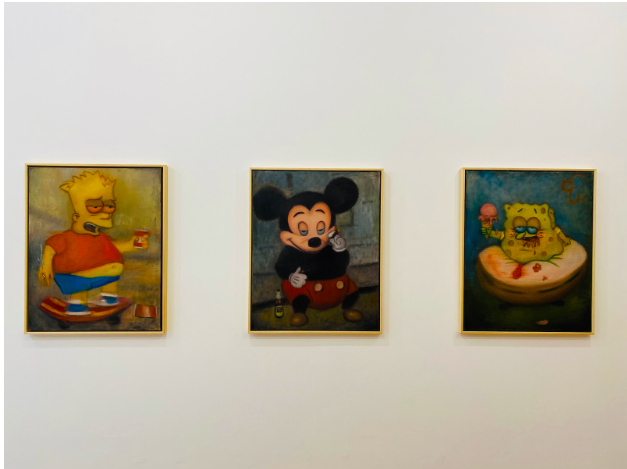 Gatenby, in his varied image creation edifice, has just opened his first solo show at the newly relocated Waluso Gallery, which sits at the end of Hanbury street, near where Atlantis art dropped its anchor circa 2012 before being forced to set sail again (5 times is it now?) by the traffic warden rent pirates who patrol the sea of gentrification which have ruthlessly patrolled the London east end ever since The Foundry was established in part by KLF's, Bill Drummond. The Foundry which soon will become a luxury hotel for 350 overpaying guests who will be able to tag themselves on Instagram at the location of somewhere that used to mean something.
Pontificating away from the greed of developers momentarily and back into 63 Hanbury Street, where attendees will be able to get an understanding of Tim's visual oeuvre up until this point, with the first floor of the gallery given over to the most recent works, which in keeping with the show's title " A Nice Day Out" certainly do present a celebrator atmosphere in all our current indulgence. Charlie Brown would have Apple AirPods, assuming he hasn't lost them and Snoop Dogg has probably texted Elon to see if he can exchange some musical tips for a seat on Space X, why not. Married with the playfulness is a clever calculation when it comes to the size of the canvas. Each work making the viewer wish to see more from the moment in the world depicted and genuinely feel this is just a snapshot of the total cacophony occurring in each situation. 
The further takeaway is the atmosphere created as a result of his neo-classical technique, which has arisen thanks to his formal training in Florence. Usually, this classical art finishing school for those zig-zagging across that pretty Ponte Vecchio, which leaves attendees fully equipt to tackle the precarious art market of the 1700s, yet not Mr Gatenby, whose early work can be seen in the subterranean section of the gallery and demonstrates the full range of his anarchistic approach to subverting imagery and bending it to a friendlier, accessible will, whilst demonstrating a flawless technique which doesn't so much break the fourth wall but constructs a whole playful world of weirdness we can all enjoy on our own, sometimes nostalgic terms. 
Nevermore so is this truer than when presented with his image of the Iconic Cocaine riddled Hoover known as Henry, who can't resist a cheeky line after all his traditional suction-based responsibility is complete. Whether first as tragedy, then as comedy, the line isn't always clear & slightly blurred like his style but Tim is from Shakespeare country, so no doubt the bard would appreciate his overall sentiments and commitment to lighter-hearted entertainment. The exhibition runs until the 20th August, 68 Hanbury Street, E1 5JP at Waluso Gallery 
Categories
Tags