Almost four months ago, the Royal College of Art announced the closure of their campuses due to Covid 19. Along with the announcement, they made the decision to cancel this year's physical degree show. For the first time in the university's long history, the degree show would become a solely digital experience.
The RCA online degree show launched on the 16th July. Each student has a page to display their work, there is a daily programme of Events made up of live performances and Zoom talks, and renowned artists and creatives have put together their own Collections of work that stood out to them.
For a student, the degree show is a culmination of two intense years; the works made, books read and thoughts expressed. It's the moment they step back and see all of this come to life. An experience shared with friends, course-mates and tutors. It's both closure and celebration, and often the first time to see the cohesiveness of a body of work. Crucially it's a chance to put work in front of the public. Historically, these shows have been an opportunity to meet galleries, curators, collectors, and people who might want to exhibit, buy, commission, collaborate or follow their work. The opportunities are endless, and for many, rightly or wrongly, it's a huge part of going to a specific university. As the RCA made the decision not to postpone a physical show, this digital one should endeavour to reach the same large audience, and ensure that each artist is well represented by the platform. I spoke to some of the students to see if they feel the RCA have achieved this.
One of the obvious troubles with a digital exhibition is that some work begs to be experienced in real life; it wants to be looked at closely, its surface examined or it's materials questioned. A student might want to create an immersive installation or communicate with senses only accessible in real life, these people might feel disadvantaged by the digital format. Some work however, perhaps due to use of colour, finds a way to lurch out from a backlit screen. I'm thinking of Olivia Sterling's colourful paintings which depict in her own words, 'gesturing' hands that are 'silently communicating' moments 'where absurdity and normality collide', depicting scenes 'that mimic how I perceive living in Britain as a black person'. Also jumping out from the screen were the large scale oil paintings of Yang Xu, and the photography projects of Anabela Pinto and Lowena Poole.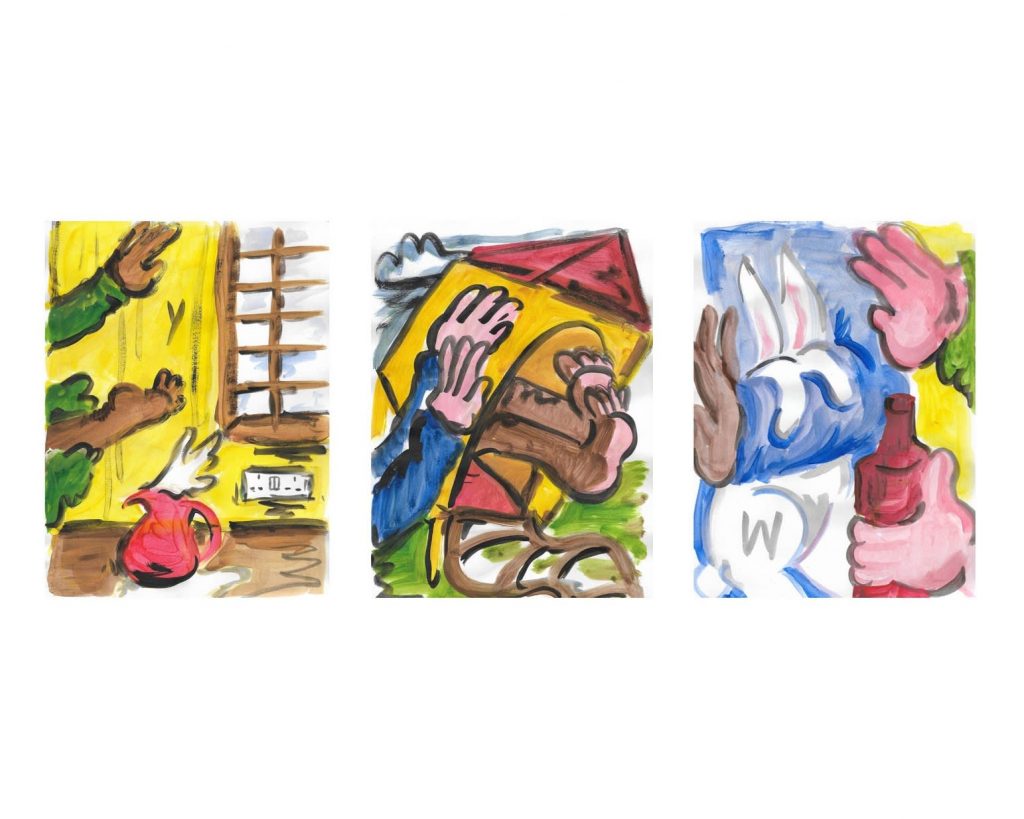 Certain things are only possible now the exhibition is online. Artists can situate and photograph their work in an environment of their choosing. Liang Yaya's 'Frankensteinian forms' caught my attention for this reason; photographed inside the dilapidated Safehouse gallery. They still need to be examined in person, given that they are sculptural objects with multiple angles to be viewed from, however their setting now adds another dimension to how we understand them.
Of course many interesting spaces weren't open for photography, however Francesca Mollett's paintings pictured outdoors, in the spaces they had been created in, brings the project full circle.
The RCA platform feels relatively generous; artists can include a decent amount of work in the form of video, photo, text, embedded books and music, but this is limited when you consider the variety of projects coming out of a contemporary art school. Katie Bret Day redirects us away to her own single-page interactive website where you can scroll through high quality images, videos, and text. When she was told the show was going to be digital she knew her original concept would not be possible. She says 'with the use of some YouTube videos and the help of one of my peers (Nadja Ellinger) translating how code works, I tried to create a more interactive and discursive space for my work to exist in'. It is an engaging website and her work stands out against the dark black background. It is also a much needed transition for the eyes and mind which grow overly familiar with the format of each student's page.
Although organisation, communication and many other factors have been highly stressful for the students while creating the show, Katie goes on to explain an idea that isn't only about adapting, but learning and growing from these challenges. She says: 'Art is about communication.. I think as artists we crave the physicality of our work but can sometimes overlook how presenting work within the 4 walls of a gallery can be so isolated and often elitist. I do want to pursue this research and have a haptic realisation of this work but being forced to consider how to best translate it for an online showcase, not just photographing an install but actually considering how we move through a virtual plane and how this is a language that requires a totally different approach to achieve the same level of connection has been something hugely positive.'
The alluring and intriguing multimedia work of Silke Weißbach also went through an evolution, deciding to focus it on digital elements after losing access to her studio. This new work that speaks to our current online states was described by her friend as 'alchemistic video making'. She and many others have had to dramatically adapt their exhibition concept in a short space of time. If this pandemic has taught us anything though, it is that people are adaptable, much more so than we give ourselves credit for.
There are benefits to a digital degree show that have nothing to do with the presentation of artwork, but how it is experienced by a wider audience. The 2020 students may reach even more people given its new global accessibility. Perhaps people will tune in for the novelty, as well as the ease of it. There is a chance viewers will be looking at the work in a more serious and enquiring way, compared to a physical show which might also be a social visit.
Most of the students I spoke to said they created the majority of their work from home during lockdown. For some this meant cramming paintings into the corner of bedrooms, for others it was much more technical. Roxanne Simone is a student from the Jewellery and Metal course whose work pushes the boundaries of traditional processes. In a live zoom presentation for one of the online events, Roxanne read a poem (still available to read on her page). This personal element helps to understand her emotional engagement with surface creation. One line from the poem speaks: 'Deep ocean of blue memories I am created by mothering, my maker patinated me with tales of experiences.' To complete her project she borrowed a friend's camera for one day to photograph it entirely, and created an animation while on the phone to Pete Musson; one of the technical staff members, communicating over whatsapp into the early hours of the morning.
Adam Mc Gowan made five of his works after going into lockdown. He was lucky to have access to outside space as this was the only place that he could make the circular sculptures. He says 'this changed the procedure dramatically and I think the work reflects on that process. The challenge was not only relying on the weather but also relying on being able to maintain a focused and sustainable routine. It was at times tough to keep up momentum, as I'm sure it's been for many other artists in Lockdown.'
Peter Spanjer created his visceral film over the past six weeks, knowing it would end up in a digital show. The thoughts he wanted to express also changed over the months of lockdown. He says 'it wasn't until the killings of innocent George Floyd and Breonna Taylor (and countless others) that this piece started to take shape. I describe this work as a reaction, which is why it is so special to me. It signifies a specific moment in my life time'. He goes on to say 'it was actually important to me that it could live in both the virtual and physical space. It was also about urgency, so the fact that I created the video and then put it out straight away, it just felt right.'
Some works took on extra meaning given the unusual times, like the carved symbols of human touch by Gerald Mak and their 'desire for communications and relationships'. Interestingly these were created pre-covid while on an RCA residency, highlighting how much our encounters with art are altered by the lens we view it through. Kaushikee Gupta's live stream performance also spoke to many of our current emotions, with softly told words about home, the space you are bound to, and the space you will at some point have to move away from.
Viewing the entire exhibition is overwhelming, which is inevitable due to the quantity of work. Digesting so much can be hard to take. Coming back to the exhibition on day two, looking with fresh eyes and a feeling of space, work was able to jump out again. I would encourage viewers to take their time. It is a luxury to be able to pop back to a degree show with such ease, and this one's going to be online until the end of the month. Attend some events from wherever you are in the world, view some work, follow some artists on Instagram, tell them you like their work, and have those real life interactions.
This exhibition speaks of a unique and specific period of time. The body of work will always reflect this in the materials and subject matter, and although the students may not all be able to celebrate together in a physical show, hopefully they feel proud of what they've pulled together with such limited resources. It's an impressive and resourceful body of work.
Meet the next generation of artists and designers 850 students around the world 300+ global events
16th – 31st July 2020 2020.rca.ac.uk
@royalcollegeofart #RCA2020
Categories
Tags