Liv Schulman (b. 1985, Buenos Aires, Argentina), is a multidisciplinary artist, working between video and performance art. She is the winner of the 20th Prize Fondation d'entreprise Ricard, awarded on the occasion of the exhibition The Twentieth Fondation d'entreprise Ricard Prize, curated by Neïl Beloufa in September 2018. She currently lives and works in Paris, and her work is part of the permamente collection at the Pompidou Centre. She studied art practice and art writing at the ENSAPC de Paris-Cergy, the Goldmisths University of London, and the Lyon Post-Diploma.
Her works have been shown and performed at the Schirn Kunsthalle Frankfurt (2019), Centre Pompidou Paris(2019), Ricard Foundation (2018), Reina Sofia, Madrid(2018), Friche Belle de Mai, Marseille (2018), GalerieNoisy-le-Sec (2017), Sixty Eight art Institute, Copenhagen (2017) and the Biennale de Rennes (2016). She is represented Piedras (Buenos Aires, AR) and A plus A (Venice, IT).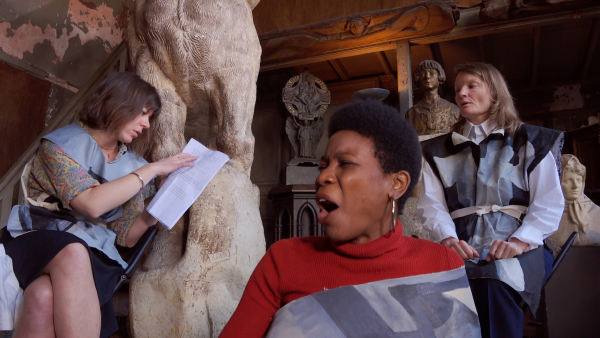 Le Goubernement (Still), 2019, HD video
1.Art organisations and individuals are launching a plethora of online initiatives to stay creative. Yet, a proper economical support has yet to be provided. How do you feel about it?
It varies… sometimes online propositions come with a fee, because they're held by different levels of powered institutions, sometimes they just expect you to fold to whatever regulations they're suffering through. I believe that resembles the pre-corona world, which was maybe less online but under the same principles for artists. Since the crisis started I have showed some films online and written for different platforms but I haven't been involved in a corona-creative situation to properly say. My economical support came from the teaching job I have at the Hear (Ecole d'Arts Decoratifs de Strasbourg) which dematerialized and continued online.

Liv Schulman, an internazional subconscious awareness of capitalism, A plus A Gallery, Photo Credits Angela Colonna Courtesy the artist and A plus A Gallery
2. Any new project on the horizon?
I don't think I have a proper project to share….sorry.

Liv Schulman, L'Obstruction, 2017, Video HD, 26.03 min. Exhibition view, A plus A Gallery, Venice, photo credits Angela Colonna. Courtesy the artist and A plus A Gallery
3. Do you think this crisis will change us, and the art world permanently? Or will we go back to our hectic lives as soon as we will be allowed to?
I think our lives are very hectic under the crisis, just as they were hectic before but now they take another angle of action. We don't have all the social profusion that was so characteristic of the art world and that made it all happen for a reason. Now it's more delayed, and maybe more personal, the deepest neurosis come to surface and rule the pathways of paranoia, anxiety circulates through all of us making us go through different scenarios that vary in disaster-intensity:
"I am done as an artist, art is the less important thing in the world now, if it already wasn't"….. "all my shows are cancelled no one will ever remember me" etc.
And it is true that social distancing took all the fun of openings if not the opening themselves. So we will see in a few months, but I do believe the world has changed and maybe for the worse, we have to learn how to root out desire from the new shape of things.
4. Are you working on something else at the moment?
I'm writing a fiction feature film about a community of neighbours that move to a basement in order to become the best prosumers of beer and Kombucha in the world, and they start producing yeasts. In the midst of that situation a giant leech appears that suck people out.

Liv Schulman, A somatic Play, Video Hd, 28.02 min. Exhibition view, A plus A Gallery, Venice, ph Angela Colonna. Courtesy the artist and A plus A Gallery
5. How are you reacting to these particular circumstances? What have you learnt from it?
I have learnt to use time differently, to understand everything is slow now and is not institution-depending anymore. I have learnt to trust again in self creation and to put more complicated projects to a side. I have also learnt to postpone and to be a little more patient.
6. How has the current situation impacted how you work — both in the method and ideologically?
The current situation changed it all because I was traveling a lot when it started and I was working with actors and groups of people in a space that did not respect social distancing. I was trusting to do a series of performances at an USA art Center that were supposed to be shot live with the public as actors. The method was all about acting, gathering, working together, so that changed.
I had to come back home and lock myself down and start doing something else that I could handle with no other people which became writing and drawing, two very solitary activities. But I imagine the core of things is still the same, the shapes are different, we are still at a process of adaptation.

Liv Schulman, Polis-Polis, 2018, Video Hd, 38.22 min. Exhibition view, A plus A Gallery, Venice, photo credits Angela Colonna (?Courtesy the artist and A plus A Gallery
7. Do you see any silver linings in this crisis?
Honestly I don't know yet.
8. Did you have any show / project planned that has been disrupted by the Covid-pandemic?
I was preparing this Bemis Art Center art show in Omaha, Nebraska, curated by Sylvie Fortin. It was planned to be a show and then a series of performances called The New Inflation, but all that got interrupted, the show was being installed when I had to leave and will reopen in August, and the series of performances will be held in a year from now, so we have time to plan them.

Liv Schulman, Le Goubernement, 2019, Video HD, six channels installation. Exhibition view, A plus A Gallery Venice, photo credits Angela Colonna. Courtesy the artist and A plus A Gallery
9. What's on your reading list and what book made the greatest impact on you?
"Mon temps libre" of Samy Langeart which is a book about using free time in the most meticulous way as possible made a great impact on me. During the quarantine I also read the complete stories of Flannery o'Connor and The Depossesed by Ursula Le Guin. All incredible.
10. Favourite quarantine Instagram live / podcast / account?
I follow a series of feminist podcasts called https://www.binge.audio/category/les-couilles-sur-la-table/ . It's great! 
Read more 10 Questions from Isolation HERE
Categories
Tags