Tabish Khan the @LondonArtCritic has picked five exhibitions you should see this month. Each one comes with a concise review to help you decide whether it's for you. This week it's a mix of online and offline exhibitions: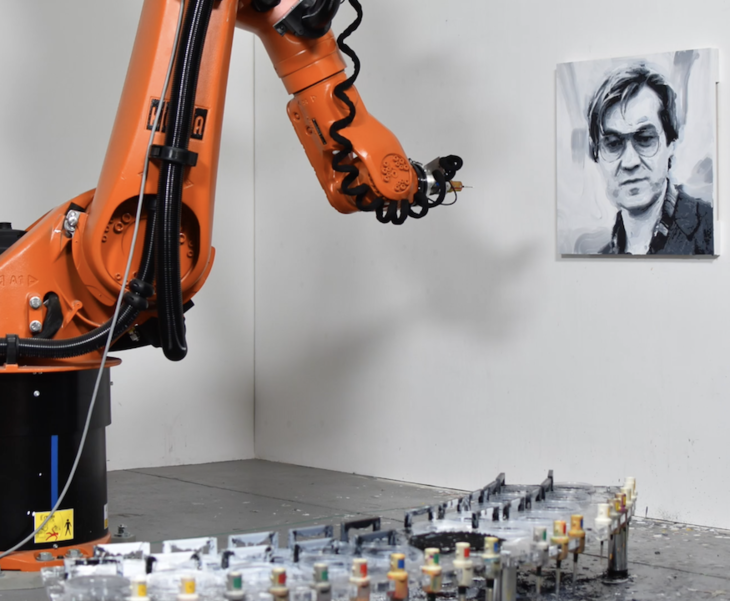 Rob and Nick Carter: Dark Factory Portraits @ Ben Brown Fine Arts
Once the robots take all our jobs, we'll all become artists right? Well artist duo Rob and Nick Carter want to challenge this with a robot arm in the gallery that paints the work without supervision. When I visited it had already accomplished portraits of Picasso, Warhol and The Queen. It's a playful look at the serious issue of the role of artificial intelligence in the future of art. Until 24 July, booking a visit in advance recommended.
Marcus Lyall: Scream the House Down @ New Art Projects
Dial into a Zoom call and voice your frustrations at the screen and they will be translated into pulsing lights inside an actual building in London that's soon to be demolished. Any sound will trigger the lights but there's something cathartic about unleashing your lock down frustrations at this structure. It's a clever and humorous piece that will strike a chord with many of us. Until 11 July.
Chiharu Shiota: Inner Universe @ Galerie Templon, Paris
Chiharu Shiota creates the most magical installations with items such as a skull suspended within a fine web and a red installation exploding forth from a pair of feet. It's the kind of magical breathtaking work we need in times of crisis. It's also got a great viewing room experience so we can experience it without physically visiting the gallery. Until 25 July.
Surrey Sculpture Park, Farnham
This was a new discovery for me to discover a sculpture park only an hour's drive out of London. There are over 850 works throughout these beautiful grounds with sculpture at every turn, largely from emerging and mid-career artists. The real treat was to see Shona sculpture from Zimbabwe including their artist in residence to take you through how the work is carved from a single block of stone. Opens 1 July, ticketed.
Carry on Creativity @ Cynthia Corbett Gallery
A collection of artworks that range from the rather forlorn boxing ring photographed by Fabiano Parisi to the glamorous exteriors painted by Andy Burgess. It's an impressive collection with 25% of the proceeds going to good causes as an added bonus. Until 31 July.
Categories
Tags